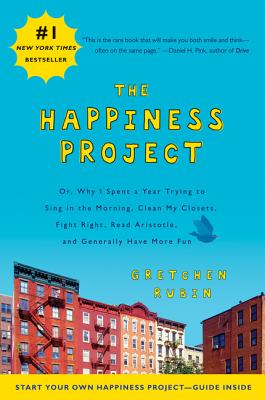 The Happiness Project: Or, Why I Spent a Year Trying to Sing in the Morning, Clean My Closets, Fight Right, Read Aristotle, and Generally Have More Fun
Publication Date:
March 1st, 2011
Publisher:
Harper Paperbacks
Heartleaf Books
1 on hand, as of Dec 1 4:03pm
(Floor)
On Our Shelves Now
Description
New York Times #1 Bestseller
More Than 1 Million Copies Sold
Updated With New Material
"This book made me happy in the first five pages."
—AJ Jacobs, author of The Year of Living Biblically: One Man's Humble Quest to Follow the Bible as Literally as Possible
Award-winning author Gretchen Rubin is back with a bang, with The Happiness Project. The author of the bestselling 40 Ways to Look at Winston Churchill has produced a work that is "a cross between the Dalai Lama's The Art of Happiness and Elizabeth Gilbert's Eat, Pray, Love." (Sonya Lyubomirsky, author of The How of Happiness: A Scientific Approach to Getting the Life You Want) In the vein of Julie and Julia, The Happiness Project describes one person's year-long attempt to discover what leads to true contentment. Drawing at once on cutting-edge science, classical philosophy, and real-world applicability, Rubin has written an engaging, eminently relatable chronicle of transformation.
Praise for The Happiness Project: Or, Why I Spent a Year Trying to Sing in the Morning, Clean My Closets, Fight Right, Read Aristotle, and Generally Have More Fun
"Aided by her formidable intelligence and willingness to try anything, she spent a year road-testing every theory about happiness she could get her hands on, using her own life as the road." — Time
"Happiness is contagious. And so is The Happiness Project. Once you've read Gretchen Rubin's tale of a year searching for satisfaction, you'll want to start your own happiness project and get your friends and family to join you. This is the rare book that will make you both smile and think—often on the same page." — Daniel H. Pink, author of A Whole New Mind
"Rubin had learned that there was a close correlation between habits and happiness, so she figured out how we form them, use them, and change them. Once I came to understand habits as harnessing our own laziness—making a habit frees you from decision-making, which you can use to your advantage—my relationship to them changed permanently."  — New Yorker
"Lays out life's essential goals… serves as a kind of detailed instruction manual on how to achieve them." — New York Times Book Review
"If anyone can help us stop procrastinating, start exercising or get organized, it's Gretchen Rubin. The happiness guru takes a sledgehammer to old-fashioned notions about change." — Parade
"Gretchen Rubin combines deep research and observations from her own life to explain how habits emerge and—more important—how they can change. It's indispensable for anyone hoping to overhaul how they (almost unthinkingly) behave." — Charles Duhigg, The Power of Habit
"Gretchen Rubin is a writer after my own heart—seriously brilliant, very warm, and funny. I think she's amazing." — Anne Lamott, Bird by Bird and Help, Thanks, Wow
"Gretchen Rubin's superpower is curiosity… Weaving together research, unforgettable examples, and her brilliant insight, Better Than Before is a force for real change."  — Brené Brown, Dare to Lead and Daring Greatly
"Loaded with practical solutions and impeccable research. Rubin is also a fine writer, and her enthusiasm for improving lives is contagious."  — Harlan Coben
"With her characteristic mix of delightful charm, thoughtful research, and insightful advice… Gretchen Rubin shows how to add fun, joy, and harmony to your home life." — Susan Cain, Quiet: The Power of Introverts in a World That Can't Stop Talking