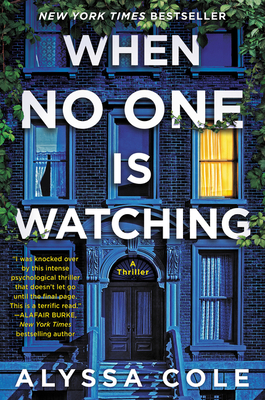 When No One Is Watching: An Edgar Award Winner
Publication Date:
September 1st, 2020
Publisher:
William Morrow Paperbacks
Heartleaf Books
1 on hand, as of Dec 9 7:56pm
(Floor)
On Our Shelves Now
Cole's thriller exposes the underbelly of gentrification and prosperity, taking a searing look at systemic racism. When a pharmaceutical firm plans to move its headquarters to a historically Black Brooklyn neighborhood, an influx of rich white people displace Black residents from their homes and their roots. Timely, groundbreaking, and thought-provoking, When No One Is Watching is essential reading for the #BlackLivesMatter movement.
September 2020 Indie Next List
This is a timely and entertaining social thriller. It's an inside look at the gentrification of a well-established, predominantly Black Brooklyn neighborhood. It's not too far-fetched, and it served as an eye-opener for this white reader. Comparison to the movie Get Out is apt.
Winter 2020 Reading Group Indie Next List
Description
An instant NEW YORK TIMES and USA TODAY BESTSELLER!
"I was knocked over by the momentum of an intense psychological thriller that doesn't let go until the final page. This is a terrific read." – Alafair Burke, New York Times bestselling author
*A Marie Claire Book Club Pick* 
Rear Window meets Get Out in this gripping thriller from a critically acclaimed and New York Times Notable author, in which the gentrification of a Brooklyn neighborhood takes on a sinister new meaning…
Sydney Green is Brooklyn born and raised, but her beloved neighborhood seems to change every time she blinks. Condos are sprouting like weeds, FOR SALE signs are popping up overnight, and the neighbors she's known all her life are disappearing. To hold onto her community's past and present, Sydney channels her frustration into a walking tour and finds an unlikely and unwanted assistant in one of the new arrivals to the block—her neighbor Theo.
But Sydney and Theo's deep dive into history quickly becomes a dizzying descent into paranoia and fear. Their neighbors may not have moved to the suburbs after all, and the push to revitalize the community may be more deadly than advertised.
When does coincidence become conspiracy? Where do people go when gentrification pushes them out? Can Sydney and Theo trust each other—or themselves—long enough to find out before they too disappear?
Featured in Parade, Essence, Bustle, Popsugar, Elle, Shondaland, Marie Claire, Buzzfeed, Entertainment Weekly, Good Housekeeping, Brit + Co, Real Simple, Lit Hub, Crime Reads, Blavity, Ms. Magazine, Hello Giggles, The New York Times, Town & Country, Newsweek, New York Post, Refinery29, Woman's World, Washington Post, the Skimm, Book Riot, Bookish, Huffington Post, and more!
Praise for When No One Is Watching: An Edgar Award Winner
"What would fall be without a fantastic and nerve-wracking thriller? Enter When No One Is Watching... A fantastic choice for fans of Get Out, this is a compulsive, entertaining, and thought-provoking novel." — Shondaland (6 Best Books of September)
"When No One is Watching is a thriller, Hitchcockian in its essence (those brownstones have plenty of windows, and a love story emerges as well), but with expert character development that demonstrates Cole's ability to craft a story, it's just as much about people as it is about place. The themes Cole explores throughout—racism, white greed, sickness, addiction, encroaching gentrification—are ones that are acutely aligned with the current social climate." — Parade
"To turn a knotty social and economic issue into a riveting psychological thriller is no easy task, but then again, should we really be surprised the extraordinary Alyssa Cole has done it? When No One Is Watching uproots the steady gentrification of Brooklyn and transforms it into an eerie horror story where 'revitalization' itself is the monster." — Elle (The 40 Best New Books Of Summer 2020)
"Suspense at its best... you aren't going to be able to put it down until you finish it." — Book Riot (Best Books We Read in June)
"This high-octane thriller hits right where it hurts, taking aim at gentrification and racism as conjoined forces of literary horror… Expect major palm sweat as the novel barrels toward its chilling and eye-opening conclusion." — Esquire (Best Books of Fall 2020 for Those Long, Chilly Nights)
"From the first page of WHEN NO ONE IS WATCHING, I felt like I was right there in the gentrifying Brooklyn neighborhood, filled with sharply etched characters and dialogue that zings. Then bam!  I was knocked over by the momentum of an intense psychological thriller that doesn't let go until the final page. This is a terrific read." — Alafair Burke, New York Times bestselling author
"Masterfully written suspense. Beneath a seemingly ordinary setting, Cole weaves layers of dread, all building toward a shocking and satisfying conclusion." — Kelley Armstrong, #1 New York Times bestselling author of City of the Lost 
"With a keen eye for details, Alyssa Cole deftly unspools a rich narrative with compelling characters who live and breathe against a vibrant backdrop. From the bold first line to the exquisitely subtle last, WHEN NO ONE IS WATCHING is a top-notch page-turner!" — Wendy Corsi Staub, New York Times bestselling author
"Dread builds and mutates into near-horror... It was eye-opening, sad, shocking, gripping, I devoured it in one go. I recommend SO HIGHLY."  — Marian Keyes, #1 bestselling author
"this outstanding thriller... builds to a credible finale. This stellar and unflinching look at racism and greed will have readers hooked til the end." — Publishers Weekly (starred review)
"[A] searing indictment of the inseparable evils of racism and gentrification wrapped in an anxiety-inducing thriller with elements of romance and horror… Cole expertly layers plot twists, raising the stakes until the dramatic finale, and readers will cheer when the real heroes are revealed. Cole is a sure-bet suggestion for romance readers, and When No One Is Watching will expand her already enthusiastic audience." — Booklist (starred review)
"[T]his twisty tale tackles with a somber wit ongoing issues of race, class inequity, social injustice, and predatory housing practices... This sizzling summer thriller starts on low and heats up fast. Smart, sexy, and surprising, this suspenseful novel revealing the underbelly of urban gentrification will keep readers reading late into the night."  — Library Journal (starred review)
"Combining the voyeuristic paranoia of Rear Window with the searing social commentary of Get Out, this thriller from Alyssa Cole turns gentrification into fodder for a horror movie." — Entertainment Weekly (20 New Books Coming in September)
"When No One Is Watching is romance writer superstar Alyssa Cole's debut thriller…It's a really creepy, smart page-turner." — Buzzfeed
"Cole is known for romance, but don't let that fool you into thinking she can't genre-jump with ease. Her first thriller, When No One is Watching, is a triumph. Sydney Green is a well-crafted protagonist and her paranoia is justified in this poignant story, which has a lot to say about racism and gentrification in America... It's page-turning and engrossing all the while giving a history lesson on racial disparities and inequality. A timely read, and an incredibly smart writer." — Crime Reads
"One of our fave romance writers is out with a psychological thriller. This buzzy fiction book follows a woman who's looking into the gentrification of her Brooklyn neighborhood. Turns out there's something a lot more sinister going on. Cue paranoia, suspense, and some 'Get Out' vibes." — theSkimm
"When No One Is Watching is inspired by Cole's own experiences, and examines gentrification via the erasure of Black people from Brooklyn's history—with quite the suspenseful twist." — Refinery 29
"The novel couldn't be timelier, and it's been praised as 'Rear Window' meets 'Get Out.' So yeah, you're going to want to read it ASAP. No spoilers, but: holy plot twist." — Hello Giggles (11 Best Books to Read this September)
"The dangers of gentrification turn very literal in romance veteran Alyssa Cole's unputdownable new thriller." — Harper's Bazaar (43 Best Books to Read in 2020)
"…if "Rear Window" and "Get Out" got married and had a baby that was a book, it would indeed be "When No One Is Watching," which takes place in contemporary Brooklyn and combines a page-turning thriller with shrewd social commentary on race, gentrification and greed." — Seattle Times