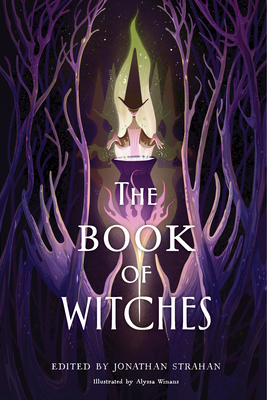 The Book of Witches: An Anthology
Publication Date:
August 1st, 2023
Publisher:
Harper Voyager
Usually Ships in 1 to 5 Days
Description
With a breathtaking array of original stories from around the world, P. Djèlí Clark, Amal El Mohtar, Garth Nix, Darcie Little Badger, Sheree Renée Thomas, and two dozen other fantasy and science fiction geniuses bring a new and exciting twist to one of the most beloved figures in fiction, witches, in never-before-seen works written exclusively for The Book of Witches, compiled by award-winning editor Jonathan Strahan and illustrated by award-nominated artist Alyssa Winans.
Witches! Whether you know them from Shakespeare or from Wicked, there is no staple more beloved in folklore, fairy tale, or fantasy than these magical beings. Witches are everywhere, and at the heart of stories that resonate with many people around the world. This dazzling, otherworldly collection gathers new stories of witches from all walks of life, ensuring a Halloween readers will never forget. Whether they be maiden, mother, crone, or other; funny, fierce, light and airy, or dark and disturbing; witches are a vital part of some of the greatest stories we have, and new ones start here!
Bringing together twenty-nine stories and poems from some of the greatest science fiction and fantasy writers working today, including three tales from a BIPOC-only open submission period, The Book of Witches features Linda Addison, C.L. Clark, P Djeli Clark, Indrapramit Das, Amal El Mohtar, Andrea Hairston, Millie Ho, Saad Hossain, Kathleen Jennings, Alaya Dawn Johnson, Cassandra Khaw, Fonda Lee, Darcie Little Badger, Ken Liu, Usman T. Malik, Maureen F. McHugh, Premee Mohamed, Garth Nix, Tobi Ogundiran, Tochi Onyebuchi, Miyuki Jane Pinckard, Kelly Robson, Angela Slatter, Andrea Stewart, Emily Teng, Sheree Renée Thomas, Tade Thompson, and E. Lily Yu—and contains illustrations from three-time Hugo award-nominated artist Alyssa Winans throughout. This extraordinary anthology vividly breathes life into one of the most captivating and feared magical sorceresses and will become a treasured keepsake for fans of fantasy, science fiction, and fairy tales everywhere.
Praise for The Book of Witches: An Anthology
"A darkly enchanting fantasy anthology comprising 29 wonderfully diverse stories and poems...These spellbinding tales will have readers up all night, utterly bewitched" — Publishers Weekly (starred review)