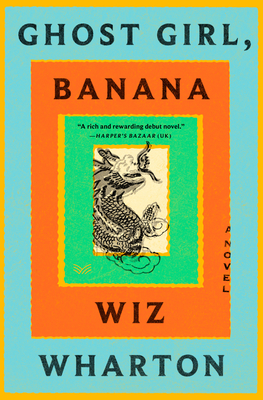 Ghost Girl, Banana: A Novel
Publication Date:
April 25th, 2023
Heartleaf Books
1 on hand, as of Dec 9 7:56pm
(Floor)
On Our Shelves Now
Description
Set between the last years of the "Chinese Windrush" in 1966 and Hong Kong's Handover to China in 1997, a mysterious inheritance sees a young woman from London uncovering buried secrets in her late mother's homeland in this captivating, wry debut about family, identity, and the price of belonging.
Hong Kong, 1966. Sook-Yin is exiled from Kowloon to London with orders to restore honor to her family. But as she trains to become a nurse in cold and wet England, Sook-Yin realizes that, like so many transplants, she must carve out a destiny of her own to survive.
Thirty years later in London, having lost her mother as a small child, biracial misfit Lily can only remember what Maya, her preternaturally perfect older sister, has told her about Sook-Yin. Unexpectedly named in the will of a powerful Chinese stranger, Lily embarks on a secret pilgrimage across the world to discover the lost side of her identity and claim the reward. But just as change is coming to Hong Kong, so Lily learns Maya's secrecy about their past has deep roots, and that good fortune comes at a price.
 Heartfelt, wry and achingly real, Ghost Girl, Banana marks the stunning debut of a writer-to-watch.  
Praise for Ghost Girl, Banana: A Novel
"Astonishing . . . beautiful and engrossing . . . a deftly handled mystery." — Harper's Bazaar
"Wharton's heartfelt debut centers on a British woman of Hong Kong descent trying to solve the mystery of her mother's death. . . . the pitch-perfect pacing and well-crafted protagonists will keep readers turning the pages. This is a writer to look out for."
— Publishers Weekly
"Chinese British author Wharton presents the well-crafted story of Lily Miller; her older sister Maya; and the mystery behind a bequest of one million British pounds sterling (500,000 pounds each) made by a stranger named Hei-Fong Lee that the sisters can claim only by going to Hong Kong. . . . Wharton is skilled at creating characters. . . . A debut work of historical fiction with strong storytelling that readers of Lisa See, Jamie Ford, and Gail Tsukiyama will enjoy; book groups should appreciate this first novel and look forward to Wharton's future work." — Library Journal
"Sparkling prose and a page-turning plot combined with wonderful storytelling. . . . An absolutely dazzling debut."  — Julie Owen Moylan, author of That Green Eyed Girl
"An intriguing, beautifully written study of the stories we inherit. I loved being in Lily and Sook-Yin's heads, my heart breaking for them. . . . I loved it!"  — Nikki May, author of Wahala
"A story of family, love, redemption and belonging, told with such heart and empathy. Wiz Wharton is a phenomenal talent, original, fresh, and with a pinpoint clarity to her prose that cuts right to the bone. She has created such a special book, with a story that needs to be told. Essential and utterly unforgettable."  — Fiona Scarlett, author of Boys Don't Cry
"Ghost Girl, Banana is an epic yet deeply intimate novel. I was rapt throughout, propelled by Wiz Wharton's taut, immersive prose. She swept me up in Sook-Yin and Lily's mirrored journeys of discovery, spanning decades and continents, but always I could feel the vibration of these women existing in the wider world; their stories are so skillfully shot through with the hum of change."  — Kate Sawyer, author of The Stranding
"Captivating characters and lucid prose." — Melissa Fu, author of Peach Blossom Spring
"A gripping and evocative tale of family secrets, courage, adversity, and love." — Emma Stonex, author of The Lamplighters
"Londoner Lily Chen descends into the maze of 1990s Hong Kong to piece together her late mother's secret past in this slow-burning mystery....Two complex histories are nested within one another, a testament to the mutually inextricable struggles of a mother and daughter who, in life, pass each other like two ships in the night. Brimming with cinematic tension, this novel offers relationships and revelations more precious than a 500,000 pound inheritance." — Kirkus Reviews (starred review)
"The novel bounces between three different timelines, and Wharton skillfully navigates between each . . . To be marginalized, to never quite fit in, even with all her striving, is Sook-Yin's fate. But Lily's journey of self-discovery, so winningly chronicled by Wharton, promises a better fate for Sook-Yin's younger daughter." — New York Times Book Review