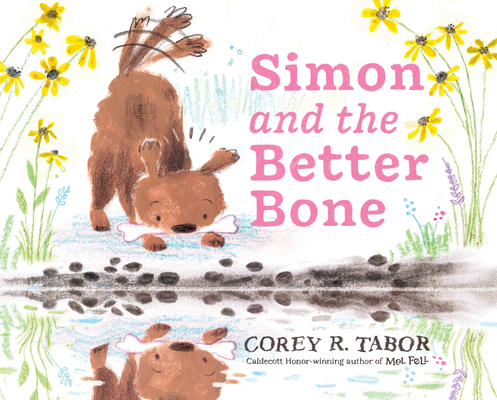 Simon and the Better Bone
Publication Date:
May 9th, 2023
Usually Ships in 1 to 5 Days
I lovedMel Fell, andSimon and the Better Bonedid not disappoint! The illustrations are so fun and detailed, from his expressive eyebrows to the sweet little bird observing the entire exchange. This will make an excellent read aloud!
May/June 2023 Kids' Indie Next List
Description
Using the same innovative format as his Caldecott Honor winner, Mel Fell, Corey R. Tabor reimagines Aesop's "The Dog and His Reflection" in a clever, charming tale of empathy and generosity. 
One day, down by the pond, Simon meets another dog just like him. 
And that dog has a bone just like his, only better! 
How will Simon ever get him to trade, when the other pup knows all the same tricks…? 
Praise for Simon and the Better Bone
"Giving readers a front-row seat to a comical encounter based on Aesop's "The Dog and His Reflection," Tabor once again takes a picture book's physical form into account, asking readers to open it vertically. Digitally assembled pencil, colored pencil, and acrylic art, which combines textures scribbly and velvety, chronicles Simon's unsuccessful attempts to best his "scrawny little" rival with a series of challenges and a "polite warning." Is Simon a silly dog? Of course—and a real sweetheart, too." — Publishers Weekly (starred review)
"This book's unique orientation cleverly uses the gutter in the vertical double-page spreads to show Simon and his reflection. Tabor effectively uses simple lines and curves to show Simon's dynamic emotions and movements. The pastel color palette complements the gentle tone, while the exuberant scribbles in colored pencil and joyful dabs of acrylic paint underscore the childlike spirit of the story. This is sure to be a storytime favorite." — Booklist
"Tabor updates Aesop's Fable "The Dog and His Reflection" with a little more goofiness and a bit less pedantry, and the clever unfolding layout of pages to reveal Simon's reflection immediately brings kids in on the joke, ensuring storytime engagement. Smudgy, dappled textures in pastoral hues make a cheerful background for shaggy brown Simon whose expressive tail and ears effortlessly convey his joy, frustration, and glee." — Bulletin of the Center for Children's Books