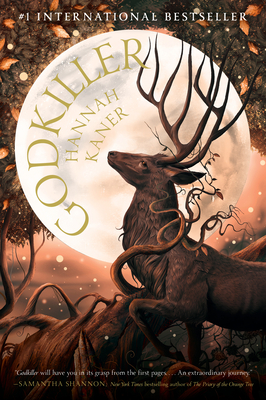 Godkiller: A Novel
Publication Date:
September 12th, 2023
Publisher:
Harper Voyager
Usually Ships in 1 to 5 Days
In a world scarred by warring gods and brutal battles, a godkiller sets off on a quest with an unlikely crew. This is immersive, diverse, and full of rage against the world and those who ruined it. This book doesn't relent — I want more!
October 2023 Indie Next List
Description
Instant USA Today Bestseller and #1 International Bestseller!
"A richly rendered world . . . Kaner writes action that's both fun and intelligible . . . If "The Last of Us" didn't slake your thirst for stories of a grizzled fighter taking a tough kid on the road, then Godkiller should be your jam."— The Washington Post
"Godkiller will have you in its grasp from the first pages. . . An extraordinary journey." — Samantha Shannon, New York Times bestselling author of The Priory of the Orange Tree
Enter a land of gods and monsters, soldiers and mercenaries, secrets and wishes—the explosive #1 internationally bestselling fantasy debut in a new trilogy for fans of The Witcher and Gideon the Ninth
Gods are forbidden in the kingdom of Middren. Formed by human desires and fed by their worship, there are countless gods in the world—but after a great war, the new king outlawed them and now pays "godkillers" to destroy any who try to rise from the shadows.
As a child, Kissen saw her family murdered by a fire god. Now, she makes a living killing them and enjoys it. But all this changes when Kissen is tasked with helping a young noble girl with a god problem. The child's soul is bonded to a tiny god of white lies, and Kissen can't kill it without ending the girl's life too.
Joined by a disillusioned knight on a secret quest, the unlikely group must travel to the ruined city of Blenraden, where the last of the wild gods reside, to each beg a favor. Pursued by assassins and demons, and in the midst of burgeoning civil war, they will all face a reckoning. Something is rotting at the heart of their world, and they are the only ones who can stop it.
"An epic fantasy odyssey begins . . . Kaner's debut is incredibly inclusive . . . It delivers high action while centering on characters that are not often depicted this fully."— Entertainment Weekly
"Beautifully imagined and intensely felt . . . Godkiller is a bone-rattling fantasy thriller that flies by in a breathtaking rush." — Joe Hill, #1 New York Times bestselling author of Locke & Key
"Epic and intimate, tender and sharp, Godkiller is a triumph of storytelling." — Hannah Whitten, New York Times bestselling author of For the Wolf
Praise for Godkiller: A Novel
"A richly rendered world . . . Kaner writes action that's both fun and intelligible—no mean feat—while keeping the story moving forward nicely. If "The Last of Us" didn't slake your thirst for stories of a grizzled fighter taking a tough kid on the road, then Godkiller should be your jam." — The Washington Post
"An epic fantasy odyssey begins … Kaner's debut is incredibly inclusive with LGBTQ and disabled characters filling its pages. It delivers high action while centering on characters that are not often depicted this fully." — Entertainment Weekly
"Violent, bawdy, beautifully imagined, and intensely felt, Godkiller is a bone-rattling fantasy thriller that flies by in a breathtaking rush." — Joe Hill, #1 New York Times bestselling author of The Fireman
"A fresh and confident debut, Godkiller will have you in its grasp from the first pages. Led by a cast of spirited characters, it leaps and bounds to the beat of its own golden heart, building to an epic clash of wills. Hannah Kaner has taken her first great strides in what is sure to be an extraordinary journey." — Samantha Shannon, New York Times bestselling author of The Priory of the Orange Tree
"Epic and intimate, tender and sharp, Godkiller is a triumph of storytelling and the beginning of a story that I can't wait to follow." — Hannah Whitten, New York Times bestselling author of For the Wolf
"Holy heck, this book is so good. A disabled bisexual mercenary heroine who murders gods, a former soldier turned baker with a troubled past, a noble child linked to the god of white lies . . . You need this story in your life!"
— Katee Robert, New York Times bestselling author of the Dark Olympus series
"Godkiller takes the fabric of epic fantasy and stitches it into a clean, tense, precisely measured and neatly designed tapestry. … This is a very strong debut, offering compelling characters whose problems mount from the ordinary to the epic in the space of the novel."
— Tor.com
"Devastating and triumphant, Godkiller will eviscerate you." — Tasha Suri, award-winning author of The Jasmine Throne
"I absolutely adored Godkiller. This novel has everything—adventure, wonderful characters, tenderness, humor, passion. I was gripped by both the story and world building … it is truly spellbinding." — Elodie Harper, internationally bestselling author of the Wolf Den trilogy
"In addition to being exquisitely paced and character-driven, Kaner's novel features a widely diverse cast. Queerness does not draw ridicule in Kaner's invented world. . . . Both heroes and two secondary characters have disabilities; he's living with PTSD, while she's an amputee. . . . An un-put-down-able start to an engrossing low-fantasy trilogy bordering on grimdark." — Kirkus (starred review)
"There are few things more enjoyable than watching a bruised yet honorable man and a vengeance-seeking assassin escort a young girl and her manipulative, telepathic divinity of a familiar to the forbidden city of the gods. Especially when the world they're traipsing through is so rich and laden with narrative potential."
— Bookpage
"Kaner thrusts readers into a grisly world of treacherous gods in her enthralling debut . . . Kaner's bewitching world forms an ideal backdrop to the adventures of her dynamic and appealing cast. This marks Kaner as a writer to watch." — Publishers Weekly
"The story's protagonists meet en route to Blenraden, and their clashing goals stir up immediate tension. As they are forced to rely on each other during their journey, they develop a found-family dynamic that will please many readers . . . In this debut trilogy launch, already a bestseller in the UK, Kaner provides a satisfying payoff, along with twists setting up a sequel with much higher stakes." — Library Journal
"This debut, a cross between The Witcher and Samantha Shannon's Roots of Chaos series, will attract many speculative readers, especially those compelled by folklore and found family. . . . The setting of Godkiller feels epic and lived in, suggesting much more story to be revealed in future installments of the planned trilogy." — Booklist
"A wonderful, gritty, explosively violent, and beautifully realized debut built around a mismatched trio's classic quest." — Daily Mail (UK)
"Kaner's debut offers all the bloodshed, demons, and magic a fantasy fan could want, while championing contemporary values such an inclusivity." — Financial Times (UK)
"Fantasy lovers like me can't wait for this one!" — Cosmopolitan  (UK)
"Dark, gritty and highly immersive." — The Fantasy Hive (UK)