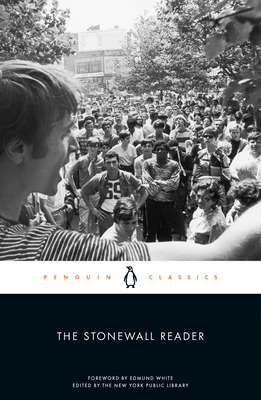 The Stonewall Reader
Publication Date:
April 30th, 2019
Publisher:
Penguin Classics
Usually Ships in 1 to 5 Days
Description
For the fiftieth anniversary of the Stonewall uprising, an anthology chronicling the tumultuous fight for LGBTQ rights in the 1960s and the activists who spearheaded it, with a foreword by Edmund White.
Finalist for the Randy Shilts Award for Gay Nonfiction, presented by The Publishing Triangle
Tor.com, Best Books of 2019 (So Far)
Harper's Bazaar, The 20 Best LGBTQ Books of 2019
The Advocate, The Best Queer(ish) Non-Fiction Tomes We Read in 2019
June 28, 2019 marks the fiftieth anniversary of the Stonewall uprising, which is considered the most significant event in the gay liberation movement, and the catalyst for the modern fight for LGBTQ rights in the United States. Drawing from the New York Public Library's archives, The Stonewall Reader is a collection of first accounts, diaries, periodic literature, and articles from LGBTQ magazines and newspapers that documented both the years leading up to and the years following the riots. Most importantly the anthology spotlights both iconic activists who were pivotal in the movement, such as Sylvia Rivera, co-founder of Street Transvestites Action Revolutionaries (STAR), as well as forgotten figures like Ernestine Eckstein, one of the few out, African American, lesbian activists in the 1960s. The anthology focuses on the events of 1969, the five years before, and the five years after. Jason Baumann, the NYPL coordinator of humanities and LGBTQ collections, has edited and introduced the volume to coincide with the NYPL exhibition he has curated on the Stonewall uprising and gay liberation movement of 1969.
Praise for The Stonewall Reader
"This window into the daily lives of activists and ordinary people fighting passionately against injustice is illuminating and inspiring."
—Publishers Weekly

"Through his skillful curation, [editor Jason Baumann] offers a corrective for what is too often a sanitized, homogenous, and whitewashed portrayal of academics and professionals about the event sometimes termed 'the hairpin drop heard around the world.' ... The first-person narratives collected here effectively spotlight the social inequalities surrounding the LGBTQ community, many of which persist today. A bold rallying cry that should help in the continuing fight for LGBTQ rights."
—Kirkus Reviews

"This masterful collection is perhaps one of the most exhaustive looks at the events surrounding Stonewall from the LGBTQ perspective and provides a wonderfully diverse cast of voices."
—Library Journal

"…Excellent compilation of first-person accounts from before, during, and after the pivotal 1969 riot…THE STONEWALL READER features a diverse array of voices—folks from across the LGBTQ spectrum telling their stories over decades in essays and interviews and letters."
—The Atlantic
"This significant book does welcome justice to an event that author Edmund White, who wrote the foreword, says sparked 'an oceanic change in thinking.'"
—Booklist
"The Stonewall Reader gives us a richer, messier, more dangerous picture of the Stonewall uprising, its foreground, and aftermath. The book wonderfully reflects how revolutionary moments rarely get portrayed accurately through single voices, and Baumann has produced here a history worth revisiting again and again."
—Lambda Literary
"An excellent companion to those famous bricks the patrons threw at police that night in June 1969 (…) aims to correct a narrative that has so often excluded LGBTQ people of color. (…) The book de-gentrifies the narrative, returning the street-smart stories of the original protesters to history. The inclusion of Sylvia Rivera and Marsha P. Johnson in the "During" and "After" sections also subtly underlines the role of transgender people, as they tell the story first of that night and then of how their abandonment by the movement began almost immediately. The book's mix of familiar and unfamiliar didn't just re-contextualize the riots for me. I came to understand myself and my life differently. I didn't even know what I'd lost or gained from these stories and their contexts. The Stonewall Reader seems designed to be widely adopted in classrooms and should be, but, to be sure, it is for anyone, even those who think they know this history."
—Alexander Chee, The New Republic
"An essential read for any member of the community who wants to learn about those who paved the way before us."
—Harper's Bazaar

"Brush up on your LGBTQ history with this definitive collection of first-hand accounts, diary entries, periodic literature, and articles from LGBTQ magazines and newspapers that documented the years leading up to and immediately following the Stonewall riots."
—Queerty
"The Stonewall Reader, a collection featuring works by figures such as the writer Audre Lorde and the activist Kiyoshi Kuromiya, demonstrates this expansiveness in the variety of experiences it chronicles. The book is named for one of history's most powerful displays of queer protest, but focuses instead on intimate self-reckoning. The pieces in it ponder visibility, self-understanding, and the development of queerness as an identity."
—The Atlantic
"A compilation of first-person accounts and diary entries from activists and participants, along with news articles, essays and more, this work tells the story of events that surrounded the 1969 Stonewall riots, largely seen as the start of the nation's LGBT civil rights movement."
—CNN.com

"To celebrate the 50th anniversary of the Stonewall riot, Jason Baumann, New York Public Library coordinator of humanities and LGBTQ collections, edited a volume drawing from the NYPL archives that includes first accounts, diaries, newspaper articles, and more chronicling the years leading up to the riots and documenting the fight itself. It also spotlights iconic activists who were pivotal to the movement, giving room and space for the forgotten figures of the fight. It features a ton of diverse voices and interviews and helps to paint a crucial moment in queer history in the voices and contexts of the people who were there."
—Book Riot