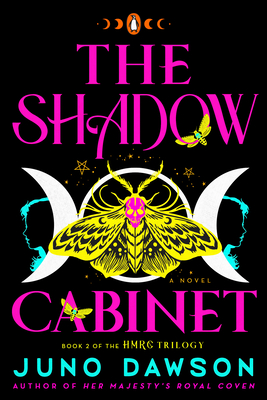 The Shadow Cabinet: A Novel (The HMRC Trilogy #2)
Publication Date:
June 20th, 2023
Usually Ships in 1 to 5 Days
Description
"This entrancing mix of feminism, queerness, magic and power-hungry villains makes for an intoxicating reading experience." —Nerd Daily
In the second installment of Juno Dawson's "irresistible" fantasy trilogy (Lana Harper), a group of childhood friends and witches must choose between what is right and what is easy if they have any hope of keeping their coven--and their world--from tearing apart forever.
Niamh Kelly is dead. Her troubled twin, Ciara, now masquerades as the benevolent witch as Her Majesty's Royal Coven prepares to crown her High Preistess.
Suffering from amnesia, Ciara can't remember what she's done--but if she wants to survive, she must fool Niamh's adopted family and friends; the coven; and the murky Shadow Cabinet--a secret group of mundane civil servants who are already suspicious of witches. While she tries to rebuild her past, she realizes none of her past has forgotten her, including her former lover, renegade warlock Dabney Hale.
On the other end of the continent, Leonie Jackman is in search of Hale, rumored to be seeking a dark object of ultimate power somehow connected to the upper echelons of the British government. If the witches can't figure out Hale's machinations, and fast, all of witchkind will be in grave danger--along with the fate of all (wo)mankind.
Sharp, funny, provocative, and joyous, Juno Dawson's sequel reimagines everything you think you knew about her coven and her witches in a story that spans continents and dives deep into the roots of England and its witchcraft. Ciara, Leonie, Elle, and Theo are fierce, angry, sexy, warm--and absolutely unapologetic as they fight for what they believe in, all in the name of sisterhood.
Praise for The Shadow Cabinet: A Novel (The HMRC Trilogy #2)
"Dawson takes everything that worked so well in the first book and makes it stand out even brighter. At times provocative and sharp, at others funny and filled with queer joy, this book is sure to keep lovers of the first book very happy. Told from a variety of different characters, the threads of the story are woven together even more intricately and alliances (as well as friendships) shift as we dive deeper into this magical world…As always, Dawson's talent of tackling contemporary topics in a fantastical setting truly makes this story stick with you…This entrancing mix of feminism, queerness, magic and power-hungry villains makes for an intoxicating reading experience. The Shadow Cabinet takes the irresistible themes of Her Majesty's Royal Coven and amplifies their reach well beyond the pages of the book." --The Nerd Daily
"The characters that were so carefully and diligently created in the first book are given their own stories in the second book, and it is a blast to read...The complexities of modern life are here; thrown into the mix are magic, witches, and rules created around them...There are no limits in this fantasy world; even the established rules are pushed. Readers who enjoy feminist, queer fantasy like The Priory of the Orange Tree (2019), by Samantha Shannon, will enjoy this series." --Booklist, starred review
"The brilliant and fast-paced second contemporary political fantasy in Dawson's HMRC trilogy (after Her Majesty's Royal Coven) takes the series to new heights...Dawson handles the tricky middle book with aplomb, raising the stakes and deepening the rich worldbuilding without losing sight of the pathos that makes her characters shine. Magic seamlessly weaves with pop culture references, fun soap-operatic twists, and an incisive look at the psychology of violent misogyny. This is the work of a master storyteller."--Publisher's Weekly, starred review
"The fast pace keeps the many stories moving as the points of view shift, and once again Dawson places a bombshell at the end to surprise readers. The second book of the series, after Her Majesty's Royal Coven, is filled with witty dialogue, pop culture references, and features the bonds of childhood, sisterhood, and fighting for what one believes in." --Library Journal