Discounted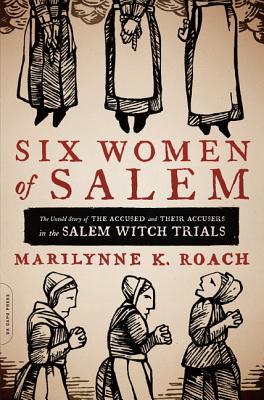 Six Women of Salem: The Untold Story of the Accused and Their Accusers in the Salem Witch Trials
Previous price:

$19.99
Current price:

$18.99
Publication Date:
September 3rd, 2013
Heartleaf Books
1 on hand, as of Oct 4 7:04pm
(Floor)
On Our Shelves Now
Description
The story of the Salem Witch Trials told through the lives of six women
Six Women of Salem is the first work to use the lives of a select number of representative women as a microcosm to illuminate the larger crisis of the Salem witch trials. By the end of the trials, beyond the twenty who were executed and the five who perished in prison, 207 individuals had been accused, 74 had been "afflicted," 32 had officially accused their fellow neighbors, and 255 ordinary people had been inexorably drawn into that ruinous and murderous vortex, and this doesn't include the religious, judicial, and governmental leaders. All this adds up to what the Rev. Cotton Mather called "a desolation of names."
The individuals involved are too often reduced to stock characters and stereotypes when accuracy is sacrificed to indignation. And although the flood of names and detail in the history of an extraordinary event like the Salem witch trials can swamp the individual lives involved, individuals still deserve to be remembered and, in remembering specific lives, modern readers can benefit from such historical intimacy. By examining the lives of six specific women, Marilynne Roach shows readers what it was like to be present throughout this horrific time and how it was impossible to live through it unchanged.
Praise for Six Women of Salem: The Untold Story of the Accused and Their Accusers in the Salem Witch Trials
"Readers still reap the benefits of Roach's thorough researched and expertise on the subject."
—Publishers Weekly
"Roach animates information woven together from court records, trial notes, diaries, vital records, sermon notes, and family lore in a successful attempt to personalize [the women's] lives, drawing the reader away from commonly believed stereotypes and sensational folklore."
—Library Journal
"[A] richly detailed tapestry of life in 17th-century Salem."
—American History
"A focused look at the lives of six of the accused, their accusers, and their neighbors who were part of a dark period in American history."
—Roanoke Times
"Ambitious...It is astonishing to our twenty-first-century minds to see magistrates and judges believing the accusers."
—New England Historical and Genealogical Register
"Super detailed and fantastically informative...An eye-opening piece of work...Each page drips with an honest and impartial narrative...Roach has done a great job in honoring the memories of these women with a tasteful and harmonious book."
—San Francisco Book Review
"[Roach's] fact-based insight into these women's lives, along with the moments she breaks into short, fictionalized scenes, puts these lives into perspective, allowing readers to connect with the events in a way not afforded in other accounts of this period...Roach's work will shed new light on the Salem witch trials, not only by showing how the accusers may have truly believed they were bewitched and tortured, but also by making the innocent women come to life."
—ForeWord Magazine
"Six Women of Salem immediately immerses its readers in the events of that horrible, vertiginous year, a year which almost certainly started off as a mere pranking by some mean-spirited girls but then grew into something much blacker and more complicated. Roach immerses her readers through her customary vivid, forceful writing...The seriously inquisitive now have another great book on the subject."
—Open Letters Monthly
"[Full of ] the author's deep knowledge of virtually every man, woman and child affected by the trials in this bizarre period."
—Kirkus