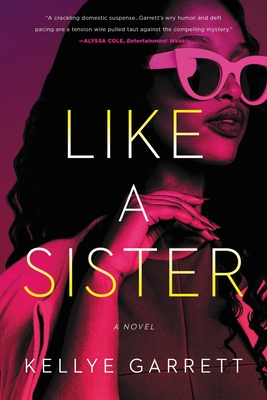 Like a Sister
Publication Date:
February 7th, 2023
Publisher:
Mulholland Books
Heartleaf Books
1 on hand, as of Dec 9 7:56pm
(Floor)
On Our Shelves Now
Description
In this "crackling domestic suspense" filled with "wry humor and deft pacing" (Alyssa Cole), no one bats an eye when a Black reality TV star is found dead—except her estranged half-sister, whose refusal to believe the official story leads her on a dangerous search for the truth.
Edgar Award Finalist for Best Novel • Anthony Award winner for Best Hardcover Novel • Lefty Award winner for Best Mystery Novel • A Book of the Month Club Pick • An Oxygen Book Club Pick • A Today Show Spring Fiction Pick • A New York Post Best New Book of the Week • A New York Public Library Best Book of the Year • A South Florida Sun-Sentinel Best Mystery of the Year • A CrimeReads Best Psychological Thriller of the Year
"A mystery that has everything I love most: an intriguing set up; an absorbing storyline that kept me guessing; a satisfying ending; and, most of all, incredibly well-developed characters I kept thinking about long after I finished the book." ―Jasmine Guillory, Today Show
"I found out my sister was back in New York from Instagram. I found out she'd died from the New York Daily News."
When the body of reality TV star Desiree Pierce is found on a playground in the Bronx the morning after her twenty-fifth birthday party, the police and the media are quick to declare her death an overdose. A tragedy, certainly, but not a crime.
Yet Columbia grad student Lena—principled, headstrong, and allergic to the spotlight—knows that can't be the case. Despite the bitter truth that the two hadn't spoken in two years, they were half-sisters. Lena knew Desiree. And Desiree would never travel above 125th Street. Something is very wrong with the facts. So why is no one listening?
While the two sisters had been torn apart by Desiree's partying and by their difficult father, Lena becomes determined to find justice for Desiree. Even if that means untangling her family's darkest secrets—or ending up dead herself.
"A briskly plotted, socially astute thriller." ―Los Angeles Times 
"Equal parts charm and heartbreak, with razor-sharp insights on class, race, and family." —Laura Lippman
"Dishes up the glitz of the haves and the struggles of the have-nots, infusing classic noir storytelling with Big Apple glamour—#pageturner." —Oprah Daily
"A twisty murder mystery with nuance and heart." ―BookPage
 
"Noir for the media-struck generation...Original and witty." ―National Public Radio
Praise for Like a Sister
"Kellye Garrett is impressive on paper and, in conversation, a force of nature… [Like a Sister is a] briskly plotted, socially astute new thriller."—The Los Angeles Times
"A mystery that has everything I love most about the genre: an intriguing set up; an absorbing storyline that kept me guessing; a satisfying ending; and most of all, incredibly well developed characters that I kept thinking about long after I finished the book. I want everyone I know to read it so we can talk about it.'"—Jasmine Guillory, The Today Show
"Kellye Garrett, a break-out star in crime fiction since her debut, has upped the ante with her latest, Like a Sister. A traditional mystery set in the world of reality television and Instagram influencers, it is equal parts charm and heartbreak, with razor-sharp insights on class, race, and family. I'm happy to know that Kellye Garrett is just getting started. I can't wait to see what she does next."—Laura Lippman, New York Times bestselling author of Lady in the Lake
"This juicy and twisty mystery will be impossible to put down whether you read it while lounging on the sand or curling up in an air-conditioned room this summer."
 —Oxygen, July Book Club Pick
"Lights, camera, corpse . . . Garrett's taut novel dishes up the glitz of the haves and the struggles of the have-nots in a New York cleaved along lines of race and class, infusing classic noir storytelling with Big Apple glamor and buzzy texts and tweets—#pageturner."—Oprah Daily
"Noir for the media-struck generation . . . Character and voice mesh with Like a Sister's explorations of race, class and family in an arresting combination."—NPR.org
"Delivers a heady mixture of secrets, red herrings and shadows, told by a narrator who instantly becomes a friend you root for…Though this is a dark, thriller-adjacent tale, spending time with Lena is a pleasure."—The Seattle Times
"While the plot has its fair share of twists and turns, Lena's voice makes the novel shine. She alternates between interrogating suspects in her 'Super Black Woman Cape,' and making funny observations about music, reality TV, and more. Lena's wit plus a packed plot will grab and hold your attention."
 —Time Magazine
"Brimming with suspense and wit, Like a Sister is a tense, twisting mystery that explores the complex bonds within family and the elusive nature of truth. Smart, sharp, and completely engrossing—an absolutely can't-put-it-down read!"—Megan Miranda, New York Times bestselling author of All the Missing Girls and Such a Quiet Place
"In addition to creating a satisfying, twisty mystery and eloquently depicting the complexity of family relationships, Garrett explores racial identity, privilege, and discrimination as an organic part of the novel, with a deft, often funny touch. Here's hoping to see more of Lena."—Library Journal (starred review)
"A crackling  domestic suspense that has you turning the pages to see what happens next. . . . The novel explores difficult family dynamics, interrogates class and race, dismantles the 'Strong Black Woman' fallacy, and highlights a search for justice that Black women are often denied. These elements are carefully layered into a suspenseful and voicey narrative with a heroine you're rooting for from page one. Garrett's wry humor, attention to detail, and deft pacing are a tension wire pulled taut against the compelling mystery driving the novel; Like A Sister is one of those books that's best prepared for ahead of time, because once you pick it up, it will be difficult to put down."—Alyssa Cole, Entertainment Weekly
"Like a Sister is one of those reads whose tight plotting and suspenseful pacing might tempt you to rush to its twisty end, but take your time and enjoy the ride as Kellye Garrett fills these pages with humor, heart, and whip-smart insights into class, race, family, and our contemporary media culture. Garrett deserves every bit of praise Like a Sister is certain to earn."—Alafair Burke, New York Times bestselling author of The Better Sister
"Set in New York's seductively glamorous world of hip hop billionaires and dazzling reality stars, Like a Sister is a riveting, read-through-the-night thriller by a masterful storyteller. From the very first page to the jaw dropping finish, this is one you need to put at the top of your reading list."—Liv Constantine, bestselling author of The Last Mrs. Parrish
"Arresting . . . this family-oriented thriller is anything but ordinary . . . A twisty murder mystery with nuance and heart."—BookPage
"Insightful, briskly plotted ... Garrett explores racism and sexism with aplomb."—Publishes Weekly (starred review)
"I can't say enough good things about Kellye Garrett's highly anticipated new novel. Like A Sister is a smart, twisty, timely thriller that kept me guessing the whole way through. Garrett is a rising star, and a refreshing, standout voice in crime fiction." —Jennifer Hillier, award-winning author of Jar of Hearts and Little Secrets
"A murder mystery that tests all the boundaries of family love, friendship, and the ephemeral trap of social media fame. Smart with twists you never see coming, Garrett's novel delivers all that you want in a read you can't put down." 
 —Walter Mosley, New York Times bestselling author of Blood Grove
"Sharp, smart, and heartbreaking."—Reader's Digest
"Terrific . . Like A Sister is a superb, twisty domestic noir. . . . It pulses with a rich vein of sarcastic humor and explores ideas around fame, race, and celebrity."—Mystery Scene
"Like a Sister is a marvel and a must-read story for the current moment. Garrett, with deft humor and perfect eye for the blurred lines of social media and reality TV, has crafted a gripping narrative of domestic suspense which delivers hard, essential truths about race, class, and makes us question why some women's stories are too often disbelieved."—Ivy Pochoda, author of These Women
"Like a Sister combines the voice and humor Kellye Garrett fans have always loved with a twisting and surprising story sure to attract new readers. Domestic suspense for the Instagram gen. #lovedit."—Lori Rader-Day, Edgar-nominated author of The Lucky One
"Kellye Garrett is a fantastic new voice in crime fiction, and Like a Sister is her best book yet. A twisty mystery that takes a deep dive into celebrity, social media—and the dangerously false perceptions they can create—Garrett's latest is razor-sharp and utterly absorbing. I dare you to try and put it down."—Alison Gaylin, author of If I Die Tonight
"The writing is sharp, the commentary wry, and Lena is irresistible . . . [a] whip-smart, heart-hurt, very entertaining heroine."—Kirkus Reviews
"Like A Sister is a wholly captivating novel, one that grows more complicated—and tense—as the story unfolds. Loaded with twists and turns, this book will keep you guessing, and reading, until the last shocking page."—Samantha Downing, bestselling author of My Lovely Wife and He Started It
"With utterly convincing family relationships, a deft eye for the slippery nature of trust, and a red-hot take on right now, Like a Sister sees multi-award-winning cozy author Kellye Garrett laying down a very different beat to bring us a sure-fire hit. Magic!"—Catriona McPherson, award-winning author of Strangers at the Gate
"A tour-de-force by one of crime fiction's best, Kellye Garrett delivers a knock-out in Like A Sister. Garrett's incredible range and depth of storytelling bring New York City to life as this thriller unfolds layer-by-gripping-layer. Through the inevitable media boil surrounding celebrity death, a powerful family keeping secrets of their own, and a grieving sister's relentless quest for answers, Garrett clarifies an important truth about the voicelessness of the dead: When they've left a sister behind, they often aren't."—PJ Vernon, author of Bath Haus