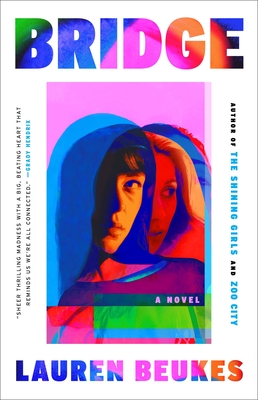 Bridge: A Novel of Suspense
Publication Date:
August 8th, 2023
Publisher:
Mulholland Books
Usually Ships in 1 to 5 Days
Description
A grieving daughter's search for her mother becomes a journey across alternate realities in this dazzling new thriller from the author of The Shining Girls that is "sheer thrilling madness with a big, beating heart that reminds us we're all connected" (Grady Hendrix, New York Times bestselling author).
There are infinite realities. She's looking for one . . . 
Twenty-four-year-old Bridge is paralyzed by choices: all the other lives she could have lived, the decisions she could have made. And now, who she should be in the wake of her mother's unexpected death.
Jo was a maverick neuroscientist fixated on an artifact she called the "dreamworm" that she believed could open the doors to other worlds. It was part of Jo's grand delusion, her sickness, and it cost her everything, including her relationship with her daughter.
But in packing up Jo's house, Bridge discovers Jo's obsession hidden amongst her things. And the dreamworm works, exactly the way it's supposed to, the way Bridge remembers from when she was a little girl. Suddenly Bridge can step into other realities, otherselves. In one of them, could she find out what really happened to her mother? What Bridge doesn't know is that there are others hunting for the dreamworm—who will kill to get their hands on it. 
Bridge is a highly original, reality-bending thrill-ride that could only have come from the brilliant mind of award-winning novelist, Lauren Beukes, about mothers and daughters, hunters and seekers, and who we each choose to be. 
"A fantastic high-wire act of a novel . . . at once a cosmic narrative and a deeply intimate human story." —Catriona Ward
"Ass-kicking, mind-bending entertainment." —Kirkus Reviews
"A suspenseful, deeply immersive odyssey that will make you consider the alternate possibilities inside us all." —Katie Gutierrez
"Spiders out into alternate universes yet manages to be very much about us and our fractured now." —Paul Tremblay
"Lauren Beukes is a major, major talent." —George R. R. Martin
Praise for Bridge: A Novel of Suspense
"Lauren Beukes' multiverse is sheer thrilling madness with a big, beating heart that reminds us that we're all connected in the end."—Grady Hendrix, New York Times bestselling author of The Southern Book Club's Guide to Slaying Vampires and How To Sell a Haunted House
"Beukes's plotting is tight, her many voices never muddle, and the pacing never falters as Bridge tears through worlds. . . . You can tell Beukes is having an absolute blast putting words on the page. Her fun is evident in the big, bloody action sequences; in the squirmy, almost retro grotesqueness of the dreamworm. And she does it all while probing one of life's most tantalizing questions: How do we become the people we are?"—New York Times Book Review
"Beukes is on authorial fire here, not merely because of the heart-stopping plot . . . But it's the plethora of engaging characters that adds real substance and immersive texture to this multilayered thriller. . . Into her bigger-picture narrative, Beukes has elegantly woven observations on late-stage capitalism as well as the horrors of systemic poverty, domestic abuse, racism, and war."—Boston Globe
"Vast in scope and heart, Bridge is both a thrilling exploration of the known universe and an intimate portrayal of a daughter's yearning for her mother. Lauren Beukes has crafted a suspenseful, deeply immersive odyssey that will make you consider the alternate possibilities inside us all. A perfect summer read."—Katie Gutierrez, nationally bestselling author of the Good Morning America Book Club Pick More Than You'll Ever Know
"Takes the reality-shattering, time-warping power of grief to new dimensions—literally. . . . flashing between different timelines, realities, and perspectives, Lauren Beukes constructs a fast-paced and masterfully kaleidoscopic tale that nails grief in all its humor, absurdity, and tenderness."—Oprah Daily
"Lauren Beukes takes a story filled with psychedelic drugs, parallel worlds, and neuroscience and makes it also about a complex mother-daughter relationship, full of darkness, light, and longing. This is fun and insane and very moving."
 —Mariana Enriquez, author of Our Share of Night
"Ass-kicking, mind-bending entertainment."—Kirkus Reviews
"Bridge spiders out into alternate universes, alternate selves, yet manages to be very much about us and our fractured now. It's a humane, thought-provoking puzzle box, and a wildly entertaining novel."—Paul Tremblay, bestselling author of The Cabin at the End of the World and The Pallbearers Club
"I absolutely loved it. This fantastic high-wire act of a novel, accelerating to a heart-stopping climax, is at once a cosmic narrative on a grand scale and a deeply intimate human story."—Catriona Ward, bestselling author of The Last House on Needless Street
"Mind-bending."—Bookbub
"Motherhood makes monsters of us all, too. Beukes doesn't shy away from the idea of motherhood as inherently parasitic in nature: whether it is the ties of shared cells, of foetal matter left behind in a woman's body after she's given birth, or generational trauma, Bridge reminds us that there are always accidental, unwanted inheritances, body swaps of a whole other nature, especially between mothers and daughters. . . . This love that Bridge feels, the guilt she carries alongside the grief she has not yet processed, this is what pushes her into a storm of multiverse activity, with raging realities coming together in a thrilling crescendo that does not miss a beat. Beukes does puzzle box thrillers very well, and within that genre, she is continuously able to explore greater depths of the human experience. Bridge is a powerful exploration of grief, loss, love and the very human desperation for another chance."—Tor
"Fast, sharp, weird, wonderful; Lauren Beukes's Bridge is a trip, a reconfiguration of reality, a sacred dreamworm operation manual, a celebration of chaos, and a wildly entertaining novel. No one does it like Beukes, and this is her best one yet. Buckle up and enjoy the ride."
 —Gabino Iglesias, author of The Devil Takes You Home
"A mystery and a family drama wrapped in the trappings of science fiction . . . Beukes impressively paints each individual with a highly realistic level of detail and a clear-eyed perspective on their faults. Beukes drops clues about the dreamworm and the mysterious forces trying to claim it for their own throughout, and while readers will be able to piece some or all of these mysteries together, the twists are still surprising and the payoffs still satisfying."—BookReporter
"Lauren Beukes writes about the weird . . . her conception of the human experience exists through a uniquely skewed lens. While that off-kilter view might initially draw you in, it's her commitment to capturing real, flawed characters and relationships that is likely to keep you engaged until the last page. . . . Beneath the weird, Beukes clearly believes foremost in the power of connection in humanity. Parents, children, politicians, and dissenters alike, we'd do well to remember that even in worlds that seem different, overlap still exists—and it just might save us all."—Shondaland
"Beukes has never shied away from a conceptual challenge. But Bridge is an even deeper step into the offbeat, an imaginative stew that folds in a rare array of ingredients: neuroscience and parasitology, musical theory and Haitian Voudou."—Elle
"What if our dreams are twisted-up memories? What if the Mandela Effect isn't an effect at all? Somewhere between The Lathe of Heaven and Everything Everywhere All at Once is Lauren Beukes' Bridge: it's not just reality that's multifold, it's identity. Bridge challenges our sense of reality, chips away at our conception of the self, and shoves us down a slide of our own paranoia. But, it's Lauren Beukes—this is what she does, isn't it?"—Stephen Graham Jones, New York Times bestselling author of The Only Good Indians
"An addictive page-turner that draws on not only theoretical quantum physics, but research into neuroscience, altered states and parasitology for a fascinating, compelling story and an original take on the many worlds theory."—Guardian
"Beukes' space-time-continuum distortion of a novel is like that rare blockbuster film that delivers on both special effects and thought-provoking moral dilemmas. Bridge is high-concept entertainment at its finest, with a heavy dose of wistfulness keeping the fantastical elements grounded." —ShelfAwareness
"This isn't just mind-bending sci-fi; it's a thriller driven by a frenetic search for both love and answers. Beukes' trademark balance between horror and thriller, with a focus on character, is on full display."—CrimeReads
"Lauren Beukes turns her glimmering, dark imagination to multiverse time travel . . . as Bridge skips into multiple worlds and selves, she faces her mother's delusions, the dangers of time-travel, and revelations of grief."—Bustle
Praise for Afterland
"A smartly written thriller that opens with a satisfying bang . . . Beukes is all about turning assumptions and expectations upside down."
 —Stephen King, New York Times Book Review, on Afterland
"Bowstring-taut, visceral, and incredibly timely: Beukes's plague-tale is a parable about the glory and terror of Americanism in times of calamity."—Cory Doctorow, author of Walkaway and Little Brother, on Afterland
"Beukes's imagined world [is] a thrilling setting for an examination of maternal love."—Joumana Khatib, New York Times, on Afterland
"A post-apocalyptic thrill-ride."—O, The Oprah Magazine, on Afterland