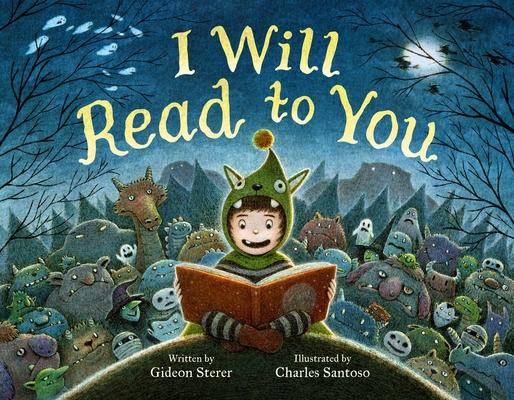 I Will Read to You
Publication Date:
August 1st, 2023
Publisher:
Little, Brown Books for Young Readers
Usually Ships in 1 to 5 Days
Sterer's sweet ode to unconditional love features a brave child who reminds us of the power of empathy. I Will Read to You is more than a new spooky favorite for quieting monsters — it's a celebration of storytelling and a bedtime classic.
September/October 2023 Kids Indie Next List
Description
A gentle blend of spooky and sweet, I Will Read to You is a unique rhyming bedtime tale about empathy, storytime...and monsters.
Once upon a time, there was a boy who loved stories—scary ones about skeletons and witches, giants and ghosts, vampires, dragons, mummies and goblins. But he wondered…do monsters have anyone to read to them? Armed with only a book and a flashlight (and with his bemused mother in tow), he travels through the night, calling together every monster he can think of to make sure they get the bedtime story they need.
Delightfully spooky and surprisingly tender, I Will Read to You celebrates monsters, stories, and the way a good book can bring us together.
(Don't forget to find the little orange monster hidden on almost every page!)
Praise for I Will Read to You
A Kids' Indie Next List Pick
A Parnassus Sprout Book Club Pick
"The rhyming couplets on each page beautifully capture the comfort found in storytelling, making this a perfect book for nightly read-alouds."—School Library Journal
"Sterer gives winning warmth to this faintly haunted readaloud celebration in verse....the horde of finely textured creatures in night-time colors by Santoso clamor to hear the story."—Publishers Weekly
"A story about caring for the unseen and the power of books to unite and soothe....Will have young readers eagerly wondering about what goes bump in the night."—Kirkus
"For Halloween or whenever a child wants a delicious scare."—Booklist
"The child takes control as leader and reader, which alleviates scariness, and the atmospheric full-bleed illustrations, done digitally combined with handmade pencil textures, make even a swarm of supernatural beings feel just cheerful enough."—The Horn Book