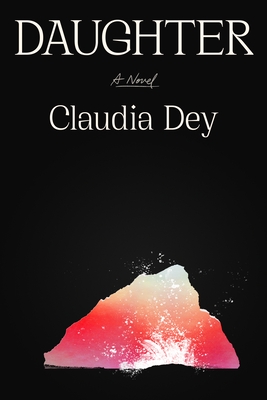 Daughter: A Novel
Publication Date:
September 12th, 2023
Publisher:
Farrar, Straus and Giroux
Usually Ships in 1 to 5 Days
Description
A Must-Read: The New York Times, Elle, Literary Hub, The Millions, The Globe and Mail, and CBC
"[A] darkly glittering tale. We are inside a howl." —The New York Times Book Review
In Claudia Dey's Daughter, a woman long caught in her father's web strives to make a life—and art—of her own.
To be loved by your father is to be loved by God.

So says Mona Dean—playwright, actress, and daughter of a man famous for one great novel, a man whose needs and insecurities exert an inescapable pull and exact an immeasurable toll on the women of his family: Mona, her sister, her half sister, their mothers. His infidelity destroyed Mona's childhood, setting her in opposition to a stepmother who, though equally damaged, disdains her for being broken. Then, just as Mona is settling into her life as an adult and a fledgling artist, her father begins a new affair and takes her into his confidence. Mona delights—painfully, parasitically—in this attention. When he inevitably confesses to his wife, Mona is cast as the agent of disruption, punished for her father's crimes and ejected from the family.
Mona's tenuous stability is thrown into chaos. Only when she suffers an incalculable loss—one far deeper and more defining than family entanglements—can she begin supplanting absent love with real love. Pushed to the precipice, she must decide how she wants to live, what she most needs to say, and the risks she will take to say it.
Claudia Dey chronicles our most intimate lives with penetrating insight and devilish humor. Daughter is an obsessive, blazing examination of the forces that drive us to become, to create, and to break free.
Praise for Daughter: A Novel
"Stunning . . . [Claudia Dey] balances feverish melodrama with chilled and precise prose . . . In Daughter, Mona wages her own war, over her power as a writer, and as a woman. This beautiful and piercing novel is her hard-won victory."
—Meg Howrey, The New York Times Book Review
"An unflinching yet tender look into the dark heart of family-inflicted trauma, and the love that persists in spite of betrayal . . . Daughter is a raw, robust portrait of a young woman's loss—and the courage she needs to live with it."
—Lauren Puckett-Pope, Elle
"Searing and poetic . . . Daughter resounds as a novel about women, motherhood, and art-making."
—Chelsea Bieker, BOMB
"Claudia Dey is a rare force—luminous yet adamantine . . . Reading [Daughter's] ravenous, clear-eyed prose . . . feels akin to jumping into an alpine lake. For a few seconds, you're in shock—and then suddenly, you're overwhelmed with sensation, hyperconscious of your own aliveness and its perverse proximity to numb unfeeling. The immediacy is unnerving, addictive, almost frightening."
—Esmé Hogeveen, Interview magazine
"A literary Succession . . . I couldn't help but think of Ferrante, too: how the greatest stakes are drawn from the most domestic scenarios, how the sentences sometimes extend beyond themselves and other times conclude in a cold staccato."
—Eliza Smith, Literary Hub
"Excellent . . . An intensely psychological novel."
—Michael Schaub, NPR
"Extraordinary . . . An original and powerful novel that a reader won't easily forget."
—Fran Hawthorne, New York Journal of Books
"Daughter explores the regenerative power of art, and how making art is making selfhood."
—CBC

"An emotionally astute exploration of gender and family dynamics."
—Emily Donaldson, The Globe and Mail

"[Daughter] blurs self with other to create an estrangement so painful that the only escape is in art . . . Emotionally intense."
—Lillian Liao, Booklist
"Controlled, lucid, and elegant. Daughter is also a formally inventive book—while still being deeply accessible—about how much we can know about others, and how well we can know ourselves. Claudia Dey describes feelings and struggles I haven't encountered in other novels. I loved this beautiful book."
—Sheila Heti, author of Pure Colour

"In Daughter, Claudia Dey writes beautifully about the special claustrophobia of family and how it can rearrange both art and life."
—Raven Leilani, author of Luster

"Daughter is a breathtaking and brilliant novel about the exquisite pain and agony that come from loving and needing certain people in our lives to love us back, to love us better. It is also about how we are relentless animals, wild and searching, trying to get our crushed, hungry bodies into our wolf packs. I was profoundly moved by it, so uncompromising and so true."
—Miriam Toews, author of Fight Night

"I will go wherever Claudia Dey takes me with her prose—always elegant, yet brimming with color and sharpness, it never fails to breathe new life. I loved Daughter in all its gorgeous power."
—Sophie Mackintosh, author of Cursed Bread

"I gasped. I teared up. This book entered my soul. It is original, seductive, and so alive. Claudia Dey is a phenomenal and profound writer."
—Leslie Feist, musician

"Daughter reads like a thrilling fever dream. Claudia Dey has figured out the recipe for a novel that becomes a climate, as immersive, honest, and addictive as family."
—Marie-Helene Bertino, author of Parakeet