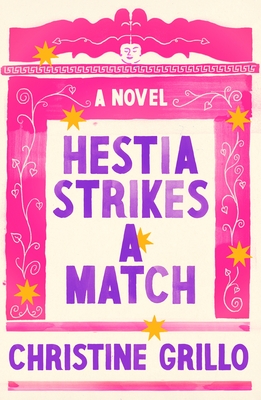 Hestia Strikes a Match: A Novel
Publication Date:
April 18th, 2023
Publisher:
Farrar, Straus and Giroux
Heartleaf Books
1 on hand, as of Dec 9 7:56pm
(Floor)
On Our Shelves Now
Description
A Best Book of the Year at NPR
A Must-Read at The Washington Post, Oprah Daily, and The Orange County Register
"Steamy, smart, and hilarious." —Oprah Daily
"Effervescent . . . Acerbically funny and tender . . . [A] supremely layered, emotionally and intellectually resonant novel for our time." —Lauren LeBlanc, The Boston Globe
Christine Grillo's Hestia Strikes a Match is the slyly funny story of a woman looking for love and friendship in the midst of a new American civil war.
The year is 2023, and things are bad—bad, but still not as bad as they could be. Hestia Harris is forty-two, abandoned by her husband (he left to fight for the Union cause), and estranged from her parents (they're leaving for the Confederacy). Yes, the United States has collapsed into a second civil war and again it's Unionists against Confederates, children against parents, friends against friends.
Hestia has left journalism (too much war reporting) for a job at a Baltimore retirement village on the Inner Harbor (lots of security). She's single and adrift, save for her coworkers and Mildred, an eighty-four-year-old, thrice-happily-married resident who gleefully supports Hestia's half-hearted but hopeful attempts to find love again in a time of chaos and disunion. She reckons with the big questions (How do we live in the midst of political collapse? How do we love people who believe terrible things?) and the little ones (How do I decorate a nonworking fireplace? Can I hook up with a mime?), all while wrestling with that simmering, roiling, occasionally boiling feeling that things are decidedly not okay, but we have to keep going, one foot in front of the other, because maybe, just maybe, we can still find the kinds of relationships that sustain a person through anything.
Christine Grillo's Hestia Strikes a Match is an irreverent, incisive, laugh-out-loud interrogation of modern love of all kinds, in all its messy beauty. Equal parts wise and hilarious, it fills the heart, fortifies the spirit, and will surely help to fend off despair. In the face of the everyday wildness of our times, it asks and answers that newly constant question: How do we make a full, wonderfully ordinary life when the whole mad world is clattering down around us?
Praise for Hestia Strikes a Match: A Novel
"[Christine] Grillo's witty debut novel answers an unusual question: How does one survive a midlife crisis during a civil war? [An] imaginative tale."
—Becky Meloan, The Washington Post
"For fans of Maria Semple's Bernadette, Gail Honeyman's Eleanor Oliphant, and Helen Fielding's Bridget Jones, Hestia is just as unique, at once brutally honest, self-deprecating, and committed to forging her own path . . . Juxtaposing intellect, wit, and positivity, this pithy satire sheds an imaginative light on two things that invariably bring people together or divide them forever: love and politics."
—Anne Eliot Feldman, Washington Independent Review of Books
"[Christine Grillo's] sharp, sparkling debut is a timely reminder of what connects people even in a country tearing itself apart: the desire to love."
—Allison Cho, Booklist
"Quick-witted and big-hearted . . . [Hestia] sparkles with humor."
—Jaclyn Fulwood, Shelf Awareness
"[A] clever satire of life in a divided country . . . Bridget Jones's Diary for the post-MAGA era."
—Publishers Weekly
"[A] sharply observed and written tale."
—Kirkus Reviews
"Christine Grillo's debut novel is a wry look at our it-could-happen-here dis-Union, one that might just remind us all to take ourselves, and our arguments, less seriously. Great fun."
—Alice McDermott, author of What About the Baby?
"Warning: Do not pick up Hestia Strikes a Match without clearing your calendar. I could not put down this pitch-perfect dark comedy. I fell in love, and so will you."
—Joanna Rakoff, author of My Salinger Year
"Hestia Strikes a Match made me laugh out loud and tear up at the same time, as it combines wry satire with a moving story of how we form bonds of love and friend-ship even as the world around us is crumbling. Hestia is everything I could wish for in a character—quirky, smart, infuriating, broken, wise, and funny as hell."
—Angie Kim, author of Miracle Creek
"Astonishing. Intense. Funny. Smart. There are so many things to root for here. Will America win? Will Hestia find her match? Will the dear members of Hestia's community survive? Hestia Strikes a Match is the novel I didn't know I needed. I loved it."
—Jessica Francis Kane, author of Rules for Visiting
"Extremely wise and deeply funny, this debut gives us a riotously irreverent, effortlessly firecracking pair of Socratic dialogues: one between generations debating how to find love or whether to seek it at all, and the other between citizens trying to figure out how to save their country."
—Carlene Bauer, author of Girls They Write Songs About
"A rom-com about the ups and downs of dating, but it's set during the next American civil war in the very near future. Right?! This very funny, very sad and sweet, and very Baltimore book is about finding connection in a world where everything has been turned inside out. Sound familiar? Just read it: it's wonderful, it's relevant, it's so good."
—Amber Sparks, author of And I Do Not Forgive You