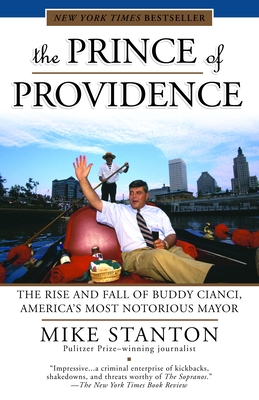 The Prince of Providence: The Rise and Fall of Buddy Cianci, America's Most Notorious Mayor
Publication Date:
July 13th, 2004
Publisher:
Random House Trade Paperbacks
Heartleaf Books
2 on hand, as of Jun 4 4:25pm
(Floor)
On Our Shelves Now
Description
COP: "Buddy, I think this is a whorehouse."
BUDDY CIANCI: "Now I know why they made you a detective."
Welcome to Providence, Rhode Island, where corruption is entertainment and Mayor Buddy Cianci presided over the longest-running lounge act in American politics. In The Prince of Providence, Pulitzer Prize–winning journalist Mike Stanton tells a classic story of wiseguys, feds, and politicians on a carousel of crime and redemption.
Buddy Cianci was part urban visionary, part Tony Soprano—a flawed political genius in the mold of Huey Long and James Michael Curley. His lust for power cost him his marriage, his family, and close friendships. Yet he also revitalized the city of Providence, where ethnic factions jostle with old-moneyed New Englanders and black-clad artists from the Rhode Island School of Design rub shoulders with scam artists from City Hall.
For nearly a quarter of a century, Cianci dominated this uneasy melting pot. During his first administration, twenty-two political insiders were convicted of corruption. In 1984, Cianci resigned after pleading guilty to felony assault, for torturing a man he suspected of sleeping with his estranged wife. In 1990, in a remarkable comeback, Cianci was elected mayor once again; he went on to win national acclaim for transforming a dying industrial city into a trendy arts and tourism mecca.
But in 2001, a federal corruption probe dubbed Operation Plunder Dome threatened to bring the curtain down on Cianci once and for all.
Mike Stanton takes readers on a remarkable journey through the underside of city life, into the bizarre world of the mayor and his supporting cast, including:
• "Buckles" Melise, the city official in charge of vermin control, who bought Providence twice as much rat poison as the city of Cleveland, which was at the time four times as large, and wound up increasing Providence's rat population. During a garbage strike, Buckles sledgehammered one city employee and stuck his thumb in another's eye. Cianci would later describe this as "great public policy."
• Anthony "the Saint" St. Laurent, a major Rhode Island bookmaker and loan shark, who tried to avoid prison by citing his medical need for forty bowel irrigations a day, thus earning himself the nickname "Public Enema Number One."
• Dennis Aiken, a celebrated FBI agent and public corruption expert, who asked to be sent to "the Louisiana of the North," where he enlisted an undercover businessman to expose the corrupt secrets of Cianci's City Hall.
The Prince of Providence is a colorful and engrossing account of one of the most tragicomic figures in modern American life—and the city he transformed.
Praise for The Prince of Providence: The Rise and Fall of Buddy Cianci, America's Most Notorious Mayor
Advance praise for The Prince of Providence

"The Prince of Providence reminds me of Orson Welles's great line from The Third Man: 'In Italy for thirty years under the Borgias they had warfare, terror, murder, bloodshed—they produced Michelangelo, Leonardo da Vinci, and the Renaissance. In Switzerland they had brotherly love, five hundred years of democracy and peace, and what did they produce? The cuckoo clock.' Mike Stanton's portrait of Mayor Vincent 'Buddy' Cianci places Cianci among the Borgias, a late-twentieth-century prince who championed the arts, dark and bright both, to resurrect a great American city."
—Chris Matthews
"Mike Stanton is our preeminent aficionado and raconteur of Rhode Island's flamboyantly criminal political follies, and The Prince of Providence is the chronicle of a great American rogue, Mayor Buddy Cianci—a paragon of charisma and corruption."
—Philip Gourevitch, author of A Cold Case
"Rollicking, frolicking, and superbly reported. Politics has never been this bizarre, this corrupt, or, for that matter, this much fun. Sit back and hold on tight, because The Prince of Providence is one helluva rollercoaster ride."
—Buzz Bissinger, author of A Prayer for the City and Friday Night Lights
"The Prince of Providence is a gritty, textured account of urban corruption and urban renewal, and a vivid portrait of a charismatic scoundrel and true American original—Rhode Island's Huey Long."
—John Taylor, author of The Count and the Confession
"A blistering and memorable portrait of a man and a city . . . the kind of successfully fluid story that could be written only by someone who has seen and connected the dots."
—Kirkus Reviews (starred review)