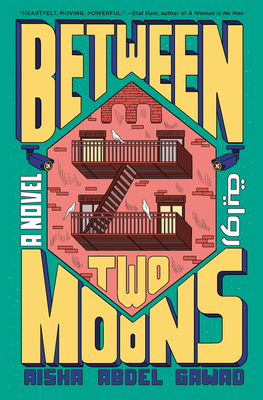 Between Two Moons: A Novel
Publication Date:
June 6th, 2023
Usually Ships in 1 to 5 Days
Description
LONGLISTED FOR THE NEW AMERICAN VOICES AWARD • Set in the Arab immigrant enclave of Bay Ridge, Brooklyn, following three siblings coming of age over the course of one Ramadan, "a moving look at family, survival, and celebration" (Hanif Abdurraqib, author of A Little Devil in America).
"Breathtaking." —New York Times Book Review
"A gorgeously written and profoundly intimate debut." —Etaf Rum, author of New York Times bestseller A Woman Is No Man
It's the holy month of Ramadan, and twin sisters Amira and Lina are about to graduate high school in Bay Ridge, Brooklyn. On the precipice of adulthood, they plan to embark on a summer of teenage revelry, trying on new identities and testing the limits of what they can get away with while still under their parents' roof. But the twins' expectations of a summer of freedom collide with their older brother's return from prison, whose mysterious behavior threatens to undo the delicate family balance.
Meanwhile, outside the family's apartment, a storm is brewing in Bay Ridge. A raid on a local business sparks a protest that brings the Arab community together, and a senseless act of violence threatens to tear them apart. Everyone's motives are called into question as an alarming sense of disquiet pervades the neighborhood. With everything spiraling out of control, how will Amira and Lina know who they can trust?
A gorgeously written, intimate family story and a polyphonic portrait of life under the specter of Islamophobia, Between Two Moons challenges the reader to interrogate their own assumptions, asking questions of allegiance to faith, family, and community, and what it means to be a young Muslim in America.
Praise for Between Two Moons: A Novel
A MOST ANTICIPATED BOOK OF THE SUMMER: Washington Post, Harper's Bazaar, Afar Magazine
"Multifaceted and moving…We'll see the world primarily through the eyes of Amira, the dutiful twin, the one who cares enough to look; we'll witness post-9/11 Muslim lives under relentless scrutiny; we'll measure time by sunset and sundown and the long stretches of hunger and thirst in between; and all of it will feel like a bruise, painful and tender and sometimes beautiful…Amira's triumph at the close of this breathtaking, elegantly structured novel is in experiencing how fully and desperately human she can be."
—New York Times Book Review

"Gawad honestly portrays the excitement and uncertainty of adolescence, set against a backdrop of racial tension that exploded in 9/11's aftermath."
—Washington Post
"The summer after high school graduation is full of promise. But for twin sisters Amira and Lina, the return of their brother from prison complicates some of those teenage plans. In Aisha Abdel Gawad's new novel, Between Two Moons, the sisters' family finds it's struggling with tensions in and outside of the home during the holy month of Ramadan. . . . A nuanced portrait of the Muslim-American experience."
—NPR, Book of the Day

"Between Two Moons by Aisha Abdel Gawad is not only gorgeously written, but also provides a window into the experience of growing up Muslim in post-9/11 New York City through the eyes of twin sisters."
—Harper's Bazaar

"Incisive...An emotionally rich and revelatory portrait, set in a post 9/11 world...Humor and joy exist in the struggles Gawad documents. What's more, love is ever present: between friends, between family members, and between each individual and the faith they cherish."
—Ms. magazine
"Heartfelt. Moving. Powerful. Between Two Moons is a gorgeously written and profoundly intimate debut. Aisha Abdel Gawad follows an Egyptian family in New York as they struggle to navigate the immigrant experience, powerfully depicting the struggle to remain themselves and the pressure to assimilate, the emotional trauma, uncertainty, displacement, and culture shock. An urgent and unflinching story that deeply challenges and changes you. We need voices like those of Aisha Abdel Gawad."
—Etaf Rum, author of New York Times bestseller A Woman Is No Man
"Between Two Moons is a generous, beautiful portrait of both the joys and fears of Muslim life, one that doesn't treat lived experience only as tragedy. It is a moving look at family, survival, and celebration, one that will echo for decades."
—Hanif Abdurraqib, author of A Little Devil in America
"Between Two Moons is a fearless and unflinchingly honest debut. With dangerous accuracy, Aisha Abdel Gawad depicts a particular kind of immigrant existence, that of an Egyptian family in New York struggling with myriad fault lines, both generational and experiential. The small details throughout this story—from the mechanics of prayer-time ablution to the subtleties of Egyptian-accented English—are spot-on. More than anything, Between Two Moons is a story about the place so many Arabs in this part of the world have been forced to inhabit in the post-911 age: that malicious, disorienting chasm between the hope of being seen and the fear of being watched."
—Omar El Akkad, author of What Strange Paradise and American War
"The Muslim community in Brooklyn's Bay Ridge is a world we hardly know, filled with Arab American women who have long been neglected in the white pages of American Letters. In Aisha Gawad's stylistically superb debut these women are seen, heard, and made known. Aisha's elegant and fearless prose introduces us to Amira and Lina, post 9/11 twin sisters who are scarred witnesses of the distrust, fear, and racism Arab Americans face every day. Yet, they soar. Amira, torn between leaving Brooklyn while staying loyal to her Egyptian heritage, to 'not to be like them—those people, out there in the world, who didn't know us and despised us.' And rebellious Lina, who like Icarus, just might have soared too high towards the violence of men. See Something, Say Something? In this doubtless classic, Aisha Gawad has seen many things, and her bold and dazzling prose illuminates everything." 
—Ernesto Quiñonez, author of Bodega Dreams
"A gripping, intimate [family] portrait...Coming together, feeling for one another no matter what each of us have been through—this is what Abdel Gawad's novel advocates for. There is no more powerful message."
—BookPage

"Fantastic...The writing here is steady, strong and beautiful throughout. Between Two Moons is an amazing first novel. It's powerful, honest and graceful, threaded with a looming sense of inevitable disaster that is masterfully controlled. Taking on love, family, loyalty, desire, belief, belonging and otherness, Gawad does great things."
—BookReporter.com
"A novel of duality, both delightful and foreboding. . . Gawad deftly engag[es] in a delicate balancing act. . . In painting her narrative world, Abdel Gawad knows exactly when to use precise brushstrokes to bring into crystal-clear focus the fine details of daily life within this observant family — in a supportive Muslim community within a broader hostile environment — and exactly when to lay on a thick impasto of language in order to leave certain underlying matters tantalizingly obscured. . . And importantly, [Between Two Moons] provides a needed perspective for those not particularly knowledgeable about Islamic practices and aspects of American Muslim family life. . . Gawad expertly cuts through the mystique and misinformation that too often surround American Muslims in a way that displays their humanity and their culture."
—The Markaz Review
 
"An incredibly rich and vibrant story of first-generation Arab American teenagers coming into their own and holding onto their heritage. . . Gawad highlights the delicate balance needed to forge new and unique paths forward while the siblings keep each part of their identity alive and thriving."
—Arab News

"Gawad's excellent debut novel illuminates one family's story through the holy month of fasting against the backdrop of NYPD surveillance of a Muslim neighborhood and larger fears of detainment and deportation. . . . Engaging. . . A complex portrayal of [a] whole community. . . A vibrant achievement."
—Kirkus
"A young Muslim woman comes of age in Bay Ridge, Brooklyn, during a period of heightened anti-Arab prejudice in Gawad's astonishing debut...A knockout...This is a winner." 
—Publishers Weekly (starred review)
"Gawad's engrossing, propulsive novel evokes the heat of summer, the sharp pangs that come with fasting, the oppressive climate of fear and distrust, and the insurmountable bond between sisters. An exceptional, not-to-be-missed debut."
—Booklist (starred review)