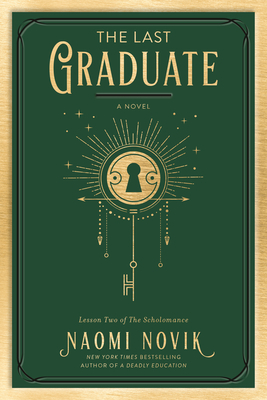 The Last Graduate: A Novel (The Scholomance #2)
Publication Date:
June 28th, 2022
Heartleaf Books
1 on hand, as of Dec 9 7:56pm
(Floor)
On Our Shelves Now
Another great novel from the master world-builder. A perfect setup for the final book of the trilogy, which I desperately need right now, please.
October 2021 Indie Next List
Description
NEW YORK TIMES BESTSELLER • The specter of graduation looms large as Naomi Novik's groundbreaking, New York Times bestselling trilogy continues in the stunning sequel to A Deadly Education.
"The climactic graduation-day battle will bring cheers, tears, and gasps as the second of the Scholomance trilogy closes with a breathtaking cliff-hanger."—Booklist (starred review)
HUGO AWARD FINALIST • LOCUS AWARD FINALIST • ONE OF THE BEST BOOKS OF THE YEAR: Polygon, Thrillist, She Reads

In Wisdom, Shelter. That's the official motto of the Scholomance. I suppose you could even argue that it's true—only the wisdom is hard to come by, so the shelter's rather scant. 
 
Our beloved school does its best to devour all its students—but now that I've reached my senior year and have actually won myself a handful of allies, it's suddenly developed a very particular craving for me. And even if I somehow make it through the endless waves of maleficaria that it keeps throwing at me in between grueling homework assignments, I haven't any idea how my allies and I are going to make it through the graduation hall alive. 
 
Unless, of course, I finally accept my foretold destiny of dark sorcery and destruction. That would certainly let me sail straight out of here. The course of wisdom, surely.
 
But I'm not giving in—not to the mals, not to fate, and especially not to the Scholomance. I'm going to get myself and my friends out of this hideous place for good—even if it's the last thing I do.
With keen insight and mordant humor, Novik reminds us that sometimes it is not enough to rewrite the rules—sometimes, you need to toss out the entire rulebook.
The magic of the Scholomance trilogy continues in The Golden Enclaves
Praise for The Last Graduate: A Novel (The Scholomance #2)
Praise for The Last Graduate

"[The Last Graduate] rips along like a force of nature. In the abstract, this is a story about relying on others—but in the concrete, it is about how to survive when the odds are against you. As she did with [A Deadly Education], Novik changes the game again with the very last line."—Locus
"Truly one of the best fantasy series out there right now, and it's not close."—Culturess
"[The Last Graduate] is as compulsive a read as [A Deadly Education]. As a warning, it ends on another killer cliffhanger."—BuzzFeed
"Naomi Novik's Scholomance series, about kids at a preposterously deadly magical school, stands out in a ridiculously crowded field. Its sheer viciousness, its grim humor, and its complicated interpersonal politics are an immediate draw."—Polygon
"Sardonic students, gruesome monsters, growing friendships, and a touch of romance create a highly readable story. Some questions remain to be answered in the trilogy's last volume. The end of this installment ensures that book three can't come fast enough."—Library Journal (starred review)
Praise for A Deadly Education

"Eyeball-meltingly brilliant—Novik is, quite simply, a genius."—Kiersten White, New York Times bestselling author of And I Darken
"Naomi Novik has written the wizard-school book that we all deserve! Constant peril, a fresh magic system, and a deeper discussion of how educational inequality currently functions than I ever expected to see in fantasy."—Hank Green, author of A Beautifully Foolish Endeavor
"Novik skillfully combines sharp humor with layers of imagination to build a fantasy that delights on every level."—Stephanie Garber, #1 New York Times bestselling author of the Caraval series
"The Scholomance is the dark school of magic I've been waiting for."—Katherine Arden, New York Times bestselling author of The Bear and the Nightingale

"A gorgeous book about monsters and monstrousness, chockablock with action, cleverness, and wit."—Holly Black, #1 New York Times bestselling author