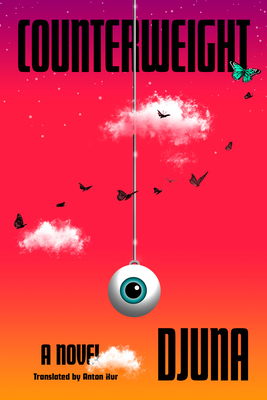 Counterweight: A Novel
Publication Date:
July 11th, 2023
Usually Ships in 1 to 5 Days
Description
A WIRED "BOOK YOU NEED TO READ" • For fans of the worlds of Philip K. Dick, Squid Game, and Severance: An absorbing tale of corporate intrigue, political unrest, unsolved mysteries, and the havoc wreaked by one company's monomaniacal endeavor to build the world's first space elevator
An "antic, madcap noir with flair" (Wired) and "fast-paced cyberpunk story" (The New York Times Book Review) from one of South Korea's most revered science fiction writers, whose identity remains unknown.
***
On the fictional island of Patusan—and much to the ire of the Patusan natives—the Korean conglomerate LK is constructing an elevator into Earth's orbit, gradually turning this one-time tropical resort town into a teeming travel hub: a gateway to and from our planet. Up in space, holding the elevator's "spider cable" taut, is a mass of space junk known as the counterweight. And stashed within that junk is a trove of crucial data: a memory fragment left by LK's former CEO, the control of which will determine the company's—and humanity's—future.
 
Racing up the elevator to retrieve the data is a host of rival forces: Mac, the novel's narrator and LK's chief of External Affairs, increasingly disillusioned with his employer; the everyman Choi Gangwu, unwittingly at the center of Mac's investigations; the former CEO's brilliant niece and power-hungry son; and Rex Tamaki, a violent officer in LK's Security Division. They're all caught in a labyrinth of fake identities, neuro-implants called Worms, and old political grievances held by the Patusan Liberation Front, the army of island natives determined to protect Patusan's sovereignty.
 
Originally conceived by Djuna as a low-budget science fiction film, with literary references as wide-ranging as Joseph Conrad and the Marquis de Sade, Counterweight is part cyberpunk, part hard-boiled detective fiction, and part parable of South Korea's neocolonial ambition and its rippling effects.
Praise for Counterweight: A Novel
**The New York Times "12 New Books Coming in July"**
**Wired "The 7 Books You Need to Read This Spring and Summer"**
**Nylon "July 2023's Must-Read Book Releases"**
**Rolling Stone "Best New Book Releases, July 2023"**
"An efficient, fast-paced cyberpunk story . . . The novel's speculations about human agency resonate in the current moment, when American tech C.E.O.s oscillate between issuing sonorous warnings about the existential risks of the A.I. systems they're developing and breathless hype about brain-computer interfaces. The book imagines the imminent emergence of companies run by artificial intelligence—companies as intelligence, a fusion of technology and economic logic that will definitively outrun humanity." —Hari Kunzru, The New York Times Book Review
"[A] dizzyingly subversive cyberpunk thriller . . . In true Philip K. Dick style, Djuna serves up enough paranoia and clever ideas to keep you guessing." —Charlie Jane Anders, The Washington Post
"A tremendously propulsive thrill ride that would be at home on shelves beside such heavyweights as Doctorow, Stephenson, and Dick . . . Hur's translation is zippy and often quite funny as the cinematic plot unfolds, packing in both twisty cyberespionage and deep questions about legacies, AI, and the price worth paying to do something truly great. English-speaking readers have been missing out." —Publishers Weekly (starred review)
"Read[s] like classic dystopian fiction . . . The first novel to be translated to English from South Korean author Djuna (whose identity remains a mystery), this quick-moving puzzle of an SF story is intriguing and fascinating as it imagines a future where humanity is intertwined with AI." —Melissa DeWild, Library Journal
"Zippy, cinematic . . . An antic, madcap noir with flair." —Kate Knibbs, Wired ("The 7 Books You Need to Read This Spring and Summer")
"Think of the novel as the cosmic lovechild of Hackers, The Matrix, and pretty much anything by H.P. Lovecraft, kinda." —Rolling Stone (Best New Book Releases, July 2023)
"Fast-paced and exhilarating, Counterweight is worth the ride . . . Packs more corporate intrigue into its 176 pages than most stories manage in three times the space . . . Forget about blinking while reading this book." —Andrea M. Pawley, Washington Independent Review of Books
"In agile, straightforward prose, Djuna weaves a tale that unfurls as vividly as a film. Literary references and bits of humor are sprinkled throughout the whole book, an unexpected and welcome feature. It has the effect of drawing the next chapter in and conducting the reader's gaze beyond the abyss that forms whenever we scrutinize the evolution of very present, palpable things—artificial intelligence, privacy concerns, transnational corporations, neocolonialism." —Heloisa Selles, Asymptote
"Counterweight is a psychological thriller that will turn all your preconceptions upside down. The action scenes read like poetry, the space elevator is astonishingly realistic, and the characters creep inside you like mind worms. Djuna's meticulously told story eviscerates corporate politics, revealing the authoritarian perversity at the heart of technological innovation—whether the tech is inside our brains, or reaching into outer space." —Annalee Newitz, author of The Terraformers and Autonomous
"Paranoid, wondrous, and breakneck—Counterweight is an elevator rising from the muck to the stars." —Max Gladstone, co-author of This Is How You Lose the Time War (winner of the Hugo Award and the Nebula Award)
"Djuna's visionary novel launches us on a search for elusive answers in a world where nobody is ever as they seem. Enthralling and category-defying, it unfolds at a thriller's pace in its exploration of the plasticities of human identity and where technology—and our ambition—might take us." —Pitchaya Sudbanthad, author of Bangkok Wakes to Rain
"Counterweight needs no heavy lifting. It is so sharp, cutting and suspense-packed you'll read it in a blink. Highly recommended for everyone who loves great sci-fi." —Marc-Uwe Kling, author of Qualityland

"Djuna is a legend and a giant in Korean science fiction. Hur is a phenomenal translator. And Counterweight has everything. It is a fast-paced science fiction action thriller, a well-crafted mystery novel, and an absolutely captivating study of the complexity of human existence (physical or otherwise). A wild ride where both the author and the translator shine. I could not put down the book." —Bora Chung, author of Cursed Bunny (International Booker Prize finalist)