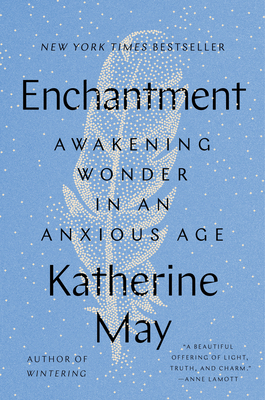 Enchantment: Awakening Wonder in an Anxious Age
Publication Date:
February 28th, 2023
Publisher:
Riverhead Books
Usually Ships in 1 to 5 Days
May writes with such magic; accurately capturing the collective feeling of grief and trauma while also sharing examples of moments of gratitude and wonder. I enjoyed every word of this book.
March 2023 Indie Next List
Description
#1 NATIONAL BESTSELLER

"When I tell you that I dogeared almost every page in this book, I'm telling God's honest truth. I didn't know how much I needed someone else to validate what I was going through. The sense that I had lost my curiosity, my imagination, my ability to make meaning." – NPR Morning Edition host Rachel Martin

"Such a teacher for every single person who is trying to live closer to who they were born to be and not who the world tamed them to be." – New York Times bestselling author Glennon Doyle on We Can Do Hard Things
"I love Katherine May's new book, Enchantment.…It's a beautiful offering of light, truth and charm in these strange, dark times." – New York Times bestselling author Anne Lamott
 
"Katherine May gave so many of us language and vision for the long communal 'wintering' of the last years. Welcome this beautiful meditation for the time we've now entered. I cannot imagine a more gracious companion. This book is a gift." – New York Times bestselling author Krista Tippett
"Gentle inspiration for those who feel exhausted or helpless… May shows how paying deliberate attention to what's around us can surprise us with insights and reveal new connections that deepen our appreciation for the world." – Washington Post

From the New York Times–bestselling author of Wintering, an invitation to rediscover the feelings of awe and wonder available to us all
Many of us feel trapped in a grind of constant change: rolling news cycles, the chatter of social media, our families split along partisan lines. We feel fearful and tired, on edge in our bodies, not quite knowing what has us perpetually depleted. For Katherine May, this low hum of fatigue and anxiety made her wonder what she was missing. Could there be a different way to relate to the world, one that would allow her to feel more rested and at ease, even as seismic changes unfold on the planet? Might there be a way for all of us to move through life with curiosity and tenderness, sensitized to the subtle magic all around?
 
In Enchantment, May invites the reader to come with her on a journey to reawaken our innate sense of wonder and awe. With humor, candor, and warmth, she shares stories of her own struggles with work, family, and the aftereffects of pandemic, particularly feelings of overwhelm as the world rushes to reopen. Craving a different way to live, May begins to explore the restorative properties of the natural world, moving through the elements of earth, water, fire, and air and identifying the quiet traces of magic that can be found only when we look for them. Through deliberate attention and ritual, she unearths the potency and nourishment that come from quiet reconnection with our immediate environment. Blending lyricism and storytelling, sensitivity and empathy, Enchantment invites each of us to open the door to human experience in all its sensual complexity, and to find the beauty waiting for us there.
Praise for Enchantment: Awakening Wonder in an Anxious Age
PRAISE FOR ENCHANTMENT
"Profound" – NPR Morning Edition
 
"Shimmering… An invocation of a better story to tell ourselves." – Maria Popova, The Marginalian
"I love Katherine May's new book, Enchantment. She is so smart, tender hearted, thoughtful.  It's actually enchanting, so wise and lyrical, down to earth and mystical, personal and universal. It's a beautiful offering of light, truth and charm in these strange, dark times." – New York Times bestselling author Anne Lamott
 
"Katherine May gave so many of us language and vision for the long communal 'wintering' of the last years. Welcome this beautiful meditation for the time we've now entered. I cannot imagine a more gracious companion. This book is a gift." – New York Times bestselling author Krista Tippett
"Luminous. Enchantment is truly enchanting. Katherine May's authorial voice casts a spell that helps us see the magic in everything, including ourselves." – New York Times bestselling author Martha Beck
PRAISE FOR KATHERINE MAY'S PREVIOUS WORK
"There is power and clarity and wisdom to be gained from accepting these difficult times. Wintering offered me empathy, acceptance and perspective that will stay with me long after the pandemic." – New York Times
"Honest and deeply sympathetic...proves that there is grace in letting go, stepping back and giving yourself time to repair in the dark...May is a clear-eyed observer and her language is steady, honest and accurate—capturing the sense, the beauty and the latent power of our resting landscapes." – Wall Street Journal
 
"May writes beautifully….A contemplative, hopeful, consoling book." – NPR
"A gorgeous book, a generous book, a layered book of uncommon sensitivity and substance…A splendid and soul-salving read." – Maria Popova, Brain Pickings
"Wintering is every bit as beautiful and healing as the season itself. Katherine May thoughtfully examines the emotional, spiritual, and geographical reality of the cold times, the dark days, and those periods of our lives when things are neither soft nor easy. In so doing, she offers a great and humane service to her readers: she shows us that wintering cannot be avoided, but need not be feared. This is truly a beautiful book." – New York Times bestselling author Elizabeth Gilbert