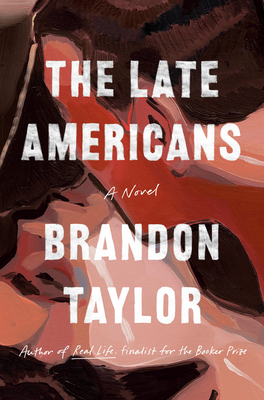 The Late Americans: A Novel
Publication Date:
May 23rd, 2023
Publisher:
Riverhead Books
Heartleaf Books
1 on hand, as of Dec 9 7:56pm
(Floor)
On Our Shelves Now
With writing that is equal parts piercing and tender, this novel shifts through a cast of grad students and laborers, lovers and friends — many of them queer men — as they navigate sex, money, art, and uncertain modern life in Iowa City.
June 2023 Indie Next List
Description
INSTANT NATIONAL BESTSELLER
NAMED A MOST ANTICIPATED BOOK OF THE YEAR BY VOGUE, ELLE, OPRAH DAILY, THE WASHINGTON POST, BUZZFEED AND VULTURE
"Erudite, intimate, hilarious, poignant . . . A gorgeously written novel of youth's promise, of the quest to find one's tribe and one's calling." —Leigh Haber, Oprah Daily
The Booker Prize finalist and widely acclaimed author of Real Life and Filthy Animals returns with a deeply involving new novel of young men and women at a crossroads
In the shared and private spaces of Iowa City, a loose circle of lovers and friends encounter, confront, and provoke one another in a volatile year of self-discovery. Among them are Seamus, a frustrated young poet; Ivan, a dancer turned aspiring banker who dabbles in amateur pornography; Fatima, whose independence and work ethic complicate her relationships with friends and a trusted mentor; and Noah, who "didn't seek sex out so much as it came up to him like an anxious dog in need of affection." These four are buffeted by a cast of artists, landlords, meatpacking workers, and mathematicians who populate the cafes, classrooms, and food-service kitchens of the city, sometimes to violent and electrifying consequence. Finally, as each prepares for an uncertain future, the group heads to a cabin to bid goodbye to their former lives—a moment of reckoning that leaves each of them irrevocably altered.
A novel of friendship and chosen family, The Late Americans asks fresh questions about love and sex, ambition and precarity, and about how human beings can bruise one another while trying to find themselves. It is Brandon Taylor's richest and most involving work of fiction to date, confirming his position as one of our most perceptive chroniclers of contemporary life.
Praise for The Late Americans: A Novel
Praise for The Late Americans:
"The Late Americans is Brandon Taylor's best book so far. . . . For all their disagreements and misunderstandings and incompatibilities, [his characters are] all attempting to make peace with the cosmic bêtise of existence, to figure out how to live without compromising everything they value. It's beautiful and wrenching to watch them try." —Charles Arrowsmith, Boston Globe
"Erudite, intimate, hilarious, poignant . . . A gorgeously written novel of youth's promise, of the quest to find one's tribe and one's calling." —Leigh Haber, Oprah Daily

"This book assures and deepens Taylor's position as one of the most accomplished, important novelists of his generation. He is undoubtedly on to something expansively new in his sense of what the contemporary novel can do." —The Guardian
"Brandon Taylor's third book is the most dazzling example of his sharp pen and keen observations of human nature yet. . . . Taylor develops his characters so precisely, they feel like close friends: recognizable, sometimes infuriating, and always worth following to the book's last page." —Harper's Bazaar
"Exquisitely sensitive . . . with flashes of beauty." —The New York Times

"The best writer on work in America today."  —Garth Greenwell

"With The Late Americans, Taylor has at once deepened and moved beyond the traditional campus novel. . . . Taylor's empathy for his characters is bone-deep. . . . [A] bruising, brilliant second novel."  —Washington Post Book World
"Amid financial concerns, artistic frustrations, and the judgments, jealousies, and posturing of their classmates, [Taylor's] characters find solace in moments of shared tenderness. . . . His multifaceted portrayals show each of them to be as innocent and as flawed as any human." —The New Yorker
"Startlingly original." —Liesl Schillinger, Wall Street Journal
"A delicious read." —Brittany Luse, NPR
"One of the best contemporary writers on young queer creatives, Taylor continues the theme with this offering about a group of Iowa City friends. . . . Over a year of creative and personal revolution, they go through partnerships, daddy issues, and complicated friendships — all simultaneously chaotic, messy, and loving." —Rolling Stone
 
"Compelling in its determination to capture the tenderness of aspiring artists, their desperate ambition and crushing uncertainty. . . . The Late Americans is remarkable. If you're going to write about art, the folly of pursuing it and the irrefutable power of it, you should probably do it well. Taylor does it truthfully and beautifully." —Financial Times
"A beautiful writer. His tautly constructed sentences are as concrete and vivid as the poems that the hapless Seamus adores." 
—Associated Press
 
"The Late Americans is a novel of finish and style. It sees fiction not as serving identity but as exploring issues of moral concern. It's hot after blessing, beauty, and meaning even while it often finds the world hurtful, ugly, and empty. . . . One of Taylor's many gifts is his ability to move from [an] intimate perspective to a wider angle, showing how his characters all long, in one way or another, for meaning in a world that seems leached of it. . . . There remains in Brandon Taylor's work the ghost of belief: the hope, often thwarted but still existent, that coldness might become warmth, that lives might be meaningful, that indifference might turn into a deeper, more beautiful kind of being seen." —Commonweal Magazine
"The Late Americans chronicles these young people's brawl for truth and understanding in their interpersonal relationships . . . and manages to turn the chaos into something beautiful. . . . We sit, enthralled by Taylor's prose and immersed in his character's stories, witnesses to the complexity of truth and its resistance against objectivity."  —Brooklyn Rail
"I love this book. It's such a brilliant evocation of life. And Brandon Taylor is a great novelist." —Bill Goldstein, NBC-TV
"The Late Americans is a compelling, clever, funny, structurally audacious book of relentless psychological acuity, emotional resonance and technical control, and reconfirms Brandon Taylor as one of the preeminent American authors of his generation." —Colin Barrett, Hazlitt
"Taylor's elegant works of fiction . . . keep a tight focus on their characters, like a magnifying glass. . . . Taylor's vision is unsparing, but never bleak. . . . He has a Chekhovian generosity that enables him to convey character with something like tenderness." —Harper's Magazine
"Taylor deftly explores the myth of youth's unbound possibilities as it plays out in the face of constraints of time, space, class and wealth disparities. . . . The characters constantly strive to become better versions of themselves by embracing an ideal of passionate empathy that goes beyond pity or kindness, by striving to plumb the dark, even unspeakable parts of themselves." —Thúy Đinh, NPR
"Deftly directed by Taylor, characters swim in and out of the story, exploring a lived-in symphony of questions about what it means to make art, love truthfully, and live morally. . . . [His] novels are so big—they contain the world." —Esquire
"[An] intense, finely tuned book. Taylor is an inimitable talent." —Elle
"Provocative . . . Through Taylor's signature intimacy, we see casual emotional devastation, prickly social interactions, and wry humor with keen clarity." —Vulture

"Brandon Taylor takes a new spin and reimagines the classic friend getaway with queer characters. . . . Contemporary readers will love this provocative but intimate novel about friendships, ambition, and community." —Cosmopolitan
"Finely rendered." —Vanity Fair
"The writing is devilishly clever, fun and salacious. . . . The Late Americans takes you on a wondrous ride through the doldrums and raptures of youth."  —Frieze (Editor's Pick)
"Taylor's most accomplished book, a panorama of youth in the era of late capitalism with a heightened awareness of Black and queer identity politics." —The Guardian
"The tender, elegant prose combines with sound structural unity to make [The Late Americans] work." —The Spectator
"One of the most exciting and uncompromising voices in literature." —The Evening Standard
"Taylor sanctifies the earthly via his characters—not by elevating them but by revealing them as painfully human. . . . [A] productive tension between freedom and restriction gleams in Taylor's prose too. The language's force accumulates like prayer beads. In his hands, even the distance between two lovers flows thick as a rolling channel." —Jorge Cotte, Bomb
"A stunning work of fiction, with characters that are unforgettable and writing that is frequently breathtaking. I can't shout its praises enough." —David Vogel, Buzzfeed
 
"Taylor is fast emerging as one of America's most shrewdest cultural voices. . . . In his fiction, he circles the terrain of the smart, lonely American male seeking intimacy and value in a materialistic, godless universe, in sentences so lissom and exacting you want to reach out and stroke them." —Claire Allfree, The Telegraph
"Elegant and restrained." —Vox

"Powerfully disconcerting [and] smart." —Maureen Corrigan, NPR
"Something quite rare in contemporary literature—a novel that takes its time and empowers its characters to become actual people." —Hero
"I love the way Taylor captures the charged spaces that exist between friends and lovers. . . .  I also appreciated the way that the constellated form of the novel pushed subtly against the logic of scarcity that dominates the lives of its characters. No matter how alone they feel, we encounter them embedded in one another's stories." —Jewish Currents
"A virtuosic performance of social and psychological realism fraught with the anxieties of our current post-postmodern moment. . . . The book's third-person narration and large cast give it both a symphonic and discordant quality that calls to mind George Eliot's Middlemarch . . . A work of art that concerns itself with works of art." —Washington Independent Review of Books

"One of the most compelling looks at the ways class impacts creativity." —ArtNews
"Taylor has a tight grasp on the millennial psyche, the cruel, slippery and tender nature of human interaction, and the fragility of modern existence. . . . The novel clamps its teeth into the absurdity of contemporary discourse surrounding class, race, sexuality and art." —iNews 
"Anyone who's ever struggled to find themselves while so many around them are doing the same (hello, everyone's early 20s) will find kinship in this novel." —Good Housekeeping
 
"To read The Late Americans is an intensely intimate experience. . . . Despite how abject some of its characters are, how bad they accidentally hurt each other and how purposefully they sometimes do it, The Late Americans is an oddly comforting novel. If its characters are straining to be seen, Taylor sees them. The net of connected characters and moments is the whole point of the novel. . . . Some are about to fail, some are about to become very rich. Some are never going to see each other again. But for now they are together, burning and brilliant." —Margot Lee, Zyzzyva
"The Late Americans weaves throughout perspectives of its cast of characters, creating a story you'll be thinking about long after you put it down." —Town & Country
"A searing, layered examination of found family, gender, queerness, class, and artistry, The Late Americans is the perfect read for all the messy gay twenty-somethings in your life." —Them
"A campus novel filled with the complex realities of our time: racism, sexism, 21st century capitalism and classism. . . .  You can't ask for more from a novel." —Washington Blade
"Taylor has established himself as one of contemporary American fiction's leading lights . . . Taylor's incisive and arresting voice make the [novel's] premise feel new." —AskMen
"[An] insightful and razor-sharp portrait of the interconnected lives of a cohort of writers, dancers, and thinkers living in the contemporary American Midwest. . . . A splendidly wrought and emotionally engrossing novel [that] continues to cement Brandon Taylor as a standout literary voice." —Shelf Awareness
"Taylor's characters come to life . . . through scenes cut with razor-sharp observations. . . . With verve and wit, Taylor pulls off something like Sally Rooney for the Midwest." —Publishers Weekly

"Taylor writes feelings and physical interactions with a kind of sixth sense, creating scenes readers will visualize with ease. At the beginning and ending of things and in confronting gradations of sex, power, and class, ambivalence pervades. Lovers of character studies and fine writing will enjoy getting lost in this." —Booklist
"I loved The Late Americans and its funny, merciless, brilliant portrayal of the beauty and pointlessness of art, and the absurdity and horror—and occasional transcendence—of being a person. Magnificent." —Curtis Sittenfeld, author of Romantic Comedy and Prep
"Brandon Taylor writes with such precision and perception that reading his work is an immersive experience: you inhabit his characters, you share their nerve endings. The Late Americans is a brilliant and electrifying symphony of a novel. I loved it."  —Lily King, author of Writers & Lovers and Euphoria

"Brandon Taylor has both a classic sensibility, expansive and elegant, and a razor-sharp ability to speak to the contemporary moment. The Late Americans is a full expression of his singular talent." —Emma Cline, author of The Girls
"The Late Americans is a dizzying plunge into the lives of young people making art in America in the era of survival capitalism, grappling over the big questions like they're fighting over a gun. Deep within their ambitions, their pettiness and lust, is the meaning and even grandeur they seek—and whether or not his characters ever find it, Brandon Taylor has. A bravura performance on the edge of a knife." —Alexander Chee, author of How to Write an Autobiographical Novel

"Taylor is a sharp chronicler of the body. In The Late Americans, the body is an instrument and an archive, vulnerable to the complicated violence of pleasure and work." —Raven Leilani, author of Luster
 
"Brandon Taylor's characters in The Late Americans are obsessed with art, money, integrity, success, survival—and with one another. They can be deliciously catty, but they're also desperate to be loved. And repulsed by that desperation. They are, in a word, human. Taylor realizes each character so fully, with such enviable—and often hilarious—granularity, that it's hard not to feel like I know these people, that I could pick up my phone right now and call any of them. It's the best kind of magic, this book. I'm already rereading it." —Kaveh Akbar, author of Calling a Wolf a Wolf and Pilgrim Bell
"Tender and unflinching . . . written with bristling clarity, wicked wit and audacious assuredness. . . . A wonderful book."  —Colin Barrett, author of Homesickness
"Masterly [and] absorbing." —Times Literary Supplement
"Brandon Taylor's authorial voice is strong, and the grand design of his novel is carefully orchestrated. . . . Taylor is adept at illuminating with grace how political the personal actually is. . . . The novel suggests a deep understanding of human nature and the corporeal reality of physical bodies sometimes existing in harmony, sometimes at war with interior selves." —The Irish Times