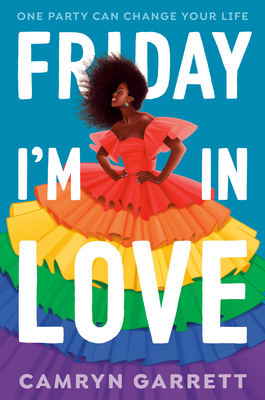 Friday I'm in Love
Publication Date:
January 10th, 2023
Publisher:
Knopf Books for Young Readers
Usually Ships in 1 to 5 Days
Friday I'm In Loveis for every adolescent, or adult, who is wondering where they fit and who they belong with. It deals with sexuality, class, and race in a humorous way while still giving these aspects of the story the respect they deserve.
January/February 2023 Kids' Indie Next List
Description
It's too late for a Sweet Sixteen, but what if Mahalia had a coming-out party? A love letter to romantic comedies, sweet sixteen blowouts, Black joy, and queer pride.
"A perfect ode to romantic comedies, wrapped in a dazzling rainbow dress." —Rachael Lippincott, #1 New York Times bestselling author of Five Feet Apart and She Gets the Girl
Mahalia Harris wants.
She wants a big Sweet Sixteen like her best friend, Naomi.
She wants the super-cute new girl Siobhan to like her back.
She wants a break from worrying—about money, snide remarks from white classmates, pitying looks from church ladies . . . all of it.
Then inspiration strikes: It's too late for a Sweet Sixteen, but what if she had a coming-out party? A singing, dancing, rainbow-cake-eating celebration of queerness on her own terms.
The idea lights a fire beneath her, and soon Mahalia is scrimping and saving, taking on extra hours at her afterschool job, trying on dresses, and awkwardly flirting with Siobhan, all in preparation for the coming out of her dreams. But it's not long before she's buried in a mountain of bills, unfinished schoolwork, and enough drama to make her English lit teacher blush. With all the responsibility on her shoulders, will Mahalia's party be over before it's even begun?
A novel about finding yourself, falling in love, and celebrating what makes you you.
"Mahalia's story lives, breathes and glows. I'm in love with it every day of the week!" —Becky Albertalli, #1 New York Times bestselling author of Simon vs. the Homosapiens Agenda
Praise for Friday I'm in Love
"Camryn Garrett writes with wholehearted sincerity—sharp edged truth braided with irrepressible joy. Mahalia's story lives, breathes and glows. I'm in love with it every day of the week!" —Becky Albertalli, #1 New York Times bestselling author of Simon vs. the Homosapiens Agenda
"A perfect ode to romantic comedies, wrapped in a dazzling rainbow dress." —Rachael Lippincott, #1 New York Times bestselling author of Five Feet Apart and She Gets the Girl
★ "Both piercingly observant and joyful, this uplifting read stands out." —Publishers Weekly, starred review
"This absorbing, appealing narrative is equal parts funny, romantic, and affirming. Romantic comedy that celebrates being yourself on your own terms." —Kirkus Reviews
"Readers who are at a crossroads will undoubtedly see themselves in this engrossing novel." —Booklist
 
"The love story that we deserve and the one that we need. Absolute perfection." —Mason Deaver, award-winning author of I Wish You All the Best