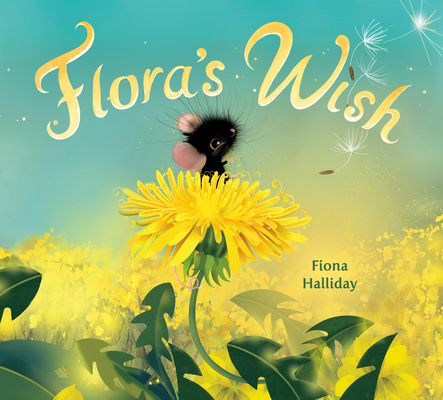 Flora's Wish
Publication Date:
August 1st, 2023
Usually Ships in 1 to 5 Days
A tender story of friendship and grief wrapped in the changing seasons; where comfort comes from being sheltered from harsh winds and cold temperatures. Gorgeous illustrations shape Flora's journey of letting go, but never forgetting.
September/October 2023 Kids Indie Next List
Description
In this lyrical and visually stunning picture book, a young mouse learns how to grieve and honor her best friend
Flora the field mouse was a boldly whiskered lion-tamer! Although it wasn't very hard to be bold and brave with her best friend Lion (a dandelion) by her side. But as the seasons change, Lion's whiskers go from a bright yellow to shimmering silver, until one day, he scatters in the wind completely. Can Flora still be brave without Lion by her side?
Praise for Flora's Wish
"Halliday's charming, free verse poetry is paced around Pixar-ish digital illustrations in both spots and spreads . . .  this tale could be an ode to the changing seasons or a gentle introduction to grief; either way it will certainly encourage readers to snuggle up to sleep. Sweetly soothing." —Kirkus
"The illustrations are done in a way that allows readers to follow along even without the text, as the emotions are conveyedthrough facial expressions and the use of color on each page. The passing of seasons is made clear in the images, and older -readers may noticeFlora processing through -varied stages of grief. The writing itself is sprinkled with just enough alliteration to feel fun to read without beingoverbearing. Halliday skillfully weaves together themes of friendship, aging, loss, and resilience, creating a narrative that is heartwarming and empowering." —School Library Journal