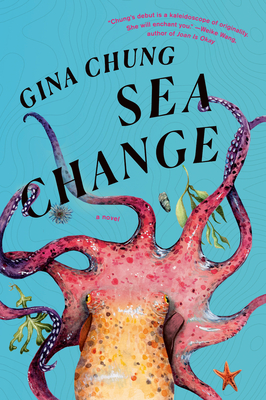 Sea Change: A Novel
Publication Date:
March 28th, 2023
Heartleaf Books
1 on hand, as of Dec 9 7:56pm
(Floor)
On Our Shelves Now
Description
A NEW YORK TIMES MOST ANTICIPATED BOOK • An enchanting novel about Ro, a woman tossed overboard by heartbreak and loss, who has to find her way back to stable shores with the help of a giant Pacific octopus at the mall aquarium where she works.
"Immersively beautiful.... A kaleidoscope of originality." —Weike Wang, acclaimed author of Joan is Okay
Ro is stuck. She's just entered her thirties, she's estranged from her mother, and her boyfriend has just left her to join a mission to Mars. Her days are spent dragging herself to her menial job at the aquarium, and her nights are spent drinking sharktinis (Mountain Dew and copious amounts of gin, plus a hint of jalapeño). With her best friend pulling away to focus on her upcoming wedding, Ro's only companion is Dolores, a giant Pacific octopus who also happens to be Ro's last remaining link to her father, a marine biologist who disappeared while on an expedition when Ro was a teenager.
When Dolores is sold to a wealthy investor intent on moving her to a private aquarium, Ro finds herself on the precipice of self-destruction. Wading through memories of her youth, Ro realizes she can either lose herself in the undertow of reminiscence, or finally come to terms with her childhood trauma, recommit to those around her, and find her place in an ever-changing world.
Praise for Sea Change: A Novel
**LONGLISTED FOR THE CENTER FOR FICTION FIRST NOVEL PRIZE**
**A Most Anticipated Book of the Spring by The New York Times**
**A Most Anticipated Book of the Year by The Millions, Literary Hub, Zibby Mag, and Debutiful**
**One of Electric Literature's "62 Books By Women of Color to Read in 2023"**
 
"This debut novel is 'moving, textured, and at times laugh-out-loud,' Wang says."
—Today.com

"If you've ever been stuck in familiar patterns and felt yourself losing momentum, you'll relate to this novel's protagonist. When we meet Ro, she's mourning a breakup, drifting away from her best friend, and letting childhood traumas lie. But as she prepares to say goodbye to Dolores — the giant octopus she takes care of at her aquarium job, who's been sold to a wealthy investor — she goes through her own metamorphosis. Trust us: This unique, smart, emotionally rich book is a must-read."
—The Skimm
"Sea Change is an immersive and unforgettable debut, that melts the cockles of your heart."
—The Masters Review

"Delightful and slightly off-kilter. . . . This off-beat tale has heart."
—Publishers Weekly

"With great tenderness, Chung explores the themes of family and belonging, the people who come in and out of our lives, the ones who leave, and the ones who stay."
—Newcity Lit
 
"Charmingly offbeat. . . . The self-hating young woman is a familiar figure in recent fiction, but the specifics of Ro's situation and her friendship with Dolores, along with the speculative elements, make Sea Change stand out."
—Shelf Awareness
 
"Call it My Octopus Teacher II: Depressive Boogaloo. In Chung's lightly fantastical debut, 30-year-old Ro is in the thick of a quarter-life crisis: Her marine-biologist father disappeared years ago, her ex-boyfriend is off to train for a mission to Mars, and a giant cephalopod named Dolores may be her only friend at the mall aquarium where she begrudgingly cleans the tanks and does other menial tasks. Can Ro find a leg (or eight arms) to stand on?"
—Entertainment Weekly
"Sea Change is a standout of the 2023 debut class. It will pull you in from the first page and not let go as you traverse through a sea of originality. It's filled with stunning and scrumptious prose." 
—Debutiful
 
"This stellar debut novel opens on a horny octopus. I feel like this blurb could end there, because you're probably sold, but I'll keep going. . . . Gina Chung writes about the marvels of marine life with such intense care and beauty. . . . Sea Change is sure to make a splash! (Sorry.) Get ready to dive in!"
—Katie Yee, Lit Hub
"Gina Chung's Sea Change is both elegant and jagged, sharp and lush. It's so utterly original, with Chung's rich and rewarding prose guiding and charting new territory in love and grief and growth. This novel about settling into yourself, changing alongside your family, eclipsing expectations, and searching for hope in infinitude is humorous and ruminative, transcending genres entirely. Chung's writing is masterful, and Sea Change is glorious."
—Bryan Washington, author of Memorial and Lot
"There are no limits to what Chung can do.  Her prose is so immersively beautiful that at times I felt swept away in a wave, admiring from underwater, her scintillating refractions of light.  Chung's debut is a kaleidoscope of originality.  She will enchant you." 
 —Weike Wang, author of Joan is Okay
"Sea Change heralds the arrival of a new talent. Weaving deftly between humor and longing, Chung's masterful prose interrogates what it means to be alive--and all of the growth, heartache, love, and friendship at the center of it. Marvelously original, tender, and moving, Sea Change will stay with readers long after they've surfaced from its pages."
—Qian Julie Wang, New York Times bestselling author of Beautiful Country

"Sea Change tugged at my heart and refused to let go. With tenderness and perceptiveness, Chung deftly navigates family, loss, friendship and the intricacies of love, especially for ourselves. Between giant Pacific octopuses and humans, this remarkable debut reminds us that we are not so different–all of us hoping to be witnessed, all of us striving to surface through our loneliness to connect, even when we know nothing is permanent."
—Elaine Hsieh Chou, author of Disorientation
"A wild blessing of a debut. Gina Chung's curiosity, precision and grace have created a world both strange and recognizable, the kind of place you can find a version of yourself you did not know existed, and call her home."
—Mira Jacob, author of Good Talk
 
"Gina Chung's Sea Change enthralls as it nourishes, illuminating the complexity of family, love, loss, and the often-surprising journey to self-understanding with precision, tenderness, and wit. I carried this book around with me for days, returning to it every chance I got, yet in the end reluctant to leave it or Chung's characters behind. A sensitive and unforgettable debut, it's one of my favorite reads of the year—and it will be one of yours, too."
—Nicole Chung, author of A Living Remedy and All You Can Ever Know
"From the first page, Sea Change stole my big weirdo heart. Ro is a narrator whose voice is so lively and distinct that it doesn't matter if you relate to her or her octopus obsession—she is electric and you would be willing to follow her anywhere. With her debut, Chung has proven she is a true original, the rare kind of writer who can be simultaneously witty and deeply sensitive, confident and devastatingly vulnerable."
—Jean Kyoung Frazier, author of Pizza Girl
"Soulful, evocative, and wise. Sea Change is a powerful meditation on grief and healing, as well as family, immigration, and intergenerational trauma. I marveled at Chung's prose: restrained yet bursting with emotional depth—a style that is difficult to accomplish, yet Chung executes it masterfully. I didn't want this story to end."
—Daphne Palasi Andreades, author of Brown Girls
 
"Gina Chung's Sea Change is tender, perceptive, and sumptuously original. Narrator Ro is a little lost, a little lonely, nursing her sorrows with drink. Who hasn't been there? As she navigates heartache and grief in their multitudinous forms, we are reminded of the ways the ones we love the most can hurt us deepest. Sea Change is a novel of vast empathy, flickering between humor and vulnerability as deftly as our beloved octopus Dolores changes her colors. A glittering debut."
—Crystal Hana Kim, author of If You Leave Me

"Absolutely stunning debut. My heart went out to damaged Ro and how much she cares for Dolores, the fascinating Pacific octopus who remains the last physical memory of her missing biologist father. Full of longing, mystery, fear and hope. I loved this book to pieces!" 
—Frances Cha, author of If I Had Your Face