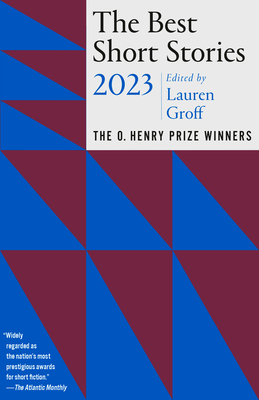 The Best Short Stories 2023: The O. Henry Prize Winners (The O. Henry Prize Collection)
Publication Date:
September 12th, 2023
Usually Ships in 1 to 5 Days
Description
The prestigious annual story anthology includes prize-winning stories by Jamil Jan Kochai, David Ryan, Kirstin Valdez Quade, Lisa Taddeo, Ling Ma, Catherine Lacey, and Cristina Rivera Garza.
"[A] standout collection . . . . Dazzling performances from some of today's most exciting writers. . . . This is one of the best fiction anthologies in years." —Publishers Weekly starred review
Continuing a century-long tradition of cutting-edge literary excellence, this year's edition contains twenty prizewinning stories chosen from the thousands published in magazines over the previous year. Guest editor Lauren Groff has brought her own refreshing perspective to the prize, selecting stories by an engaging mix of celebrated names and emerging voices and including several stories in translation. The winning stories are accompanied by an introduction by Groff, observations from the winning writers on what inspired them, and an extensive resource list of magazines that publish short fiction. AN ANCHOR BOOKS ORIGINAL.
THE WINNING STORIES:
"Office Hours," by Ling Ma
"Man Mountain," by Catherine Lacey
"Me, Rory and Aurora," by Jonas Eika,
translated from the Danish by Sherilyn Nicolette Hellberg
"The Complete," by Gabriel Smith
"The Haunting of Hajji Hotak," by Jamil Jan Kochai
"Wisconsin," by Lisa Taddeo
"Ira & the Whale," by Rachel B. Glaser
"The Commander's Teeth," by Naomi Shuyama-Gómez
"The Mad People of Paris," Rodrigo Blanco Calderón,
translated from the Spanish by Thomas Bunstead
"Snake & Submarine," by Shelby Kinney-Lang
"The Mother," by Jacob M'hango
"The Hollow," by 'Pemi Aguda
"Dream Man," by Cristina Rivera Garza,
translated from the Spanish by Francisca González-Arias
"The Locksmith," by Grey Wolfe LaJoie
"After Hours at the Acacia Park Pool," by Kirstin Valdez Quade
"Happy Is a Doing Word," by Arinze Ifeakandu
"Elision," by David Ryan
"Xífù," by K-Ming Chang
"Temporary Housing," by Kathleen Alcott
"The Blackhills," by Eamon McGuinness
Praise for The Best Short Stories 2023: The O. Henry Prize Winners (The O. Henry Prize Collection)
"Widely regarded as the nation's most prestigious awards for short fiction." —The Atlantic Monthly