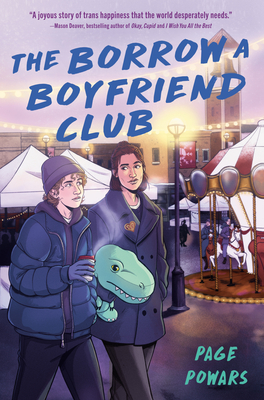 The Borrow a Boyfriend Club
Publication Date:
September 12th, 2023
Publisher:
Delacorte Press
Usually Ships in 1 to 5 Days
The Borrow a Boyfriend Club is a fresh, heartfelt take on the classic rom-com with characters that are relatable and laughs that keep you turning the page. I was rooting for Noah (and Asher) from Chapter One!
September/October 2023 Kids Indie Next List
Description
A feel-good, coming-of-age rom-com from debut author Page Powars that follows a trans teen who joins a boyfriend borrowing service masquerading as an Italian Club to prove that he's one of the guys, especially to its frustratingly handsome leader.
Noah Byrd is the perfect boy. At least, that's what he needs to convince his new classmates of to prove his gender. His plan? Join the school's illustrious (and secret) Borrow a Boyfriend Club, whose members rent themselves out for dates. Once he's accepted among the bros, the "slip-ups" end.
But Noah's interview is a flop. Desperate, he strikes a deal with the club's prickly but attractive president, Asher. Noah will help them win an annual talent show—and in return, he'll get a second shot to demonstrate his boyfriend skills in a series of tests that include romancing Asher himself.
If Noah can't bring home the win, his best chance to prove that he's man enough is gone. Yet even if he succeeds, he still loses . . . because the most important rule of the Borrow a Boyfriend Club is simple: no real boyfriends (or girlfriends) allowed.
And as long as the club remains standing as high as Asher's man bun, Noah and Asher can never explore their growing feelings for one another.
Praise for The Borrow a Boyfriend Club
"Charmingly chaotic and keenly observant, with real emotional depth. Page Powars's debut is an absolute joyride." —Becky Albertalli, New York Times bestselling author of Imogen, Obviously
"With so much wit and heart, Powars expertly explores just what it means to be a boy, a friend, and a boyfriend. The Borrow a Boyfriend Club had me laughing, clutching my chest, and rooting for Noah on every single page." —Jason June, New York Times bestselling author of Out of the Blue
 
"Noah Byrd is lovable, likable, funny, and so relatable that I wanted to hug him. In The Borrow a Boyfriend Club, Page Powars broadens the concept of masculinity to create a space welcoming of everyone." —Shaun David Hutchinson, award-winning author of We Are the Ants and Brave Face

"Sparkling with both tenderness and humor, Powars's debut is a must-read about first love, identity, bravery, and embracing the unexpected." —Ashley Herring Blake, award-winning author of Delilah Green Doesn't Care

"A joyous story of trans happiness that the world desperately needs." —Mason Deaver, bestselling author of Okay, Cupid and I Wish You All the Best

"Page Powars is a comedic genius. An unmissable debut." —Sophie Gonzales, international bestselling author of Only Mostly Devastated
 
"With an endearing protagonist, heartwarming romance, and a powerful message about being enough, this book is sure to charm readers, no matter their type!" —Isaac Fitzsimons, author of The Passing Playbook
 
"A complete delight. Noah and Asher's hate-to-love romance is only matched by Powars's shimmering and honest trans coming-of-age tale." —Carlyn Greenwald, author of Sizzle Reel and coauthor of Time Out
 
"With a chaotic found family, a dynamic hate-to-love romance, and all kinds of silly shenanigans along the way, this book is one you won't be able to put down, even if only to take a momentary pause to squeal in delight." —Tashie Bhuiyan, author of Counting Down with You and A Show for Two
 
"Equal parts sharp, comedic wit and heartening romance, Page Powars' The Borrow a Boyfriend Club is a powerhouse of a debut. —Amelia Diane Coombs, author of Exactly Where You Need To Be
"Humor, hijinks, and a whole lotta heart abound in this romantic and affirming debut. An utterly charming and delightful read." —Dahlia Adler, author of Cool for the Summer and Home Field Advantage

"Powars has written the swooniest romance that'll leave you breathlessly wondering will-they or won't-they." —Naz Kutub, author of The Loophole
"In vulnerable first-person prose, Powars renders Noah's feelings about his gender identity alongside sweet messaging surrounding the power of friendship and connection." —Publishers Weekly
"Lighthearted and fun." —Kirkus Reviews
"A story that will delight and surprise the most well-read rom-com fans." —Booklist