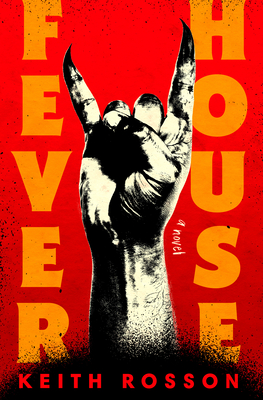 Fever House: A Novel
Publication Date:
August 15th, 2023
Heartleaf Books
1 on hand, as of Dec 9 7:56pm
(Floor)
On Our Shelves Now
Description
A small-time criminal. A has-been rock star. A shadowy government agency. And a severed hand whose dark powers threaten to destroy them all.
"Rosson's novel plays out like a nightmare—one that's nearly impossible to put down."—Tor
"The unsettling darkness of Joe Hill meets the cryptic mystery of The X-Files."—Delilah S. Dawson, New York Times bestselling author of The Violence
When leg-breaker Hutch Holtz rolls up to a rundown apartment complex in Portland, Oregon, to collect overdue drug money, a severed hand is the last thing he expects to find stashed in the client's refrigerator. Hutch quickly realizes that the hand induces uncontrollable madness: Anyone in its proximity is overcome with a boundless compulsion for violence. Within hours, catastrophic forces are set into motion: Dark-op government agents who have been desperately hunting for the hand are on Hutch's tail, more of the city's residents fall under its brutal influence, and suddenly all of Portland stands at the precipice of disaster. . . .
But it's all the same for Katherine Moriarty, a singer whose sudden fame and precipitous downfall were followed by the mysterious death of her estranged husband—suicide, allegedly. Her trauma has made her agoraphobic, shackled within the confines of her apartment. Her son, Nick, has moved home to care for her, quietly making his living working for Hutch's boss.
When Hutch calls Nick in distress, looking for someone else to take the hand, Katherine and Nick are plunged into a global struggle that will decimate the walls of the carefully arranged life they've built. Mother and son must evade both crazed, bloodthirsty masses and deceitful government agents while exorcising family secrets that have risen from the dead—secrets, they soon discover, that might hold the very key to humanity's survival.
Can you resist the hand? Find an excerpt from the next Fever House novel at the end of the book.
Praise for Fever House: A Novel
"[A] whirlwind mystery . . . that hurls [Rosson's] genre-slashing ambition into the stratosphere."—NPR
"A modern-meets-classic horror story that keeps the stakes high until the very last sentence."—San Francisco Chronicle

"Fever House is an extraordinary novel, a wild but seamless hybrid of hoodlum noir, government agency skullduggery, punk nostalgia, and the apocalypse foretold. Keith Rosson is a master."—Richard Price, New York Times bestselling author of The Whites and Clockers
"Fever House is like being electrocuted with an awesome story and sharp, snapping prose. It somehow executes noir, pulp, spy thriller and visceral crime horror as one entire package and doesn't skip a beat doing it."—Chuck Wendig, New York Times bestselling author of Black River Orchard
"What a time to be undead! Keith Rosson has written an epic nightmare of a book, the kind that will jolt you out of whatever reading rut you've fallen into."—Kelly Link, Pulitzer Prize–nominated author of White Cat, Black Dog
"The tension is wire-tight—I couldn't put the book down."—The Wall Street Journal
"Pulp Fiction meets a punk-rock Da Vinci Code . . . in this awesomely blood-soaked, thrillingly entertaining horror-noir mash-up."—C.J. Tudor, author of The Chalk Man
"[This] wildly imaginative new novel is a thrill-a-minute joyride that will keep readers guessing up to the final page. . . ."—Library Journal
"[A] nasty, fun-to-read indulgence."—Kirkus Reviews
"Fever House is awesome. . . . Great writing . . . also scary as Hell! A really excellent book that should not be missed."—Robert R. McCammon, New York Times bestselling author of Swan Song and The King of Shadows
"This book is rock and roll, horror, and noir in a blender. . . . A bullet of a wild ride straight to Hell, and mightily entertaining along the way."—Alma Katsu, author of The Fervor and The Hunger
"In this stellar supernatural thriller, Rosson makes suspending disbelief easy. . . . [This page-turner] should win Rosson a legion of new fans."—Publishers Weekly (starred review)
"A twisted, terrifying thriller, Fever House feels so real I had to check the headlines to make sure it was a novel."—Elizabeth Hand, bestselling author of Generation Loss and A Haunting on the Hill
"Devilishly relentless."—Hailey Piper, Bram Stoker Award–winning author of Queen of Teeth
"My heart was racing from the first page of this book to the last."—CJ Leede, author of Maeve Fly
"The most ferocious, terrifying zombie novel since The Living Dead."—Philip Fracassi, author of Boys in the Valley
"Fever House dunks you, eyebrows deep, into a miasma that lingers like a vengeful sickness—and I mean that in the best possible way."—Ezra Claytan Daniels, author of Upgrade Soul and BTTM FDRS
"Rosson has melded the perfect mix of gritty horror, shadowy noir, and literary gusto into the most metal novel of all time."—Brian Castleberry, author of Nine Shiny Objects