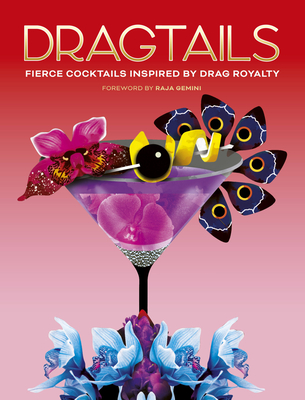 Dragtails: Fierce Cocktails Inspired by Drag Royalty
Publication Date:
September 12th, 2023
Publisher:
White Lion Publishing
Usually Ships in 1 to 5 Days
Description
Just as raucous, ravishing and brimming with camp as the drag stars who inspired them, these 50 cocktails are destined for the spotlight.
With a foreword by drag legend and Drag Race superstar Raja Gemini, Dragtails will add a spring to your step, a bounce to your weave and a shimmer to your lip gloss.
Each Dragtail is brought to life with an inventive illustration that echoes the charisma, uniqueness, nerve and talent of the particular queen that inspired it. Along with ingredients and methods, an ode to the artist explains the inspiration for the drink.
 
You'll die for a:
 
Baltimore Mud Pie – a thick, velvety, naughty creation dripping with chocolate sauce inspired by the filthiest woman ever, Divine
Sponge Queen – a yellow and green layered cocktail inspired by one of Monet X Change's most memorable looks, the sponge dress
PB and Slay – a candy-sweet concoction inspired by the Willy Wonka for a whole generation of drag queens, RuPaul
Drunk in Love –  a divalicious drink inspired by Cara Melle that is sweet, salty and sticky if you're nasty!
Absolutely Alien – a fabulous twist on a classic Gin and Lemonade that is as blue and pink as Juno Birch
 
Plus many more cocktails inspired by legendary queens such as: Danny La Rue, Delta Work, Hungry, Joe Black, Lawrence Chaney, Manila Luzon, Meatball, Peppermint, Shea Coulee, Jinkx Monsoon, Raja Gemini, The Vivienne, Adam All, Bianca del Rio, Biqtch Puddin', Blue Hydrangea, The Boulet Brothers, Brooke Lynn Hytes, Coco Peru, Victoria Scone, Detox, Cherry Valentine, Laganja Estranja, Tayce, Katya, Lily Savage, BenDeLaCreme, Courtney Act, Landon Cider, Ginny Lemon, Pangina Heals, Priyanka, Adore Delano, Cheddar Gorgeous, Chi Chi Devayne, Choriza May, Creme Fatale, Envy Peru, Lady Red Couture, Hot Chocolate, Liquorice Black, Miss Toto, Nicky Doll, Bimini Bon Boulash, Alexis Saint-Pete.
 
Fierce, fabulous, and packed with original cocktail recipes, Dragtails is the perfect book to get your Drag Race viewing party off with a (bing)-BANG-(bong).