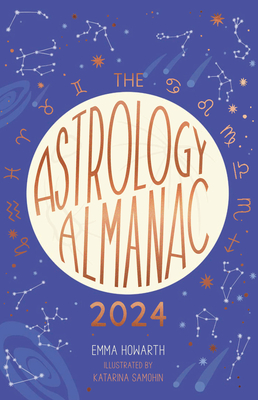 The Astrology Almanac 2024: Your holistic annual guide to the planets and stars
Publication Date:
September 12th, 2023
Publisher:
Leaping Hare Press
Usually Ships in 1 to 5 Days
Description
Improve your wellbeing every day through the practice of astrology, and find guidance and inspiration through the symbolic movement of the celestial bodies.
 
Astrology affects you every day, not just when it's the season of your star sign (although this is your most powerful time to shine!). Divided into the 12 zodiac signs and detailing every major astrological event, follow the planets and zodiac signs as they shift throughout the year, and learn how to live your best life in every sign, from earthy Capricorn through to fiery Sagittarius season. With everything you need in one handy guide, this is a great resource, whether you're a beginner, new to astrology, or are a practicing astrologer.
 
Discover more about planetary movements such as mercury in retrograde, and explore what it means, how to use it to your advantage, and what to focus on. Allow this almanac to guide you as it tells you, based on the movement of the skies, when the optimal time is to manifest new beginnings, when to perform a ritual for money-making, and how to use astrology as a tool for self-care.
 
With mantras, advice, and wellbeing tips for each of the zodiac signs, this guide to astrological self-care and living is perfect for every star sign.