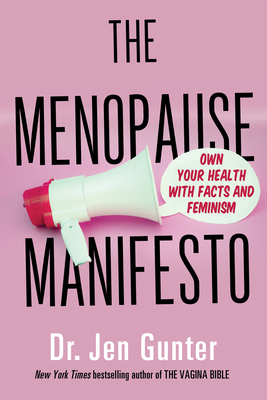 The Menopause Manifesto: Own Your Health with Facts and Feminism
Publication Date:
May 25th, 2021
Heartleaf Books
1 on hand, as of Mar 23 5:11pm
(Floor)
On Our Shelves Now
Description
An Instant New York Times, Washington Post, USA Today, San Francisco Chronicle, and Publishers Weekly Bestseller!

A Next Avenue Influencer in Aging 2021
#1 Canadian Bestseller
Just as she did in her groundbreaking bestseller The Vagina Bible, Dr. Jen Gunter, the internet's most fearless advocate for women's health, brings you empowerment through knowledge by countering stubborn myths and misunderstandings about menopause with hard facts, real science, fascinating historical perspective, and expert advice.
"I feel more equipped to care for my patients, challenge the patriarchy, and empower & educate thanks to her work and advocacy." —Dr. Danielle Jones (Mama Doctor Jones)
"An exhilarating read and a comprehensive review of all things menopause." —North American Menopause Society
"Gynecologist Gunter (The Vagina Bible) helps women navigate the ins and outs of menopause in this delightfully conversational and strongly feminist guide. Readers looking to separate menopausal fact from fiction should take note." —Publishers Weekly
"Gunter mixes sound medical information with a bit of humor and a lot of candor…[this] frank and expert guide provides an informative and reassuring look at a long, often baffling and infuriating phase of life." —Booklist
The only thing predictable about menopause is its unpredictability. Factor in widespread misinformation, a lack of research, and the culture of shame around women's bodies, and it's no wonder women are unsure what to expect during the menopause transition and beyond.
Menopause is not a disease—it's a planned change, like puberty. And just like puberty, we should be educated on what's to come years in advance, rather than the current practice of leaving people on their own with bothersome symptoms and too much conflicting information. Knowing what is happening, why, and what to do about it is both empowering and reassuring.
Frank and funny, Dr. Jen debunks misogynistic attitudes and challenges the over-mystification of menopause to reveal everything you really need to know about:
*Perimenopause * Hot flashes * Sleep disruption * Sex and libido * Depression and mood changes * Skin and hair issues * Outdated therapies * Breast health * Weight and muscle mass * Health maintenance screening * And much more!
Filled with practical, reassuring information, this essential guide will revolutionize how women experience menopause—including how their lives can be even better for it!
"Read this book immediately." —New York Times bestseller Ayelet Waldman, author of A Really Good Day and Love & Treasure

"This is the new 'it' book for women who want to prepare for or understand what menopause is (and isn't)." —Dr. Jennifer Lincoln
Praise for The Menopause Manifesto: Own Your Health with Facts and Feminism
Praise for The Menopause Manifesto by Dr. Jen Gunter
"Gunter, a specialist in obstetrics and gynecology, follows-up the bestselling The Vagina Bible with another essential book on women's health. Like her previous guide, Gunter's latest book will find a wide audience, with its clear writing and up-to-date research." —Library Journal STARRED Review
 
"Gynecologist Gunter (The Vagina Bible) helps women navigate the ins and outs of menopause in this delightfully conversational and strongly feminist guide.  Gunter isn't shy about revealing ineffective and possibly dangerous menopause remedies she sees celebrities hawking, such as much-touted bioidentical hormones, and in so doing provides a great service to readers having trouble sorting through their choices. Plain talk and valuable information abound: "The liver isn't weak or diseased because it doesn't beat like the heart, and women aren't diseased because the ovaries stop making estrogen." Readers looking to separate menopausal fact from fiction should take note." —Publishers Weekly

"The Menopause Manifesto gives women the playbook to follow when discussing these matters with their doctors. This, along with The Vagina Bible, deserve a prominent place on every woman's bookshelf. Doctors should also do themselves a favor and get their own copies." —New York Journal of Books
"The wise and feisty Dr. Jen Gunter has ridden in (once again) on her white horse to save the day! Read this book immediately."—New York Times bestseller Ayelet Waldman, author of A Really Good Day and Love & Treasure
 
"As a fellow Gynecologist, I am so appreciative of Dr. Gunter's work and how she has laid the groundwork for communicating no-nonsense, science-based, health education to our patients. She is changing the way we practice medicine and communicate with our patients and her books are leading the way to more informed and empowered generations."—Dr. Danielle Jones (Mama Doctor Jones)
 
"Dr. Gunter has managed to write a book that's just as important for healthcare providers as it is for women themselves. Where was this kind of resource when I did my medical training?! This is the new "it" book for women who want to prepare for or understand what menopause is (and isn't)."—Dr. Jennifer Lincoln
 
"Dr. Gunter has done it again, but this time with a focus on mature women. The Menopause Manifesto is the definitive guide to navigating the menopause based on science, not fiction. Between The Vagina Bible and this book, Dr. Gunter takes the mystery out of women's health and replaces it with evidence-informed concrete recommendations. Brava!" —Dr. Lori Brotto, Canada Research Chair in Women's Sexual Health, Executive Director of the Women's Health Research Institute, and author of Better Sex Through Mindfulness
Praise for Dr. Jen Gunter and The Vagina Bible
 
"Empowerment of women through accurate information about their own bodies is the "vagenda" of ob-gyn and New York Times columnist Gunter's comprehensive, pseudoscience-bashing discussion of all things vaginal and vulvar. Gunter approachably, respectfully, and even playfully presents a huge amount of reproductive and sexual health education information to women, with the assurance that they can use it." —Publishers Weekly, STARRED REVIEW

"Dr. Jennifer Gunter is the world's most famous--and outspoken--gynecologist. And she's on a mission to empower women with medical facts, taking on wellness gurus, old wives' tales and the patriarchy." —The Guardian
 
"If you don't know who Jen Gunter is, let us introduce you to the most badass obstetrician and gynecologist around. She's passionately advised against sticking jade eggs up your vagina, addressed abortion fallacies, and has even argued against why your partner should not use tape on the tip of his penis as birth control." —Women's Health
 
"Stories debunking viral nonsense about women's bodies often cite the same doctor: San Francisco-based gynecologist Jennifer Gunter, M.D. Whether she's taking down Goop's ode to vaginal steaming or womb detox pearls, Dr. Gunter has become a leading internet proponent of leaving your vagina alone. Gunter frequently writes about gynecological snake oil...She's like Twitter's gynecologist." —The Cut
 
"Dr. Jen Gunter is the internet's favorite Goop critic." —Recode Decode
"As an OB-GYN with nearly three decades of experience, Gunter knows from crotches....Shaky assertions made by natural health products serve only to misdirect women, Gunter argues in her new book, The Vagina Bible, a sassy manual of anatomical and self-care tips...As the global wellness industry tops $4.2 trillion, Gunter is on a mission to arm women with science-based advice in hopes of stanching the spread of health misinformation. Increasingly, she's been sounding the alarm about how confusion surrounding women's bodies fuels larger efforts to control them."  —Mother Jones
 
"Armed with science (and snark), Dr. Jen Gunter takes on Trump, Goop, and all manner of bizarre health trends...Dr. Jennifer Gunter presses a provocative crusade to protect women's health, preserve reproductive freedoms--and, while she's at it, dismantle all the dubious, dangerous medical advice she comes across in the wilds of the internet...a valiant defender of science." —STAT News
 
"Routinely responding with snark and medical data to [unfounded] pronouncements on diet and female genital health." —The New York Times
 
"Reading The Vagina Bible is like having the best, realest, most honest talk ever with your best friend- if your best friend happened to be a leading expert in women's health. I want to give this book to everyone I know." —Rachel Hawkins, New York Times bestselling author
 
"The Vagina Bible--Dr. Jen Gunter's savvy, detailed, funny and wise guide to female health--should be required reading for every woman seeking smart information about her body. I don't say this often but it's a don't miss book." —Deborah Blum, New York Times bestselling author of The Poison Squad

"Dr. Jen Gunter is a fountain of critically important information and she's funny as hell. Buy this book if you have a vagina or if you spend any time at all in reasonably close proximity to one."
—Ayelet Waldman, New York Times bestselling author of A Really Good Day

"Men who want to understand the experiences of their partners or provide sound guidance to their daughters should turn to The Vagina Bible. Jen Gunter offers authoritative information with her trademark clarity and good humor." —Carl Zimmer, author of She Has Her Mother's Laugh