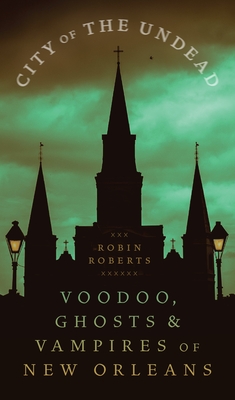 City of the Undead: Voodoo, Ghosts, and Vampires of New Orleans
Publication Date:
September 13th, 2023
Usually Ships in 1 to 5 Days
Description
From its looming above-ground cemeteries to the ghosts believed to haunt its stately homes, New Orleans is a city deeply entwined with death, the undead, and the supernatural. The reasons behind New Orleans's reputation as America's most haunted city are numerous. Its location near the mouth of the Mississippi River grants it a liminal status between water and land, while its Old World architecture and lush, moss-covered oak trees lend it an eerie beauty. Complementing the city's mysterious landscape, spiritual beliefs and practices from Native American, African, African American, Caribbean, and European cultures mingle in a unique ferment of the paranormal. An extremely high death rate in the eighteenth and nineteenth centuries and a long history of enslavement and oppression have also produced fertile soil for stories of the undead. Focusing on three manifestations of the supernatural in New Orleans--Voodoo, ghosts, and vampires--Robin Roberts argues that the paranormal gives voice to the voiceless, including victims of racism and oppression, thus encouraging the living not to repeat the injustices of the past.