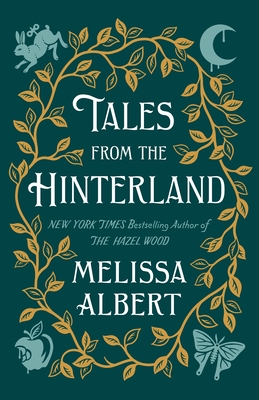 Tales from the Hinterland (The Hazel Wood)
Publication Date:
January 12th, 2021
Publisher:
Flatiron Books
Usually Ships in 1 to 5 Days
Description
A gorgeously illustrated collection of twelve "lush and deliciously sinister fairy tales" (Kelly Link) by the New York Times bestselling author of The Hazel Wood and The Night Country!
Before The Hazel Wood, there was Althea Proserpine's Tales from the Hinterland...

Journey into the Hinterland, a brutal and beautiful world where a young woman spends a night with Death, brides are wed to a mysterious house in the trees, and an enchantress is killed twice—and still lives.
Perfect for new readers and dedicated fans alike, Melissa Albert's Tales from the Hinterland features full-page illustrations by Jim Tierney, foil stamping, two-color interior printing, and printed endpapers.
Praise for Tales from the Hinterland (The Hazel Wood)
"The writing is as spare and precise as poetry, connected to the darker, edgier elements of fairy-tale conventions. Albert's rich and tightly focused collection forms the core of the mythology created in her novels, and her fans will be thrilled at this further glimpse into that world." —Booklist, starred review

"Rich with bloodshed, metamorphosis and inevitable comeuppance, written with the absolute assurance of a master storyteller summoning an audience to the fireside on a winter's night, Albert's book is uniquely transporting and discomfiting, a length of shining fabric flecked with glass that sparkles as it cuts." —The Times Literary Supplement (UK)
"Lush and deliciously sinister fairytales to be consumed as greedily as Turkish delight or any fairy fruit. I loved these." —Kelly Link, author of Get in Trouble
"This inventive, enchanting collection reads like the fairy tales of old, hushed stories passed woman to woman, before the Grimms came and wiped away all the blood." —Laura Ruby, author of Thirteen Dorways, Wolves Behind Them All

"We first heard about the book of fairy tales written by Althea Proserpine in The Hazel Wood, and witnessed the fallout from them in The Night Country. Now Melissa Albert gifts us with the stories themselves, of Hansa the Traveler, of Twice-Killed Katherine, and of Alice-Three-Times, whose story will perhaps mean the most to readers. Don't come into this collection expecting Disney princesses. Melissa Albert and Althea Proserpine's stories are bloody and brutal and make the Brothers Grimm feel sugary sweet." —Tor.com
"Enthralling, fantastic, and darkly haunting...highly recommended for fans of powerful short stories, fairy tales, and enchantment." —YA Books Central
"Tales from the Hinterland is filled with strange, creepy stories featuring characters readers of Albert's previous works will recognize, along with horrifying new tales filled with blood and revenge, and women who want more than what they're offered by both life and fate. Many of them meet tragic or terrifying ends, but all of their stories are compelling ones and will satisfy any reader hungry for some magic in this cold, dark winter." —The Culturess

"Dark, demanding, and delicious." —Kirkus Reviews
Praise for The Hazel Wood
New York Times bestseller
Seven starred reviews
#1 Indie Next Pick
ALA's Best Fiction for Young Adults List
Publishers Weekly Flying Start

"The Hazel Wood starts out strange and gets stranger, in the best way possible. Albert seamlessly combines contemporary realism with fantasy, blurring the edges in a way that highlights that place where stories and real life convene, where magic contains truth, and the world as it appears is false, where just about anything can happen, particularly in the pages of a good book. A captivating debut." —The New York Times Book Review, 2018 Notable Children's Book
"An original and imaginative fairy tale: thrilling, fascinating, and poignant in equal measure." —Entertainment Weekly, Best YA Book of the Year
"Insidiously beautiful, this is the opposite of escapist fantasy; it is a story about the imagination's power to loose atrocity into the (mostly) law-abiding confines of the real." —The Guardian, Best Children's Book of the Year
"A darkly brilliant story of literary obsession, fairy-tale malignancy, and the measures a mother will take to spare her child." —The Wall Street Journal, Best Children's Book of the Year
"A contemporary fantasy that dwells in an atmospheric, intertwining world of terrifying circumstances; a breathtaking dive into the magic and importance of story in one's identity." —Shelf Awareness, starred review
"Alice's sharp-edged narration and Althea's terrifying fairy tales, interspersed throughout, build a tantalizing tale of secret histories and magic that carries costs and consequences. There is no happily-ever-after resolution except this: Alice's hard-won right to be in charge of her own story." —Publishers Weekly, starred review
"Highly literary, occasionally surreal, and grounded by Alice's clipped, matter-of-fact voice, The Hazel Wood is a dark story that readers will have trouble leaving behind." —Booklist, starred review
"Simultaneously wondrous and horrific, dreamlike and bloody, lyrical and creepy, exquisitely haunting and casually, brutally cruel. Not everybody lives, and certainly not 'happily ever after'—but within all the grisly darkness, Alice's fierce integrity and hard-won self-knowledge shine unquenched." —Kirkus Reviews, starred review
Praise for The Night Country

New York Times bestseller

"This fairy tale noir adventure blends romance and mystery with plenty of action. A must-read for fans of portal fantasies, mysteries, and readers who prefer their magic with bloody-sharp edges." —School Library Journal, starred review

"What Albert renders on the page is audacious: with resounding success, she keeps a firm grip on her characters and their stories, and her prose weaves a magic of its own, animating the ever-expanding fantastical premise through lyrical language, striking metaphor, and a mastery of tone that forces readers to feel the magic along with the underlying emotional stakes." —Booklist, starred review

"Albert's legion of fans will relish her return to the bloody, terrifying, seductive world of her debut and the inventive brilliance of her storytelling." —The Guardian