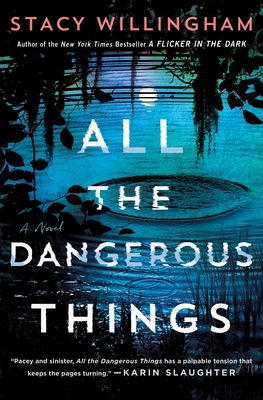 All the Dangerous Things: A Novel
Publication Date:
January 10th, 2023
Publisher:
Minotaur Books
Usually Ships in 1 to 5 Days
All the Dangerous Thingsis such a twisty story and I couldn't get enough! The characters in this novel overlapped well and the way it all came together was impossible to see coming. The setting is so vivid and captivating.
January 2023 Indie Next List
Description
Following up her instant New York Times bestseller, A Flicker in the Dark, Stacy Willingham delivers a totally gripping thriller about a desperate mother with a troubled past in All the Dangerous Things.
One year ago, Isabelle Drake's life changed forever: her toddler son, Mason, was taken out of his crib in the middle of the night while she and her husband were asleep in the next room. With little evidence and few leads for the police to chase, the case quickly went cold. However, Isabelle cannot rest until Mason is returned to her—literally.
Except for the occasional catnap or small blackout where she loses track of time, she hasn't slept in a year.
Isabelle's entire existence now revolves around finding him, but she knows she can't go on this way forever. In hopes of jarring loose a new witness or buried clue, she agrees to be interviewed by a true-crime podcaster—but his interest in Isabelle's past makes her nervous. His incessant questioning paired with her severe insomnia has brought up uncomfortable memories from her own childhood, making Isabelle start to doubt her recollection of the night of Mason's disappearance, as well as second-guess who she can trust... including herself. But she is determined to figure out the truth no matter where it leads.
Praise for All the Dangerous Things: A Novel
Praise for All the Dangerous Things
"Stacy Willingham is a bona fide rising star in the mystery and thriller genre." –Goodreads
"Terrific... Willingham's strong affinity for characters and her superior plotting elevate All the Dangerous Things. . . seals her place as a talented novelist." –South Florida Sun Sentinel
"Stellar suspense at its very best. . . this one will rightfully find itself on many a year-end, best-of list." –Vulture
"Slow-burning yet simmering with tension and suspense, All the Dangerous Things is hypnotic, immersive, and emotionally-impactful—the kind of mystery you'll sink into, not coming up for air until you've turned the final page." –Crime by the Book
"This is a mind-bending psychological thriller of the highest order. Willingham speaks the same literary language as the likes of Sandra Brown, Lisa Gardner and Lisa Scottoline and is heading down a path toward the same greatness they achieved." –BookTrib
"True crime's trending appeal and Willingham's mastery of the domestic mystery promise popularity for this one... those who crave resolution will appreciate that Willingham tucks the story's ends in tight." –Booklist (starred review)
"Willingham is so relentless in linking Isabelle's sleeplessness to her deepening sense of waking nightmare that fans can expect some seriously sleepless nights themselves." —Kirkus Reviews
"[A] lyrical thriller... this involving, thought-provoking page-turner raises disturbing questions about the nature of the stories people tell themselves to make sense of the world. Willingham remains an author to watch." —Publishers Weekly
"Pacey and sinister, All the Dangerous Things has a palpable tension that keeps the pages turning." —Karin Slaughter
"All the Dangerous Things explores the often devastating secrets within families, the hard days of early motherhood and the lies we not only tell each other, but ourselves. Packed full of twists and turns, I couldn't stop frantically turning the pages. Stacy is a must-read author for me now." —Sarah Pearse
"Brilliant! With a sure hand, the author draws us inexorably into a harrowing blend of gothic storytelling and psychological suspense, dishing up new shocks every time another layer is peeled back. I was as sleepless as our protagonist—since I had to finish this marvelous thriller in one sitting!" —Jeffery Deaver
Praise for A Flicker in the Dark

"Exceptionally smart, entertaining." —The Washington Post

The gripping A Flicker in the Dark sets a terrific course for the new year, shining a bright light on a new author to savor in Willingham." —Oline Cogdill, South Florida Sun Sentinel
"A smart, edge-of-your-seat story with plot twists you'll never see coming. Stacy Willingham's debut will keep you turning pages long past your bedtime." —Karin Slaughter