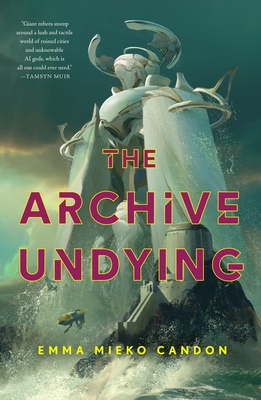 The Archive Undying (The Downworld Sequence #1)
Publication Date:
June 27th, 2023
Heartleaf Books
1 on hand, as of Dec 9 7:56pm
(Floor)
On Our Shelves Now
Description
War machines and AI gods run amok in The Archive Undying, national bestseller Emma Mieko Candon's bold entry into the world of mecha fiction.
WHEN AN AI DIES, ITS CITY DIES WITH IT
WHEN A CITY FALLS, IT LEAVES A CORPSE BEHIND
WHEN THAT CORPSE RUNS OFF, ONLY DEVOTION CAN BRING IT BACK
When the robotic god of Khuon Mo went mad, it destroyed everything it touched. It killed its priests, its city, and all its wondrous works. But in its final death throes, the god brought one thing back to life: its favorite child, Sunai. For the seventeen years since, Sunai has walked the land like a ghost, unable to die, unable to age, and unable to forget the horrors he's seen. He's run as far as he can from the wreckage of his faith, drowning himself in drink, drugs, and men. But when Sunai wakes up in the bed of the one man he never should have slept with, he finds himself on a path straight back into the world of gods and machines.
The Archive Undying is the first volume of Emma Mieko Candon's Downworld Sequence, a sci-fi series where AI deities and brutal police states clash, wielding giant robots steered by pilot-priests with corrupted bodies.
Come get in the robot.
Praise for The Archive Undying (The Downworld Sequence #1)
"Giant robots stomp around a lush and tactile world of ruined cities and unknowable AI gods, which is all one could ever need." —Tamsyn Muir, New York Times bestselling author of the Locked Tomb series
"The Archive Undying by Emma Mieko Candon will drop you headfirst into a dazzling kaleidoscope of weirdness." —The Washington Post
"The Archive Undying is everything you could want in a mecha novel. Emma Mieko Candon is brilliant." —Ann Leckie, Hugo and Nebula award-winning author of Ancillary Justice
"Giant robot mechas with godlike powers! ...What, honestly, is cooler than that?" —The Wall Street Journal

"In our age of AI discourse and terrifying robot dogs, it's exciting to see a writer exploring these concepts in a way that's fresh and nuanced." —NPR
"Candon pours her/their elaborate setting of weird artifacts, monstrous fragtech, and corrupted AI through an intense and intimate emotional focus to create a vivid journey of recovery and reclamation." —New York Times bestselling author, Kate Elliott
"A riotous and romantic ride of identity, divinity and technology" —Freya Marske, author of Marvellous Light
"With the salvage-punk appeal of '70s pulp, and the cozy, rust-hazed apocalyptica of '90s anime, this book is gold, crystal, and crimson splendor with a beating pirate heart." —Jennifer Giesbrecht, author of The Monster of Elendhaven
"An intelligent, fiercely queer story of identity, autonomy and giant robots. An imaginative rollercoaster!" —Foz Meadows, author of A Strange and Stubborn Endurance

"Spiky, tender, sexy, and strange, The Archive Undying is a narrative labyrinth that surprised me on every page; an unfolding fractal of a science fiction novel." —Lara Elena Donnelly, author of Amberlough and Grace Notes

"Candon's fresh, vivid worldbuilding skillfully blends anime staples like giant robots and cigarette-smoking aunties with edgy SFF tropes like dying gods and legendary hybrid beasts….Fans of diverse, queer genre fiction seeking a challenge should take note." —Publishers Weekly

"A satisfyingly solid foundation for a revenge quest among giant mecha and lively cities that settles into an interesting new balance of power." —Booklist
"Will appeal to readers who like their giant robots paired with explorations of emotional intimacy and moving forward after trauma." —Library Journal