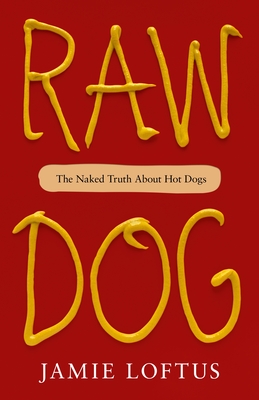 Raw Dog: The Naked Truth About Hot Dogs
Publication Date:
May 23rd, 2023
Heartleaf Books
1 on hand, as of Dec 9 7:56pm
(Floor)
On Our Shelves Now
Description
A NEW YORK TIMES AND INDIE BESTSELLER!
Part travelogue, part culinary history, all capitalist critique—comedian Jamie Loftus's debut, Raw Dog, will take you on a cross-country road trip in the summer of 2021, and reveal what the creation, culture, and class influence of hot dogs says about America now.
A Best Book of the Year from NPR and Vulture. Featured in: NPR Weekend Edition • Bon Appétit • Oprah Daily • Glamour • NY Mag • Splendid Table • The Wall Street Journal • Eater • Betches • USA Today • Boston Globe • Eater • Slate • The Next Big Idea Club • Buzzfeed and more

"Wise and funny" —ANDY RICHTER • "Revealing, funny, sad, horny, and insatiably curious" —SARAH MARSHALL • "A wild ride" —ROBERT EVANS • "Deeply incisive and hilariously honest" —JACK O'BRIEN • "Gonzo yet vulnerable" —GABE DUNN • "Hot dog Moby-Dick" —BRANSON REESE • "One of the freshest and most insightful new comedic voices of this decade." —LINDSAY ELLIS
Hot dogs. Poor people created them. Rich people found a way to charge fifteen dollars for them. They're high culture, they're low culture, they're sports food, they're kids' food, they're hangover food, and they're deeply American, despite having no basis whatsoever in America's Indigenous traditions. You can love them, you can hate them, but you can't avoid the great American hot dog.
Raw Dog: The Naked Truth About Hot Dogs is part investigation into the cultural and culinary significance of hot dogs and part travelog documenting a cross-country road trip researching them as they're served today. From avocado and spice in the West to ass-shattering chili in the East to an entire salad on a slice of meat in Chicago, Loftus, her pets, and her ex eat their way across the country during the strange summer of 2021. It's a brief window into the year between waves of a plague that the American government has the resources to temper, but not the interest.
So grab a dog, lay out your picnic blanket, and dig into the delicious and inevitable product of centuries of violence, poverty, and ambition, now rolling around at your local 7-Eleven.
The hardcover edition of Raw Dog: The Naked Truth About Hot Dogs includes gorgeous endpapers, an illustrated case, as well as illustrations by the author throughout.
"Raw Dog will leave you nourished." —BuzzFeed
"You will certainly never read a funnier book about taking a hot dog-themed road trip across America." —Glamour
"A journey both silly and profound." —Vulture, Best Books of 2023
Praise for Raw Dog: The Naked Truth About Hot Dogs
"Part gonzo travelogue in which Loftus and a boyfriend spend the summer of 2021 traversing the country to sample its dogs; part cultural analysis of the tube meat as American icon; part takedown of the factory farming system; part memoir about a crumbling relationship straining under the weight of cheap motel rooms and indigestion" —New York Times
"A wonderfully weird and wild mashup of history, social commentary, personal revelation and food journalism." —BookPage
"Laugh a minute." —Kirkus Review
"You will never read a funnier book about taking a hot-dog-themed road trip across America than Raw Dog." —Glamour (Best of 2023)
"Somewhere between a send-up and a takedown of America's favorite sausage." —Bon Appétit
"Equal parts meat-processing indictment, travelogue, hot dog history, and odd facts, this book is irreverent, hilarious, entertaining, honest, and, at times, gross. Will fascinate readers interested in hot dogs, road trips, and regional recipes." —Library Journal
"Raw Dog will leave you nourished." —BuzzFeed
"Jamie Loftus is a wise and funny storyteller, and her enthusiasm is inspiring. There's so much about hot dogs that you need to know, and Jamie is here to teach you!" —ANDY RICHTER, actor and writer
"A moving, gorgeously written and lovingly researched dive into the world of hot dogs, American nationalism, in-group scandal, and delicate human relationships. This gonzo yet vulnerable trek is meaty, fun, critical, and evocative all at once. Jamie Loftus is the hot dog generation's Joan Didion." —GABE DUNN, New York Times bestselling coauthor of I Hate Everyone But You
"Jamie deftly interweaves the absurdity of the ubiquitous hot dog with the chaos of an American culture trying to suss out its post(?)-pandemic identity. Her eye for detail, sly wit, and whip-smart way with words makes her one of the freshest and most insightful new comedic voices of this decade." —LINDSAY ELLIS, New York Times bestselling author of Axiom's End
"Who but Jamie Loftus could've given us the hot dog Moby-Dick? This book is like getting shot in the chest and waking up three hours later, stronger and wiser." —BRANSON REESE, New York Times medium selling author of Hell Was Full, creator of FX's Swan Boy
"Raw Dog is a wild ride. I cannot prepare you for it, and I wouldn't want to. Enjoy the surprise." —ROBERT EVANS, host of the podcast Behind the Bastards
"Jamie Loftus is the best travel companion a reader could ask for, and in Raw Dog she takes us on a revealing, funny, sad, horny, and insatiably curious journey across America, and into the truth of what it means to be human." —SARAH MARSHALL, host of the podcast You're Wrong About
"Jamie Loftus is the most deeply incisive and hilariously honest artist in podcasting, and her singular comedic voice rings as crystal clear on page as it does on mic. With Raw Dog, she continues to find the subject you didn't know you wanted to spend hours learning about, and leave you wanting more. Loftus writes with the laugh-a-minute cadence of a Fey, the twisting, somersaulting vitality of a young Eggers." —JACK O'BRIEN, cofounder of Cracked.com and head of comedy at iHeartPodcast Network
"Growing up, I never thought I would want to read an entire book about hot dogs. But that was before Jamie Loftus decided to write one." —ALLISON RASKIN, New York Times bestselling author of Overthinking About You: Navigating Romantic Relationships When You Have Anxiety, OCD and/or Depression
Praise for Jamie Loftus:
"One of the most interesting voices in podcasting . . . It is Loftus's probing curiosity that is her greatest asset." —The New Yorker
"Unexpectedly gripping explorations of niche subjects, infused with her biting comedic delivery." —The New York Times
"Thoroughly entertaining." —Vulture
"Diving headfirst into a minefield of impossible yet crucial questions." —Mashable