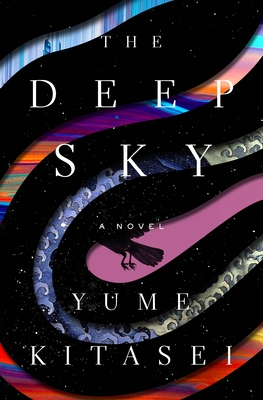 The Deep Sky: A Novel
Publication Date:
July 18th, 2023
Publisher:
Flatiron Books
Usually Ships in 1 to 5 Days
Description
Yume Kitasei's The Deep Sky is an enthralling sci fi thriller debut about a mission into deep space that begins with a lethal explosion that leaves the survivors questioning the loyalty of the crew.
They left Earth to save humanity. They'll have to save themselves first.
It is the eve of Earth's environmental collapse. A single ship carries humanity's last hope: eighty elite graduates of a competitive program, who will give birth to a generation of children in deep space. But halfway to a distant but livable planet, a lethal bomb kills three of the crew and knocks The Phoenix off course. Asuka, the only surviving witness, is an immediate suspect.
As the mystery unfolds on the ship, poignant flashbacks reveal how Asuka came to be picked for the mission. Despite struggling through training back on Earth, she was chosen to represent Japan, a country she only partly knows as a half-Japanese girl raised in America. But estranged from her mother back home, The Phoenix is all she has left.
With the crew turning on each other, Asuka is determined to find the culprit before they all lose faith in the mission—or worse, the bomber strikes again.
Praise for The Deep Sky: A Novel
A Washington Post Best Science Fiction and Fantasy Novel of 2023, a Kirkus Reviews Best Debut of 2023, a Goodreads Choice nominee for Best Science Fiction, and a Tor.com Must-Read Sci-Fi Release of 2023
"A great time." —Veronica Roth
"Kitasei has put so much thought and heart into this fresh take on the generation ship, and on the dilemma between abandoning Earth and prolonging humanity. I can't wait to see what her mind sparks to next." —Tor.com
"Required reading." —The Boston Globe
"One of the best debuts of the year." —Book Riot
"On this whodunnit frame, Kitasei hangs a deeper story about what mothers and daughters owe each other and how complicated that relationship can become when bridging tragedies large and small as well as crossing cultures." —Locus

"Smart and exhilarating...A study in belonging and how Asuka's intersecting identities (Japanese-American, crew member, classmate, friend, daughter and woman) buttress her during the most important moments in her life." —BookPage
"Cerebral SF, tackling both humanity-wide problems and the smaller but ever-present conflicts closer to home." —Kirkus Reviews (starred)
"The Deep Sky is a beautiful tightly-wound mystery. It is both an intimate character portrait and a thriller. The space geek in me loves the way the voyage feels like a completely plausible extension of our current billionaire-fueled space race." —Mary Robinette Kowal, winner of the Hugo, Nebula, and Locus Awards
"The Deep Sky is a smart, emotionally mature, quick-paced climate fiction space whodunit that I already wanted to read again before I even finished it." —Associated Press
"Gripping, apocalyptic... Complete with sabotage, secrets, explosions, flashbacks, existential dread and, ultimately, hope, this is a winner." —Ms. Magazine
"There's just so much to love about The Deep Sky, a book both smart and ultimately wise about how we will address our current crises...It's a fast-paced read that invites readers to slow down and really think, an impressive feat for a debut." —Geekly, Inc.
"There are so many things to love about Yume Kitasei's debut, but I especially adored how real every moment felt: the politics of boarding school and our future world; the lapsed friendships and estranged parents; the guilt of surviving, of being chosen. In The Deep Sky, Kitasei puts us under the microscope not in judgment but with a fair and caring eye; she looks for the best in us." —C. L. Clark, author of The Unbroken
"Kitasei's debut moves quickly and builds rich characters, with a sense of humor that will appeal to fans of John Scalzi." —Booklist
"If you like your sci-fi tinged with noir and suspense, then Yume Kitasei's The Deep Sky is for you. Evocative, engaging, and hard to forget, I really loved this novel. Put it on your radar." —Alex Segura, LA Times Book Prize-winning author of Secret Identity
"Readers will be engaged by the mystery and suspense and find the familiarity and connection in the humanity of Asuka and the journey of The Phoenix." —Library Journal
"A remarkable story of endurance and hope." —Publishers Weekly