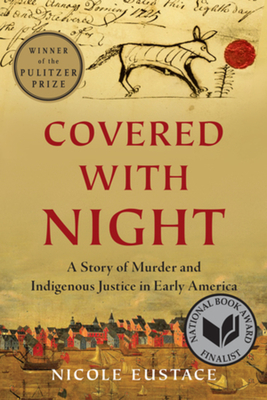 Covered with Night: A Story of Murder and Indigenous Justice in Early America
Publication Date:
July 26th, 2022
Heartleaf Books
1 on hand, as of Dec 9 7:56pm
(Floor)
On Our Shelves Now
Description
WINNER • 2022 PULITZER PRIZE IN HISTORY
Finalist • National Book Award for Nonfiction
Best Books of the Year • TIME, Smithsonian, Boston Globe, Kirkus Reviews
The Pulitzer Prize-winning history that transforms a single event in 1722 into an unparalleled portrait of early America.
In the winter of 1722, on the eve of a major conference between the Five Nations of the Haudenosaunee (also known as the Iroquois) and Anglo-American colonists, a pair of colonial fur traders brutally assaulted a Seneca hunter near Conestoga, Pennsylvania. Though virtually forgotten today, the crime ignited a contest between Native American forms of justice—rooted in community, forgiveness, and reparations—and the colonial ideology of harsh reprisal that called for the accused killers to be executed if found guilty. In Covered with Night, historian Nicole Eustace reconstructs the attack and its aftermath, introducing a group of unforgettable individuals—from the slain man's resilient widow to an Indigenous diplomat known as "Captain Civility" to the scheming governor of Pennsylvania—as she narrates a remarkable series of criminal investigations and cross-cultural negotiations. Taking its title from a Haudenosaunee metaphor for mourning, Covered with Night ultimately urges us to consider Indigenous approaches to grief and condolence, rupture and repair, as we seek new avenues of justice in our own era.
Praise for Covered with Night: A Story of Murder and Indigenous Justice in Early America
[Eustace] reveals forgotten treasures in America's attic... She draws from dozens of primary sources and hundreds of secondary ones, yet seamlessly weaves them into a cohesive, compelling narrative full of intrigue and pathos.... Drawing repeated distinctions between rigid, albeit unfairly applied, British law (perpetrator-focused, reprisal-oriented, punishment driven) and the justice of the Haudenosaunee (victim-focused, restitution-oriented, harmony-driven)... Eustace manages to maintain the narrative tension.... formally documenting a more humane, healing vision of what justice could be – and once was – in this country.
— Dana Dunham - Chicago Review of Books
The story has countless moving parts and one central mystery that demand subtle exposition, and Eustace navigates it all with skill and economy. A fine contribution to the literature of Colonial America, where peace was far harder to achieve than war.
— Kirkus Reviews, starred review
Throughout, she makes excellent use of primary sources to convey the sophisticated rhetorical strategies of Native negotiators. Early American history buffs will be fascinated.
— Publishers Weekly
Relying on primary sources, including colonial writings, Eustace's account offers not only the history of the trial, but also an inclusive examination of ongoing clashes over the possession of land rights. Black-and-white illustrations of colonial letters throughout add context.
— Library Journal
Listening keenly and insightfully to Native voices in colonial records, Nicole Eustace deftly recovers a revealing tale of murder and justice across a cultural frontier at a critical moment for the future of our continent. A great read and an important book.
— Alan Taylor, Pulitzer Prize–winning author of Thomas Jefferson's Education
Nicole Eustace crafts a thoroughly original and compelling account of eighteenth-century America, its volatile societies and cultural boundaries, and especially the conflicts between Native people and colonial newcomers over how justice itself might be defined in America. Her answers are surprising, enlightening, and worthy of rediscovery.
— Matthew Dennis, professor emeritus of history at the University of Oregon and author of Seneca Possessed: Indians, Witchcraft, and Power in the Early American Republic