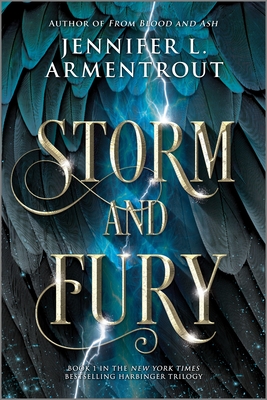 Storm and Fury (Harbinger #1)
Publication Date:
May 12th, 2020
Usually Ships in 1 to 5 Days
Description
"Jennifer L. Armentrout is a master of weaving rich contemporary realism with magic and mayhem. Her characters will grab hold of your heart and refuse to let go. Every page left me wanting more."--New York Times bestselling author Brigid Kemmerer
BOOK ONE IN THE NEW YORK TIMES BESTSELLING HARBINGER SERIES
Meet Trinity Marrow, a girl with an explosive secret whose hiding place has just been discovered...
Eighteen-year-old Trinity may be going blind, but she can see and communicate with ghosts and spirits. Her gift is the reason she's been in hiding for years in a compound guarded by Wardens--shape-shifters who protect humankind from demons. If the demons discover the truth about Trinity, they'll devour her to enhance their powers.
When Wardens from another clan arrive with reports that something is killing both demons and Wardens, Trinity's world implodes. Not the least because one of the outsiders is the most annoying and fascinating person she's ever met. Zayne has secrets of his own--but working together becomes imperative once demons breach the compound and Trinity's secret comes to light. To save her family and maybe the world, she'll have to trust Zayne. But all bets are off as a supernatural war is unleashed...

The Harbinger Series:
Storm and Fury
Rage and Ruin
Grace and Glory
Can't get enough of Zayne? Read about his past in The Dark Elements series:
The Dark Elements Series:
Bitter Sweet Love (ebook-only prequel)
White Hot Kiss
Stone Cold Touch
Every Last Breath