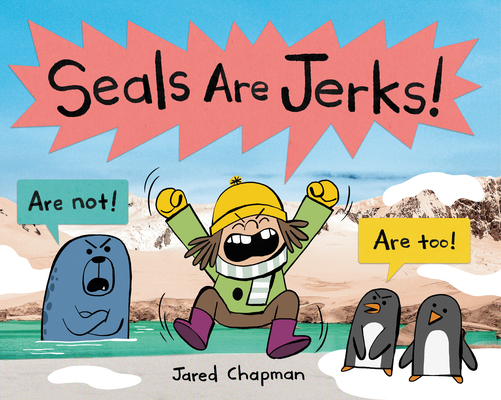 Seals Are Jerks!
Publication Date:
September 5th, 2023
Usually Ships in 1 to 5 Days
Jared Chapman's latest is complete with humor, empathy, and lots of Antarctica facts. Our narrator gets a first-person — er, penguin — account of the relationship between seals and penguins, and learns the hard truth about food chains.
September/October 2023 Kids Indie Next List
Description
In a hilarious story for fans of We Don't Eat Our Classmates, a young girl is determined to find out the truth about her favorite animals -- and find out once and for all, are seals really jerks and do they really eat penguins?!
Seals are Lorelei's favorite animal: they're so cute and cuddly and best buddies with penguins. Well... that's what she thought before learning the ugly truth -- some seals EAT penguins! She doesn't want to believe it at first, but she drags Penguin, the classroom guest, and seal whistleblower, to Antarctica to prove Penguin wrong and confront Seal face-to-face. And Seal finally reveals the truth.
Beloved creator of bestseller Vegetables in Underwear, Jared Chapman explores the ultimate question: Can seals be Lorelei's favorite animal even if they eat penguins? This laugh-out-loud story, brimming with honesty and charm, is perfect for today's young readers. Seals Are Jerks! is the launch of an exciting new series, in the spirit of We Don't Eat Our Classmates, Children Make Terrible Pets, and I Want My Hat Back.
Praise for Seals Are Jerks!
Praise for Seals Are Jerks!:
"Unfussy digital cartooning, casually funny dialogue... and ripped-from-the-headlines relevance make this picture book humorous and thought-provoking, and the ending offers up sage honesty." -- Publishers Weekly
"Kids will be laughing hysterically while learning about a food chain... A must add book for all children's libraries with primary grades especially pre-Kindergarten through second grade will delight in this book." -- picturebookbrain.com
Praise for Vegetables in Underwear:
"Those who are making the transition from diapers are sure to laugh." -- Kirkus Reviews
"The glories of underwear are celebrated in this humorous book, which successfully merges a child's desire to transition from diapers with bold, comical illustrations." -- Booklist
"Vegetables in underwear? Guaranteed preschool hilarity... Expect second, third, and more helpings of this scantily clad harvest." -- The Horn Book Magazine
Praise for Pirate, Viking, & Scientist:
"A clear triumph for the scientific method... as funny as it is sneakily informative." -- Kirkus Reviews
"This is a great read-aloud to foster discussions around the scientific process and important lessons about friendship. An excellent addition." -- School Library Journal
Praise for Steve, Raised by Wolves:
"Steve's wolflike behavior will have children giggling... The story's message of the need to balance individuality with group expectations is neatly presented." -- Kirkus Reviews
"A clever reversal story with an uplifting resolution." -- Booklist