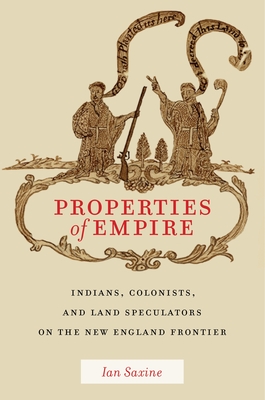 Properties of Empire: Indians, Colonists, and Land Speculators on the New England Frontier (Early American Places #9)
Publication Date:
April 23rd, 2019
Publisher:
New York University Press
Usually Ships in 1 to 5 Days
Description
A fascinating history of a contested frontier, where struggles over landownership brought Native Americans and English colonists together
Properties of Empire shows the dynamic relationship between Native and English systems of property on the turbulent edge of Britain's empire, and how so many colonists came to believe their prosperity depended on acknowledging Indigenous land rights.
As absentee land speculators and hardscrabble colonists squabbled over conflicting visions for the frontier, Wabanaki Indians' unity allowed them to forcefully project their own interpretations of often poorly remembered old land deeds and treaties. The result was the creation of a system of property in Maine that defied English law, and preserved Native power and territory. Eventually, ordinary colonists, dissident speculators, and grasping officials succeeded in undermining and finally destroying this arrangement, a process that took place in councils and courtrooms, in taverns and treaties, and on battlefields.
Properties of Empire challenges assumptions about the relationship between Indigenous and imperial property creation in early America, as well as the fixed nature of Indian "sales" of land, revealing the existence of a prolonged struggle to re-interpret seventeenth-century land transactions and treaties well into the eighteenth century. The ongoing struggle to construct a commonly agreed-upon culture of landownership shaped diplomacy, imperial administration, and matters of colonial law in powerful ways, and its legacy remains with us today.