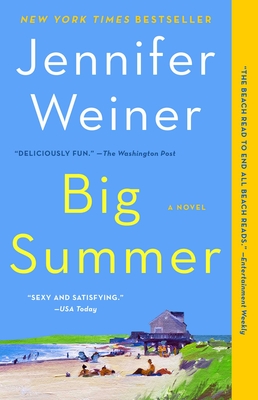 Big Summer: A Novel
Publication Date:
April 6th, 2021
Publisher:
Washington Square Press
Usually Ships in 1 to 5 Days
Description
AN INSTANT NEW YORK TIMES BESTSELLER
"Sexy and satisfying, Big Summer is the perfect quarantine read." —USA TODAY
"The beach read to end all beach reads." —Entertainment Weekly
"Big fun, and then some. It's empowering and surprising—a reminder to put down the phone and enjoy each moment for what it is." —The Washington Post
A deliciously funny, remarkably poignant, and simply unputdownable novel about the power of friendship, the lure of frenemies, and the importance of making peace with yourself through all life's ups and downs. From the #1 New York Times bestselling author of Good in Bed and Best Friends Forever, Big Summer is the perfect escape with one of the most lovable heroines to come to the page in years.
Six years after the fight that ended their friendship, Daphne Berg is shocked when Drue Cavanaugh walks back into her life, looking as lovely and successful as ever, with a massive favor to ask. Daphne hasn't spoken one word to Drue in all this time—she doesn't even hate-follow her ex-best friend on social media—so when Drue asks if she will be her maid-of-honor at the society wedding of the summer, Daphne is rightfully speechless.
Drue was always the one who had everything—except the ability to hold onto friends. Meanwhile, Daphne's no longer the same self-effacing sidekick she was back in high school. She's built a life that she loves, including a growing career as a plus-size Instagram influencer. Letting glamorous, seductive Drue back into her life is risky, but it comes with an invitation to spend a weekend in a waterfront Cape Cod mansion. When Drue begs and pleads and dangles the prospect of cute single guys, Daphne finds herself powerless as ever to resist her friend's siren song.
A sparkling novel about the complexities of female relationships, the pitfalls of living out loud and online, and the resilience of the human heart, Big Summer is a witty, moving story about family, friendship, and figuring out what matters most.
Praise for Big Summer: A Novel
PRAISE FOR BIG SUMMER:
"Sexy and satisfying. . . Observant, self-aware, and very funny, Big Summer will delight Jennifer Weiner's many fans and could be just the absorbing take-me-away read so many of us need right now." —USA Today
"It's the beach read to end all beach reads."—Entertainment Weekly
"Part dissection of female friendships, part murder mystery, part social-media tutorial, part love story and—the best of them all—part portrait of an overweight, under-confident striver. Daphne is an endearing creation: funny, plucky, willing to acknowledge certain critical lapses in judgment and eminently worthy of the love that she is certain will never come her way." —The Wall Street Journal
"It's deliciously fun: frothy entertainment with surprising depth. Big Summer is big fun, and then some. It's empowering and surprising—a reminder to put down the phone and enjoy each moment for what it is, rather than what it could look like on Instagram." —The Washington Post
"Clever and empowering." —People
"Everything you'd hope to find in a beach read: complicated female friendships, unhappy rich people, a hardworking heroine with an eye for fashion, and an Instagram-worthy setting for an over-the-top wedding on Cape Cod." —The Philadelphia Inquirer
"Big Summer is the perfect beach read, but one that's filled with thoughtful ideas about how we live our lives online and the nature of friendship. Get ready for another big-hearted novel by Jennifer Weiner." —PopSugar
"Weiner's story of female friendships (after Mrs. Everything) mixes a splash of romance, a dash of humor, and a pinch of mystery to create a deliciously bloody poolside cocktail. Weiner's surprising tale is hard to put down." —Publishers Weekly
"If you love Jennifer Weiner, you'll love this one. And if you're a newbie, start here." —Kirkus Reviews (starred)
"Jennifer Weiner writes tremendously enjoyable books that hit me in the same pleasure center as romantic comedies do, so I'm very excited for her latest novel, set in the midst of a 'lavish society wedding' on Cape Cod. Friendship, weddings, and rich people being weird? Obviously I am in." —Literary Hub
"The perfect beach read . . . A funny and tender examination of female friendship in all of its messy glory."—PopSugar
"Big Summer is a big, fun summer read. Weiner made her mark chronicling the relationships of young women, and her return to that arena will garner lots of attention." —Booklist
"A new story perfect for summer… Weiner's lighthearted, moving tale takes readers on a journey that explores the complexities of female friendship." —The Hollywood Reporter
"Weiner is beloved for her rich, heartfelt stories—and her new book is no exception." —Women's World
"This tender novel explores the boundaries of female friendship, not to mention the beautiful mansions and charming dunes of Cape Cod." —Good Housekeeping
"Big Summer by Jennifer Weiner will make you rethink your old friendships, big time. This summer-lovin' novel tells the story of two friends who have lost touch, but get reconnected when one is about to get married. The twists and turns to come can be so #relatable, and really tug at your heartstrings. It's worth the read." —Elite Daily