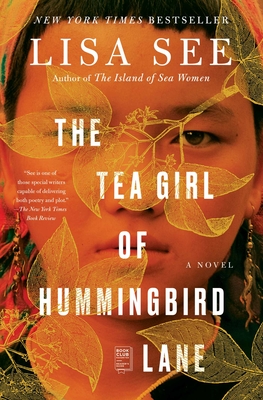 The Tea Girl of Hummingbird Lane: A Novel
Publication Date:
April 3rd, 2018
Heartleaf Books
1 on hand, as of Dec 9 7:56pm
(Floor)
On Our Shelves Now
This captivating story is set in a remote Yunnan village where, for many years, the Akha people have followed the rituals and cycles of harvesting tea leaves. Slowly, the changes going on in the rest of China begin to reach the area. Li-yan, one of the few educated girls in the village, acts as translator for a stranger seeking a rare tea from Yunnan. When Li-yan gives birth to a baby out of wedlock, she wraps her baby in a blanket along with a package of the rare tea and leaves her in a city where she will be taken to an orphanage. Over the years, mother and daughter dream of finding one another again. Brew yourself a cup of tea and settle down to read this tale of family and the search for answers in different places and cultures.
April 2017 Indie Next List
Description
From #1 New York Times bestselling author Lisa See, "one of those special writers capable of delivering both poetry and plot" (The New York Times Book Review), a moving novel about tradition, tea farming, and the bonds between mothers and daughters.
In their remote mountain village, Li-yan and her family align their lives around the seasons and the farming of tea. For the Akha people, ensconced in ritual and routine, life goes on as it has for generations—until a stranger appears at the village gate in a jeep, the first automobile any of the villagers has ever seen.
The stranger's arrival marks the first entrance of the modern world in the lives of the Akha people. Slowly, Li-yan, one of the few educated girls on her mountain, begins to reject the customs that shaped her early life. When she has a baby out of wedlock—conceived with a man her parents consider a poor choice—she rejects the tradition that would compel her to give the child over to be killed, and instead leaves her, wrapped in a blanket with a tea cake tucked in its folds, near an orphanage in a nearby city.
As Li-yan comes into herself, leaving her insular village for an education, a business, and city life, her daughter, Haley, is raised in California by loving adoptive parents. Despite her privileged childhood, Haley wonders about her origins. Across the ocean Li-yan longs for her lost daughter. Over the course of years, each searches for meaning in the study of Pu'er, the tea that has shaped their family's destiny for centuries.
A powerful story about circumstances, culture, and distance, The Tea Girl of Hummingbird Lane paints an unforgettable portrait of a little known region and its people and celebrates the bond of family.
Praise for The Tea Girl of Hummingbird Lane: A Novel
"The story begins small, plunging us into the immersive detail of a single grueling day picking tea with the young girl, Li-yan, her mother, A-ma, and the rest of their ethnic minority Akha family…What makes life bearable for the Akha is their belief system, which infuses every aspect of their daily lives. The full sweep of their practices is flawlessly embedded in See's prose…The hardships that confront Li-yan in her life are as compelling as the fog-shrouded secret groves where she and her mother cultivate a special healing tea. I could have hung out here in remote China forever, but See has wider ground to cover, including Chinese adoption, the international fine tea market and modern Chinese migration to the United States… A lush tale infused with clear-eyed compassion, this novel will inspire reflection, discussion and an overwhelming desire to drink rare Chinese tea."
–Helen Simonson, The Washington Post
"One of the fascinating elements of See's epic novel is the contrast between the isolated lives of the Akha and the globalized world of China's larger cities — a contrast bridged by tea…Fans of the best-selling Snow Flower and the Secret Fan will find much to admire in The Tea Girl of Hummingbird Lane, as both books closely illuminate stories of women's struggles and solidarity in minority-ethnic and rural Chinese cultures…In rendering the complex pain and joy of the mother-daughter bond, Lisa See makes this novel — dedicated to her own mother, author Carolyn See, who died last year — a deeply emotional and satisfying read."
—Emily Gray Tedrowe, USA Today
"Lisa See transports readers to the remote mountains of China…come for the heartwarming bonding between mother and daughter; stay for the insight into Akha culture and the fascinating (really) history of the tea trade."
—Real Simple
"With strong female characters, See deftly confronts the changing role of minority women, majority-minority relations, East-West adoption, and the economy of tea in modern China. Fans of See's Snow Flower and the Secret Fan will appreciate this novel."
—Library Journal
"With vivid and precise details about tea and life in rural China, Li-Yan's gripping journey to find her daughter comes alive."
—Publishers Weekly
"A riveting exercise in fictional anthropology."
—Kirkus Reviews