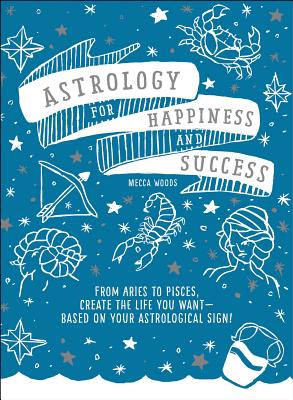 Astrology for Happiness and Success: From Aries to Pisces, Create the Life You Want--Based on Your Astrological Sign!
Publication Date:
October 2nd, 2018
Heartleaf Books
1 on hand, as of Mar 23 5:11pm
(Floor)
On Our Shelves Now
Description
Let your astrological sign show you the way to your best life—find specific activities that will improve relationships, finances, health, and happiness based on your Zodiac sign!
Take your happiness to the next level with advice specifically designed for you, based on your astrological sign. In Astrology for Happiness and Success, you'll find new ways to be happier and more successful and learn to bring joy to those around you.
Take an adventurous Aries to your next yoga class to help you both clear your minds, treat your busy Taurus friend to a relaxing evening at home, join Gemini in playing a new board game for fun—and more!
With different activities, therapeutic techniques, and relaxation rituals for each sign, you'll find the perfect path to becoming your happiest and healthiest self.
Praise for Astrology for Happiness and Success: From Aries to Pisces, Create the Life You Want--Based on Your Astrological Sign!
"There were sections that I read that were such 'aha' moments that made me want to keep reading. If you're interested to see how you can use your astrological sign to live your best life, be sure to check out Astrology for Happiness and Success."
— Endless Bliss
"Astrologer Mecca Woods has created the perfect star-inspired guide to life. Astrology for Happiness and Success is a beginner-friendly guide for anyone looking to dip their toe into astrology and thorough enough for fans of the practice who already know the basics. Navigating life, especially during times like these can be tough, but sometimes you just need to look to the stars for a little help."
— Essence.com
"The author provides real context and direction instead of simple generic traits normally associated with astrology. One of my favorite books in quite a while. I highly recommend picking up a copy."
— Confessions of a Modern Witch
"Mecca Woods' new book came into my life the exact moment I needed it. This book helped put me back on course. That's what I love about Woods' book…it gives you small, manageable approaches to tackling life. Gaining perspective … is the beauty behind astrology … Paying attention to the stars helps ground me. This book helped me really … pay attention to … how much I appreciate guided approaches … in accomplishing daily tasks with a bit of help from the stars."
— Luna Luna Magazine
"Astrology for Happiness and Success has everything you would expect from an astrology book. One of my favorite things in Astrology for Happiness and Success is that they also include affirmations for each Sun sign. I've said it before and I will say it again affirmations are so important in magick. They allow one to focus on goals and desires, and shift them into reality. This book is chock full of information on every Sun sign and what it means for your personal astrology, and your magick."
— Patheos
"This stocking stuffer will be a resource your friends and family will continue to go back to. Must have!"
 
— Ritual and Vibe
"The lucky person who receives this will be pleased – and sitting under the tree poring through it immediately."
 
— The Tarot Lady
"A comprehensive breakdown of every sign … .The book is a must-read for anyone just getting interested in astrology, but even as someone who is more advanced, I found a ton of useful information. This is a reference I'll be coming back to for years."
 
— Autostraddle
"What this quick-read does do is give you the confidence you need to push your career foward and cultivate meaningful relationships based on the inner-workings of your astrological sign."
— My Domaine