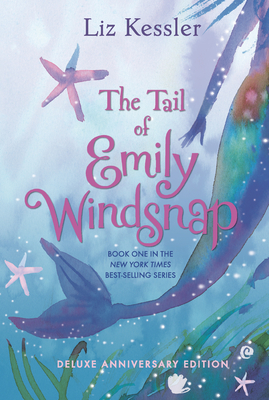 The Tail of Emily Windsnap
Publication Date:
September 12th, 2023
Usually Ships in 1 to 5 Days
Description
The enchanting first tale in the New York Times best-selling series is now available in a beautiful twentieth-anniversary edition poised to captivate a new generation.
For as long as she can remember, twelve-year-old Emily Windsnap has lived on a boat. And, oddly enough, for just as long, her mother has anxiously kept Emily away from the water. But when Mom finally agrees to let her take swimming lessons, Emily makes a startling discovery—about her own identity, the mysterious father she's never met, and the thrilling possibilities and perils shimmering deep below the water's surface. In a lovely twentieth-anniversary edition of the spellbinding fantasy about family secrets, loyal friendship, and the convention-defying power of love, New York Times best-selling author Liz Kessler lures us into a glorious undersea world where mermaids study shipwrecks at school and Neptune rules with an iron trident. This deluxe unjacketed hardcover features a ribbon bookmark, decorative stained edges, an author's note, facts about mermaids, and a personality quiz to reveal what kind of sea creature the reader might be.
Praise for The Tail of Emily Windsnap
Pre-teen girls will likely bite at this novel's tempting bait.
—Publishers Weekly
Light, imagination-tickling fare ideal for middle-grade girls, with charming ink-wash illustrations scattered throughout.
—Booklist
Middle school girls . . . will enjoy the tale.
—VOYA
There is no denying the siren-like allure of mermaid stories. . . . Gibb's spot art has a fluid delicacy that adds much to the watery ambience.
—Bulletin of the Center for Children's Books
Liz Kessler makes a splash with this tightly written, highly imaginative debut.
—FamilyFun
Charming.
—The Wall Street Journal
Liz Kessler creates an engaging heroine, full of funny asides and derring-do, and a sparkling, fast-paced story with more plot twists than a mermaid's flipping tale.
—Washington Parent
Kessler has a wonderful new "tail" she has woven with Emily...There is enough mystery that you keep reading for more… It is a book that leaves you wanting more Emily.
—1340magbooks.com
One of the more imaginative tales I have ever read.
—5 Minutes for Books blog