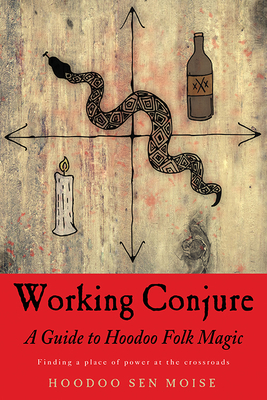 Working Conjure: A Guide to Hoodoo Folk Magic
Publication Date:
September 1st, 2018
Heartleaf Books
1 on hand, as of Sep 22 8:09pm
(Floor)
On Our Shelves Now
Description
"Working Conjure is a blessing. With the increasing commodification of African American and African Diasporic traditions, books about our practices that are simple, direct, and useful seem few and far between. Hoodoo Sen Moise manages to balance a solid delivery on the practice of Conjure with just enough theory to create a foundation to do this spiritual work—which is not, as he also reminds us, spiritual easy—and to continue the work given to us by our ancestors to heal each other and the world we share."—Mambo Chita Tann, author of Haitian Vodou
 
Conjure, also known as Hoodoo or Rootwork, is an old and powerful system of North American folk magic. Its roots derive primarily from West and Central African spiritual traditions but it developed during the slave trade and its purpose at that time was to help ease the terrible oppression experienced by the slaves. Working Conjure explores the history, culture, principles, fundamentals, and ethics of Conjure, while simultaneously serving as a practical how-to guide for actually doing the work.
Author Hoodoo Sen Moise has been a practitioner for nearly forty years. In Working Conjure, his first book, he shares the techniques and lessons that will bring Hoodoo alive to those who are new to the practice as well as useful and enlightening information for the adept. In the book he:
Explores the primary materials used in Conjure
Features spells, rituals, and workings for various purposes
Guides readers to learn how to bring this profound school of magic to life
"Conjure," writes Hoodoo Sen Moise, "is not a religion or spiritual path, per se, but rather magic/spiritual work that is done to bring about change in a situation. Whether that situation is a relationship, money, a job, revenge, healing, or cleansing, the fundamental tenet of Conjure is to do work that changes the circumstance."
Praise for Working Conjure: A Guide to Hoodoo Folk Magic
"Written with a heaping helping of Southern grace and charm, and sweetened with a dash of humor, Working Conjure is akin to sitting down to coffee and beignets with a treasured friend: A rich and delectable treat, coupled with delightful conversation and newfound strength and vigor. What Hoodoo Sen Moise serves up between these pages is nothing short of amazing. It's the most satisfying book you'll ever read - and it will change your life forever!" --Dorothy Morrison, author of Everyday Magic and Utterly Wicked
— Reviews
"We're very blessed to have such great knowledge of the traditional way of doing Hoodoo Conjure, as you'll find in Working Conjure, an understanding workbook of the Hoodoo Conjure tradition that also teaches it true history. All who read it are truly blessed with great knowledge. I highly recommend Working Conjure to anyone who is starting out or is already an advanced worker. Be blessed." --Rev. Payshence, Spiritual Ministry
— Reviews
"Working Conjure is the folk magic book we've all been waiting for! Packed with expert knowledge, detailed instructions, accurate history and never before revealed secrets for powerful Conjure, this is a must have in your magical library for its accuracy and authenticity that only one born into a Conjure family can provide. A superb book on Hoodoo, Conjure, and folk magic for both the beginning or experienced practitioner, written by the highly experienced and renowned Hoodoo, Vodou and Conjure Man of New Orleans himself!" --Anna E. Parmelee, founder & owner Erzulie's Voodoo Store New Orleans
— Reviews
"Working Conjure is a beautifully written book with loads of valuable information on the traditions of African American Conjure and Hoodoo. This book will enlighten a seasoned conjurer and give a sound foundation to a new practitioner of Conjure and set them on the right path. Hoodoo Sen Moise put his heart and soul into the writing of this book and it comes across on every page." --Lelia Marino of Ms. Rain's Conjure Shop
— Reviews
"Sen Moise teaches the traditions of his ancestors and kindly shares their wisdom with us. Rooted in the past, he speaks eloquently on why these things apply to us today in the modern world without compromise." --Christopher Penczak, Co-Founder of the Temple of Witchcraft
— Reviews
"I was excited to read Sen Moise's new book Working Conjure. The book is clear, direct, and much needed in the world of Hoodoo and Conjure. Sen Moise tells it like it is and brings good insight and history into the hows and whys of the tradition, putting to rest a lot of inaccuracies floating around in these days of internet experts. Now there is a book that speaks clearly to those wishing to know more about authentic Hoodoo and Conjure." --Candelo Kimbisa, Spiritualitst radio personality and host of Candelo's Corner, America's longest running Palo Mayombé talk show
— Reviews
"Hoodoo Sen Moise has devoted a lifetime to becoming one of the best of the best in Conjure. In Working Conjure, his beautifully written and engaging book, Sen Moise shares his phenomenal knowledge, wisdom and advice, making the fundamentals of Conjure accessible to everyone. What's more, this is a deeply spiritual book that will connect you to your roots, both on earth and in spirit." --Rosemary Ellen Guiley, author of Guide to Psychic Protection
— Reviews
"Working Conjure is a must have on the bookshelf of anyone interested in Southern folk magic. Hoodoo Sen Moise brings us the time-worn teachings that have evolved in the Southern United States over hundreds of years. This practical book teaches you how you can use Conjure in everyday situations and discover the power and perseverance of the Southern spirit to evolve, change, transform, manifest, and heal. Hoodoo Sen Moise has presented a great work for these traditions, weaving together magic and spiritual belief!" --Brian Cain, Alexandrian high priest and co-host of HexFest and Festival of the Dead
— Reviews
"Working Conjure is a blessing. With the increasing commodification of African American and African Diasporic traditions, books about our practices that are simple, direct, and useful seem few and far between. Hoodoo Sen Moise manages to balance a solid delivery on the practice of Conjure with just enough theory to create a foundation to do this spiritual work -- which is not, as he also reminds us, spiritual easy -- and to continue the work given to us by our ancestors to heal each other and the world we share." --Mambo Chita Tann, author of Haitian Vodou
— Reviews