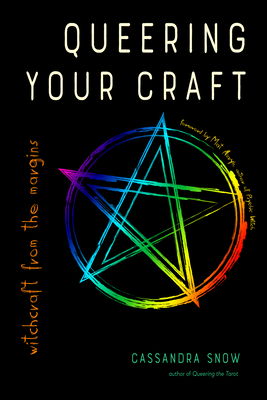 Queering Your Craft: Witchcraft from the Margins
Publication Date:
November 1st, 2020
Usually Ships in 1 to 5 Days
Description
"As evident through the pages of this book, Snow holds a vision for the queer aspirant who hears the call to witchery, to find healing, empowerment, strength, and pride through their craft. Through creative and unique journal prompts, introspection, rituals, and spells, Snow achieves this beautifully, and herein lays the perfect guide for the queer witch to stand in their power and stand beside others; truly queering our craft with compassion and pride."
--Mat Auryn, author of Psychic Witch: A Metaphysical Guide to Meditation, Magick, and Manifestation
Witchcraft has always belonged to the outsiders and outcasts in society, yet so much of the practice enforces and adheres to the same hierarchy we face in the world at large—a hierarchy that isolates and hurts those living beyond society's binaries and boundaries. While there are books that address magick for resistance and queer myth, until now there has not been one that specifically addresses the practice of queer magick from an LGBTQ+ standpoint.
Queering Your Craft combines queer aesthetic and culture (like DIY culture and an emphasis on chosen family over formal covens) with pagan and metaphysical spiritual practice in a way that is commonplace but has not been written about until now. This book covers the personal, the collective, and the political, and how deeply intertwined all three are in a magickal practice for those who are LGBTQ+.
In this introduction to witchcraft, Snow presents why/how each concept is important to a queer craft, or how to approach it from a queer mindset. For example, conventional prayer, words, and symbols have always been problematic in a queer universe: How to make them work and still be true to yourself? The bulk of the book is about learning the craft. The latter portion is a grimoire of spells.
While accessible to beginning witches, Queering Your Craft provides new and inspiring information for longtime practitioners interested in a pure and personal approach that avoids the baggage of history and stereotype.