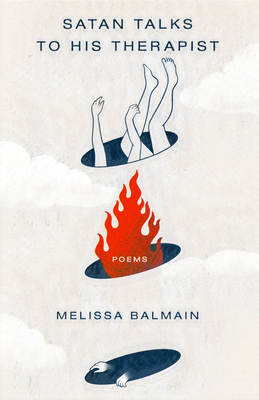 Satan Talks to His Therapist
Publication Date:
September 12th, 2023
Publisher:
Paul Dry Books
Usually Ships in 1 to 5 Days
Description
"If the LOLSOB emoji could write verse that both sings and stings, the result would be Satan Talks to His Therapist."
--Allison Joseph, author of Confessions of a Barefaced Woman

In Satan Talks to His Therapist, Melissa Balmain explores the lighter side of dark times. Playful yet poignant, her poems perfectly capture our human fallibility and comedic sense of importance.
The collection begins with "On Looking at an MRI Cross-Section," in which Balmain peeks inside her own skull to consider the jumble of thoughts and memories harbored there. After this introduction to the poet's inner world, the book divides into three sections: Spiraling Down, In Limbo, and Climbing Out. The poems in this lyrical descent and ascent are about climate change, social media, pandemics, politics (sexual and otherwise), parenthood, consumerism, aging, loss, and ills, both physical and societal. Balmain writes in meter and rhyme, and she uses traditional forms (sonnets, villanelles, terza rima) as well as ones she's coined for the moment.
The poems in Satan Talks to His Therapist provide clarity and comedy in a time that feels anything but clear or comic, and they hint at the consolations of art, kindness, maturity, persistence, love, and, of course, humor.
"It turns out that the literary establishment can't quite kill off humorous poetry. Melissa Balmain's Satan Talks to His Therapist is a marvel in the tradition of Martial, Jonathan Swift, and Dorothy Parker and the more recent generation of poets that includes Wendy Cope, X.J. Kennedy, and R.S. Gwynn. It is poetry you will enjoy--and enjoy giving to a friend who needs to see some humor in a world desperate for the medicine of laughter."
--A.M. Juster, author of Wonder & Wrath

"In one of the wickedly funny poems from Satan Talks to His Therapist, Dorothy Parker's ghost drops in to comment on a political situation. Don't believe it for a second, because if Parker's ghost were to visit a Balmain poem, she would likely set fire to it out of spiteful envy. Melissa Balmain is the once and future Queen of American light verse, and only a ghost could keep from laughing all the way through this marvelous collection."
--Julie Kane, former Louisiana Poet Laureate and author of Mothers of Ireland