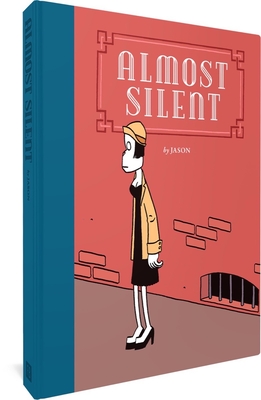 Almost Silent
Publication Date:
December 19th, 2017
Heartleaf Books
1 on hand, as of Dec 1 4:03pm
(Floor)
On Our Shelves Now
Description
Starring the Bride of Frankenstein, zombies, and much more, this is an omnibus of four classic, mostly pantomime graphic novels.
This graphic novel omnibus includes You Can't Get There From Here, about a monster love triangle; Tell Me Something, about love, recovered; Meow Baby!, short genre comics; and The Living and the Dead, a hilariously deadpan (and gory) take on the traditional Romero-style zombie thriller. All of these yarns star Jason's patented cast of tight-lipped (or -beaked) bird-, dog-, cat- and wolf-people, and showcase his compassion and wry wit.
Praise for Almost Silent
One gets the sense that … Jason, like poets writing sestinas, [is] testing [his] powers, letting the fierce constraints of the form reveal new possibilities, and it's a wonderful thing to observe.
— The Guardian
Jason's work is poetry. Beautiful and frightening. Redemptive and hopeless. He is the Kafka and Keats of the comic world.
— Sherman Alexie
The graphic novel's cinematic qualities have rarely been so well wielded as they are by the artist known only as Jason.
— Bookslut
[Almost Silent] is a really good book and Jason is a strong cartoonist. He does a lot with his simple-but-well-drawn characters and little to no dialogue. ... you get a nice sampler of what Jason can do. This is entirely worth owning.
— Nick Gazin - Vice
Throughout the sublime Almost Silent, Jason examines traditional relationships and social norms via a deliciously warped lens, quite probably one constructed by Dr. Frankenstein himself.
— Rick Klaw - The SF Site: Nexus Graphica
Thank God then for Almost Silent, a new collection repackaging some of Fanta's older Jason books—some of which are no longer in print in their original format—as an anthology the same size, shape and design as Low Moon. ... Buy it to read the stories, keep it to restore order and balance to your bookshelf.
— J. Caleb Mozzocco - Newsarama
This is the output of an artist with a clear vision who is truly at the top of his game. ... Beautifully bound and reasonably priced, you're not going to find a much better entry point into the world of contemporary graphic novels than Almost Silent.
— Brian Heater - The Daily Cross Hatch
Jason's simple, elegant artwork... allows any reader to dive right in. ...Jason's comics… are funny, and absurd, tinged with sadness and loneliness, outrageously goofy, slapstick, human and just plain pretty to look at. … It's a treat to enjoy a comic like Almost Silent.
— Michael C. Lorah - Newsarama