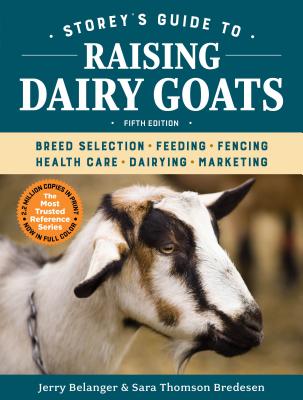 Storey's Guide to Raising Dairy Goats, 5th Edition: Breed Selection, Feeding, Fencing, Health Care, Dairying, Marketing (Storey's Guide to Raising)
Publication Date:
February 6th, 2018
Publisher:
Storey Publishing, LLC
Usually Ships in 1 to 5 Days
Description
This best-selling handbook is packed with detailed information on housing, feeding, and fencing dairy goats. It's been the trusted resource on the topic for farmers and homesteaders since it was originally published in 1975, and the new edition — completely updated and redesigned — makes Storey's Guide to Raising Dairy Goats more comprehensive and accessible than ever. In-depth sections explain every aspect of milking, including necessary equipment, proper hand-milking techniques, and handling and storing the milk. New color illustrations show each stage of kidding, and substantial chapters on dairy goat health and breeding include the most up-to-date research and practices.
Praise for Storey's Guide to Raising Dairy Goats, 5th Edition: Breed Selection, Feeding, Fencing, Health Care, Dairying, Marketing (Storey's Guide to Raising)
"With an engaging style, the authors delve into both the 'what' and the 'why' of raising dairy goats, educating with the facts and the underlying philosophies to help you make good decisions in all aspects of your dairy goat enterprise. A valuable resource for beginners and experienced producers alike!" — D. Phillip Sponenberg, DVM, professor of pathology and genetics, and technical advisor for the Livestock Conservancy
 
"With an engaging style, the authors delve into both the 'what' and the 'why' of raising dairy goats, educating with the facts and the underlying philosophies to help you make good decisions in all aspects of your dairy goat enterprise. A valuable resource for beginners and experienced producers alike!" — D. Phillip Sponenberg, DVM, professor of pathology and genetics, and technical advisor for the Livestock Conservancy