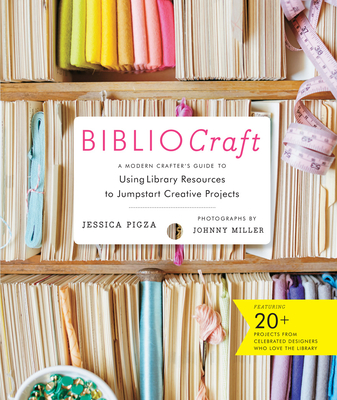 BiblioCraft: A Modern Crafter's Guide to Using Library Resources to Jumpstart Creative Projects
Publication Date:
March 18th, 2014
Publisher:
STC Craft/A Melanie Falick Book
Heartleaf Books
1 on hand, as of Dec 1 4:03pm
(Floor)
On Our Shelves Now
Description
Voted a Best Book of 2014 by Library Journal
There is untold wealth in library collections, and, like every good librarian, Jessica Pigza loves to share. In BiblioCraft, Pigza hones her literary hunting-and-gathering skills to help creatives of all types, from DIY hobbyists to fine artists, develop projects based on library resources. In Part I, she explains how to take advantage of the riches libraries have to offer—both in person and online. In Part II, she presents 20+ projects inspired by library resources from a stellar designer cast, including STC Craft authors Natalie Chanin, Heather Ross, Liesl Gibson, and Gretchen Hirsch, and Design*Sponge founder Grace Bonney. Whatever the quest—historic watermarks transformed into pillows, Japanese family crests turned into coasters, or historic millinery instructions worked into floral fascinators—anyone can utilize library resources to bring their creative visions to life.
Praise for BiblioCraft: A Modern Crafter's Guide to Using Library Resources to Jumpstart Creative Projects
"On the list of things that I love most, books take a very close second to crafting. So, if you too are just as likely to be found in a library reading room as you are in your local yarn and fabric store, BiblioCraft: A Modern Crafter's Guide to Using Library Resources to Jumpstart Creative Projects, a new book from STC Craft, written by New York Public Library rare book librarian Jessica Pigza, will definitely be right up your alley!"
— MAKE/CRAFTzine.com
"When I discovered that it is no ordinary craft book…but one that encourages creative projects inspired by vintage or long forgotten books from the library (or even your own bookshelf), I was captivated!"
— Creature Comforts blog
"Rarely does a decorating or DIY book make my heart flutter, but Jessica Pigza really knows how to charm a bibliophile whose passion is crafting and decorating."
— About.com
"Crafty library lovers must check out BiblioCraft . . . If you consider yourself a bookworm and enjoy time spent in the stacks, treat yourself to this book."
— Michigan Live
"Making beautiful things from books."
— Chicago Tribune
"Jessica Pigza's BiblioCraft is beautifully designed and full of both doable and aspirational projects by some of the hugest names in the craft world . . . I'm positively drooling."
— Starred Review from Library Journal
"Pigza showcases an array of designs by master craftspeople and artists that were all inspired by the holdings at the New York library—referencing the originals, of course—and includes instructions so you can make your own."
— Los Angeles Times
"Libraries are full of inspiration and resources and there's a new book that tells exactly how to mine them."
— BookPage.com
"A Top Read."
— Mollie Makes
"Moms looking to get crafty need look no further."
— mom.me
"Combining books and crafts? Sign me up."
— Our Daily Craft
"What we all liked about this book is that it had what I call 'meat' or maybe you might call substance. In the beginning of Bibliocraft, [Pigza] explains things about libraries that I didn't know existed. From the library system (branch, research, special collections), to how to find the right library for you (mindblowing info here), to how to plan a library visit (yes—there is a proper way), to how to search. Bibliocraft explains things that I think only librarians know and she does it in a way normal people can understand."
— Getting Stitched on the Farm