Discounted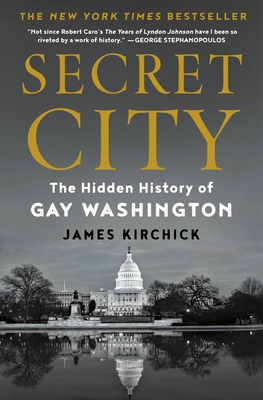 Secret City: The Hidden History of Gay Washington
Previous price:

$38.00
Current price:

$28.50
Publication Date:
May 31st, 2022
Publisher:
Henry Holt and Co.
Heartleaf Books
1 on hand, as of Dec 9 7:56pm
(Floor)
On Our Shelves Now
Description
The New York Times Bestseller
A New York Times Notable Book of 2022
Named one of Vanity Fair's "Best Books of 2022"

"Not since Robert Caro's Years of Lyndon Johnson have I been so riveted by a work of history. Secret City is not gay history. It is American history."
—George Stephanopoulos

Washington, D.C., has always been a city of secrets. Few have been more dramatic than the ones revealed in James Kirchick's Secret City.
For decades, the specter of homosexuality haunted Washington. The mere suggestion that a person might be gay destroyed reputations, ended careers, and ruined lives. At the height of the Cold War, fear of homosexuality became intertwined with the growing threat of international communism, leading to a purge of gay men and lesbians from the federal government. In the fevered atmosphere of political Washington, the secret "too loathsome to mention" held enormous, terrifying power.
Utilizing thousands of pages of declassified documents, interviews with over one hundred people, and material unearthed from presidential libraries and archives around the country, Secret City is a chronicle of American politics like no other. Beginning with the tragic story of Sumner Welles, Franklin Delano Roosevelt's brilliant diplomatic advisor and the man at the center of "the greatest national scandal since the existence of the United States," James Kirchick illuminates how homosexuality shaped each successive presidential administration through the end of the twentieth century.
Cultural and political anxiety over gay people sparked a decades-long witch hunt, impacting everything from the rivalry between the CIA and the FBI to the ascent of Joseph McCarthy, the struggle for Black civil rights, and the rise of the conservative movement. Among other revelations, Kirchick tells of the World War II–era gay spymaster who pioneered seduction as a tool of American espionage, the devoted aide whom Lyndon Johnson treated as a son yet abandoned once his homosexuality was discovered, and how allegations of a "homosexual ring" controlling Ronald Reagan nearly derailed his 1980 election victory.
Magisterial in scope and intimate in detail, Secret City will forever transform our understanding of American history.
Praise for Secret City: The Hidden History of Gay Washington
"Secret City by James Kirchick, is a sprawling and enthralling history of how the gay subculture in Washington, D.C., long in shadow, emerged into the klieg lights...A luxurious, slow-rolling Cadillac of a book, not to be mastered in one sitting. As an epic of a dark age, complex and shaded, Secret City is rewarding in the extreme."
—The New York Times
"I devoured Jamie Kirchick's riveting Secret City, a landmark that deserves companion histories for London, Paris and other capitals."
—Bret Stephens, The New York Times
"The truth most clearly revealed by Kirchick's focus on Washington is one that queer historians have emphasized for years: that change was prompted not by those in the halls of power but by activists working well outside of them...So many of those whom Kirchick chronicles seem more compromised by their proximity to power than emboldened by it. That is also a part of the story of gay life in the United States, and Kirchick tells it well."
—The New Yorker

"James Kirchick has written the definitive book on the intersection of Washington politics and gay and lesbian history. Insightfully written, astutely reasoned, and exhaustively researched through scores of interviews, archives, long-lost articles, and declassified documents, Secret City is an ingenious unicorn of scholarship."
—Vanity Fair
"A robust and meaningful history...Smartly written with a flexible aperture for capturing the big picture of a moment and narrowing in on the tiniest of details."
—TIME
"Throughout Secret City, Kirchick does a masterful job of conveying the flavor of homophobia in each historical era, while using impeccable research to vividly characterize the dozens of various individuals at play in these stories."
—The Guardian
"The existence and influence of LGBTQ people in our nation's capital is as long as it is invisible. [Secret City] examines the unknown or barely known lives of gay people working and living in our nation's capital, a city known for its mix of power and secrets...An example of the triumph of LGBTQ people in America."
—NBC News
"With Secret City…Kirchick will be catapulted into the ranks of those journalists whose work will be read for generations."
—New York Sun
"Kirchick's Secret City researches and illuminates just how homosexuality shaped presidential administrations in the 20th century."
—Parade
"...An 800-page tour de force, certainly the most comprehensive history of gay Washington ever written. It's also more than that. Tracing the strand of how the capital's big shots treated gays across the decades, Kirchick provides a compelling account of how the bloodless, brutal Washington power game has always worked."
—Air Mail
"Secret City is [an] overdue, groundbreaking and comprehensive book, and the best—by far—of any that has tackled this history of LGBTQ life and work in our nation's capital."
—The Cipher Brief

"There's never been a book like Secret City which documents over a half-century of the gay political and social scenes of the U.S. capital city...A sweeping, epic history of Gay D.C."
—The Daily Beast
"An astonishingly good read…it is an amazing achievement."
—Dan Savage, from Savage Lovecast
"Incredibly rich and impressively thorough…Secret City is a work of enduring scholarship that will be read for decades to come."
—The Spectator World
"Secret City flips a light switch on...the panoramic scope of Kirchick's narrative raises this LGBT history to an American story with national significance."
—The Gay & Lesbian Review
"Kirchick refreshingly portrays the gay Washington underground as a parallel and central world to the seat of American power instead of merely a gay ghetto. It is, in many ways, one of the most human works of history written this decade so far. Much like the gay community itself, the book contains people from every social class, color, personality, and profession, from disabled and impoverished veterans to the country's second most powerful diplomat....Never preachy, self-conscious, or boring, Secret City has raised the bar for the genre, portraying its subjects and their city in all its contradictions. I won't forget it."
—Washington Examiner
"A meticulously researched, a vital, new addition to the historical record. Secret City chronicles American history, proving that 'queer history' in the U.S., is really just 'history.'"
—The Advocate
"Engrossing, novelistic, and deeply sympathetic to minorities persecuted in the last century...A comprehensive and deeply humane work of history."
—Washington Monthly
"[A] sweeping new book."
—Washingtonian
"Secret City is a groundbreaking piece of archival research and lucid exposition. This book deserves to be placed alongside Chauncey's Gay New York and Shilts' And the Band Played On as a seminal exploration of an essential American history."
—Pittsburgh Post-Gazette
"D.C.'s latest must-read."
—Axios
"Densely detailed, panoramic, and eye-opening."
—PopMatters
"Grand in scope and always absorbing."
—New York Journal of Books
"Secret City is itself full of high-grade gossip, and I mean that as a compliment. But Kirchick is up to serious business as well...This broad sweep should make this book the standard on its subject."
—Reason
"…Fascinating and well-researched…an enlightening read, not a dark and angry one, and its full of witty character studies and fun, gossipy details. Ultimately, Secret City is one of the most purely entertaining political books we've ever read."
—Apple Books
"Kirchick distills a massive research effort into a powerful shot of consciousness-raising revelation."
—Passport Magazine
"A riveting and sober look at American history."
—Arlington Magazine
"Kirchick's history is an inspiring and overdue tribute to the brave individuals who fought for acceptance in a city and government long pitted against them."
—Booklist (starred review)
"In Secret City, James Kirchick has written a delicious page-turner that's also an important and masterly work of American history."
—Commentary
"In this absorbing and well-documented book, Kirchick engagingly draws attention to a variety of gay histories that have been largely lost to mainstream history. Ambitious and convincing...the book offers countless illuminating stories that have been grossly underserved in past political histories. An important addition to American history."
—Kirkus
"Ambitious....a valuable and often fascinating revision of U.S. political history."
—Publishers Weekly
"I've waited to read this book my whole adult life."
—Andrew Sullivan
"Scrupulously researched and novelistic in style, Secret City is an extraordinary achievement. In this spellbinding journey from the New Deal to the end of the Cold War, James Kirchick draws us into the demimonde of Gay Washington: a dangerous world swirling with informers, scandal sheets, blacklists, clandestine networks, and brave fighters for equality. Shedding new light on figures we thought we knew, he introduces us to compelling individuals we will never forget. Not since Robert Caro's Years of Lyndon Johnson have I been so riveted by a work of history. Secret City is not gay history. It is American history."
—George Stephanopoulos
"In Secret City, James Kirchick tells a Washington DC Cold War story that few have heard: How the political obsession with secrecy together with the fear of communist influence distorted perceptions not only of gay people, but of reality itself. Weaving together political, social and cultural history, Secret City offers an unexpected corrective to the historical record.
—Anne Applebaum, Pulitzer Prize–winning author of Gulag and Iron Curtain
"A remarkable, hugely impressive accomplishment — exhaustively researched, skillfully told, erudite, heartfelt — that speaks not only to the impact of double lives on our nation's life but also to the individual toll of veiling your soul. It makes me sad. But more than that, it makes me grateful, for all that has changed since those days of lies and whispers."
—Frank Bruni, contributing opinion writer, The New York Times
"Kirchick takes us from the FDR administration to Bill Clinton with a thoroughness and eye for detail that astonish. Lovers of Washington lore will enjoy the depiction of gay life in the nation's capital when it was entirely underground, and lovers of justice will take pleasure in the fact that some of the most repulsive characters in modern political history who ruined so many lives and careers are brought to justice in the only way they can be now: the historical record."
—Andrew Holleran, author of Dancer from the Dance
"Now and then a new book about American politics comes along for which 'revelation' seems too tame a word, so profoundly does it alter our understanding of almost everything we thought we knew. James Kirchick's remarkable history of the 'secret' life of Washington is just such a book--a triumph of investigation and story-telling."
—Sam Tanenhaus, author of Whittaker Chambers: A Biography and former editor of the New York Times Book Review
"Secret City is a sweeping, grand look at what once was forced to be hidden. In his deeply researched narrative, Kirchick has restored men and women lost to history due to their sexuality, and in doing so he shines a new light on our understanding of politics and government. Evoking memories of And the Band Played On, this look at the 'secret city' makes our history clear."
—John A. Farrell, author of Richard Nixon: The Life
"Kirchick has written a mesmerizing and moving account of gay proximity to power, and the shocking resistance to it, in America's capital city long before the modern gay-rights movement began. Thanks to Kirchick, this important history will be overlooked no more."
—Dale Carpenter, author of Flagrant Conduct: The Story of Lawrence v. Texas